Visva-Bharati: 30 teachers protest openly against VC
The teachers, mostly members of Visva-Bharati University Faculty Association, protested silently for around a half-hour near the Santiniketan post office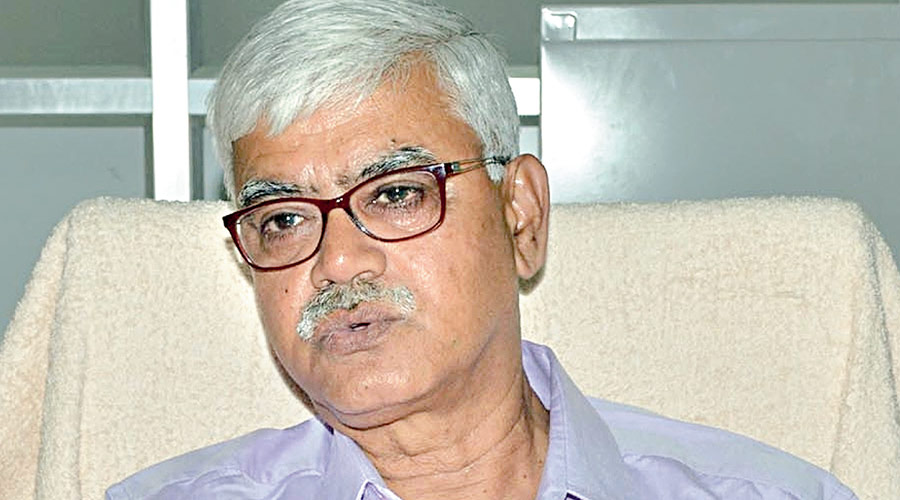 ---
Santiniketan
|
Published 07.09.21, 02:29 AM
|
---
A group of 30 Visva-Bharati teachers on Monday evening participated in an open protest, demanding the removal of vice-chancellor Bidyut Chakrabarty and vowed to be with the ongoing students' movement.
Many at the varsity said the open protest by the teachers would come as a blow to Chakrabarty as the Union education ministry was purportedly annoyed with him for stopping salaries and over several other activities.
"The senior officials of the education ministry had repeatedly asked the VC to sit down with the students and resolve the current impasse through a dialogue. But he took it to court. The salaries were released after the intervention of the ministry," said a senior varsity official.
"The time has come to raise our voice openly. The vice-chancellor has not only got the students in trouble for their protests, but several teachers also have been at the receiving end of his wrath, simply for not supporting his whimsical moves. Dozens of teachers were suspended or terminated by the vice-chancellor himself, over the flimsiest of excuses, apparently to satisfy nothing but his ego," said a senior varsity teacher who took part in the protest.
The teachers, mostly the members of Visva-Bharati University Faculty Association (VBUFA), protested silently for around a half-hour near the Santiniketan post office with posters in their hands, demanding investigation by the Centre against the activities of Chakrabarty, his immediate sacking, and bringing normality to the campus by revoking rustication or suspension of students and teachers.
After their silent protest with posters, the group went near the dais of the protesting students, where they demonstrated for another half-an-hour to show their solidarity with them.
This is the first time that so many teachers protested publicly against the current VC.
Sudipta Bhattacharyya, a suspended teacher of economics and president of the VBUFA, had already started a hunger strike along with rusticated student Rupa Chakrabarty from Sunday.
The VBUFA wrote to Union education minister Dharmendra Pradhan on Monday, asking him to start a thorough investigation and take action against Chakrabarty immediately, citing how employees and teachers had suffered allegedly for not supporting his wrongdoing.
Visva-Bharati's officiating public relations officer Anirban Sircar did not respond to or texts from this newspaper.