Visa day at US embassy
Around 200 visa interviews were held for students at the American Center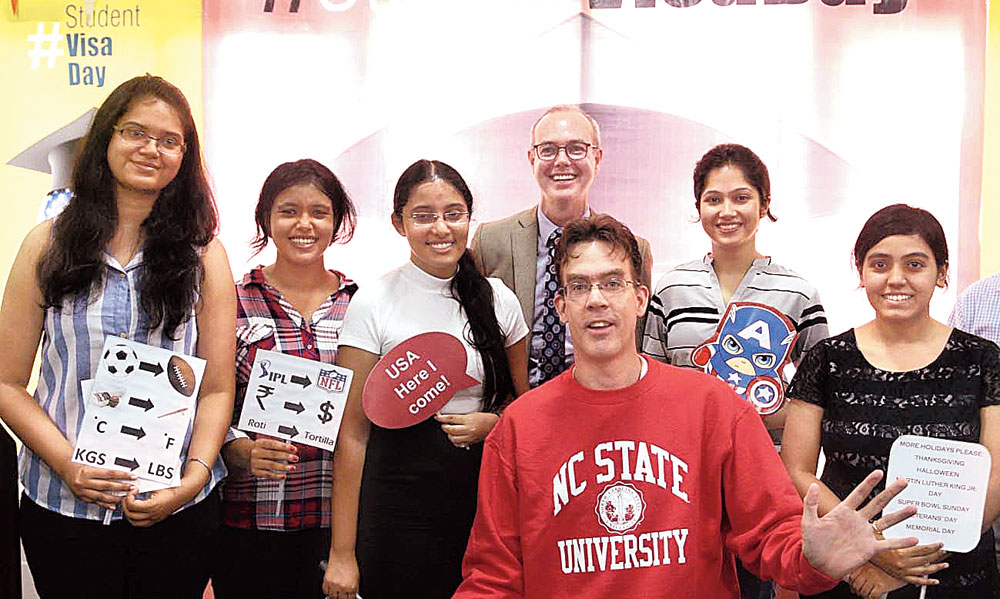 ---
|
Calcutta
|
Published 13.06.19, 01:34 AM
---
Around 200 visa interviews were held for students at the American Center in Calcutta on Wednesday.
The US embassy in Delhi and the consulates general in Chennai, Hyderabad and Mumbai also had only students for visa interviews.
Thursday was the fifth edition of the Annual Student Visa Day in the US embassy's calendar. The day celebrates higher education ties between India and the US.
Some of the aspirants were lucky to have got the visas on the spot on Wednesday. Abhra Dass, who got into the University of Colorado with master's in electrical engineering, was one of them.
Jamie Dragon, American Center director, was seen cheering the visitors in a sweatshirt of his alma mater, the University of North Carolina.
"As you develop professional relationships and lasting friendships while in the US and participate in our alumni communities, you ensure a lifelong engagement that connects India with the US in a very meaningful way," said Patricia Hoffman, the US consul general in Calcutta.
Around 1,96,000 Indian students are currently studying in the US accounting for 17 per cent of the total number of international students there, said than official of the consulate in Calcutta.
Representatives of EducationUSA — the official government source of information for higher education in the US — answered the queries raised by prospective students.
The EducationUSA app was also launched on Thursday to give Indian students easy access to credible and comprehensive information on navigating the US higher education admission process. This free app is intended to act as the first point of information for students, parents and school counsellors alike.
The app's top feature is answerbot, which allows users to get answers by choosing from a provided set of 'frequently asked questions' or type in their own question.
The app, available in both IoS and Android formats, tracks progress and provide specific information based on the individual's personal educational interests.