Villagers collect money to repair road
Local sources said the road was last repaired around eight years ago but only a stretch of 300 metres was made concrete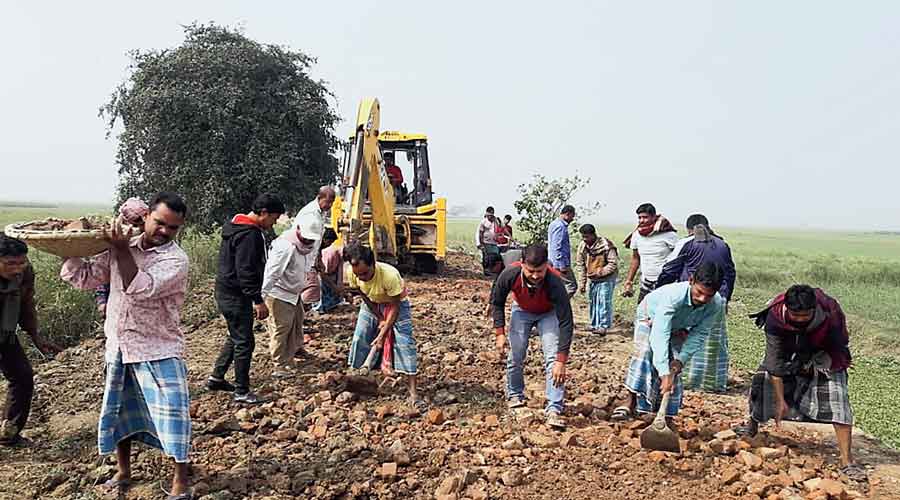 Residents of Dabtipara, one of the seven villages that collected funds, in Murshidabad district, repair the dilapidated road on Wednesday.
Telegraph photo.
---
Nawda
|
Published 10.02.22, 02:08 AM
|
---
Residents of at least seven villages under a gram panchayat in Murshidabad raised funds and joined hands to rebuild a 5km road in their area that had become inaccessible in the absence of maintenance for almost a decade.
Repeated appeals to the administration for its repair fell on deaf ears. Finally, the villagers of Nawda gram panchayat,who are mostly farmers, took up the task to repair the road from Polladanga to 15 Mile through crowdfunding from Wednesday.
Local sources said the road was last repaired around eight years ago but only a stretch of 300 metres was made concrete. The situation worsened with the onset of the pandemic.
Residents of villages in Dabkipur, Sankoa, Raghunathpur, Nawda, Jagaipur, Kanapara, Dabkipara said the bad road was coming in the way of transportation of onion and other farm produce.
The vast arable land adjacent to the road is a major onion hub in the district with about 5,000 villagers associated with its farming. Since onions have matured for harvest, villagers found the dilapidated road a hurdle to sales. "We had no option but to collect money to repair the road. In the past few years, we suffered a huge loss as we could not take onions to the market on time because of the bad road. Tractors, trucks, and tricycle vans can't ply on it," said farmer Mithun Mondal.
On Tuesday, villagers held a meeting and unanimously decided to begin repair work. "Everybody agreed to do the work and pay according to their financial capabilities. Till Wednesday morning, we arranged a fund of Rs 1.5 lakh. We got some help from a brick kiln owner who offered us an earthmover and bricks. We only had to hire a roller," a villager said. He added that work would be done in three days.
Panchayat pradhan and Trinamul leader Rinky Roy welcomed the gesture. Accusing the district administration and her party of apathy in the development in her area, she said: "Nobody in the administration is concerned about Nawda... It is a genuine problem. But the panchayat was not capable of taking up the work without the zilla parishad's help."
Claiming ignorance about villagers' initiative, Nawda panchayat samiti chief Matiur Rahaman said: "We have included the road for development under the NREGA scheme. It will be made into a concrete road in a phased manner. It will take time for the work to commence.