Veteran enters flooded East-West Metro tunnel
Paul Verrall, a South African engineer, had suggested intensive grouting from all sides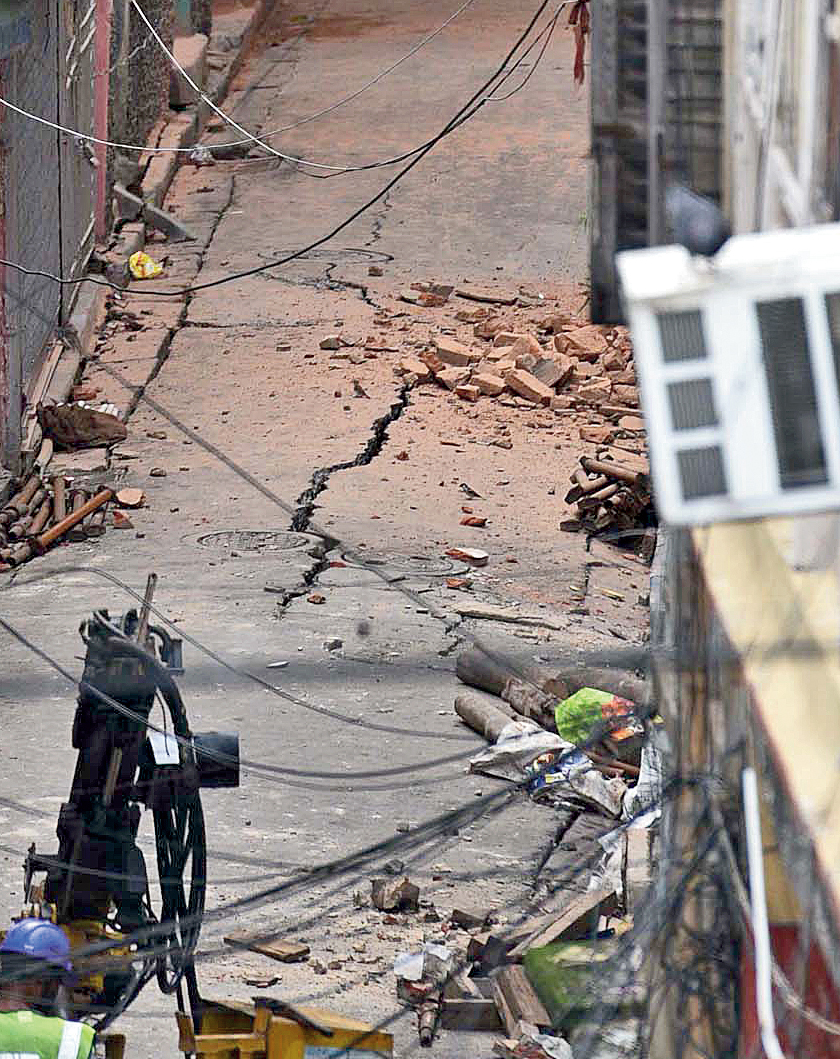 ---
|
Bowbazar
|
Published 02.09.19, 09:25 PM
---
A South African engineer with decades of experience in building tunnels across the world inspected the East-West Metro tunnel in Bowbazar on Monday at the request of the railways to suggest how further damage could be averted.
Sources said Paul Verrall, who has burrowed tunnels under heritage buildings in Greece, Turkey and Egypt and supervised boring of East-West Metro tunnels under the Hooghly and dilapidated buildings in Burrabazar, had suggested intensive grouting from all sides.
Grout is a mixture of water, cement and sand that is injected under a building to fill the void created by soil settlement while a tunnel is being dug.
Verrall, who works for construction company Afcons, which has built the twin tunnels of East-West Metro between Howrah Maidan and Esplanade, entered the tunnel in Burrabazar in the afternoon.
"We have no experience of handling a situation like this. We don't know how to prevent settlement and so, we are taking help from international experts," said an official of Kolkata Metro Rail Corporation (KMRC), the implementing agency of East-West Metro.
"If the seepage of water into the tunnel can be stopped, the problem can be stalled. The extent of damage can be arrested, too," said an engineer involved in the project.
He said tonnes of grout was being transported on small carriages into the tunnel, whose roof is 14m under the surface. Grout is also being injected into the tunnel from top.
KMRC has said at least five buildings along a 90m-stretch in Bowbazar, under which a tunnel was being dug, have to be demolished because they have tilted dangerously and can collapse any moment.
Altogether, 52 buildings have been identified as affected by settlement of soil, which occurred after the machine that was boring the tunnel through which Howrah Maidan-bound trains will run hit a sand aquifer.
The five buildings that have tilted are near Durga Pituri Lane and Syakrapara Lane, off BB Ganguly Street.
"The buildings have to be demolished in a day or two. We are in talks with the Calcutta Municipal Corporation about this," said a KMRC official.
Till Monday evening, 30 buildings were evacuated. A list of another 22 buildings that might need evacuation has been sent to Calcutta police.
"Fresh cracks are developing as the soil settlement is on," said an engineer. "Till Monday afternoon, the settlement was more than 80mm. The permissible limit is 20mm."
Among the buildings most affected is 13A Durga Pituri Lane. Sonali Sil, who said her husband Jayanta was the owner of the three-storey building, said the family had restored the building spending lakhs of rupees.
"The first cracks appeared around 7.30pm on Saturday. Engineers told us not to worry. Six hours later we had to move out leaving behind everything," Sonali said.
The 16.5km East-West Metro, which has missed several deadlines, will connect Salt Lake Sector V with Howrah Maidan and will pass under the Hooghly. The first phase, likely to be unveiled around Durga Puja, will stretch 5.5km, between Sector V and Salt Lake stadium.
Bowbazar has hundreds of old buildings, many of which are in poor shape. The area falls on the 2.45km stretch between Esplanade and Sealdah, which has 300-odd old buildings and will have Metro tunnels underground.