Vande Bharat train awaits NJP: Railway
Semi-high-speed passenger train to be launched from New Jalpaiguri station next year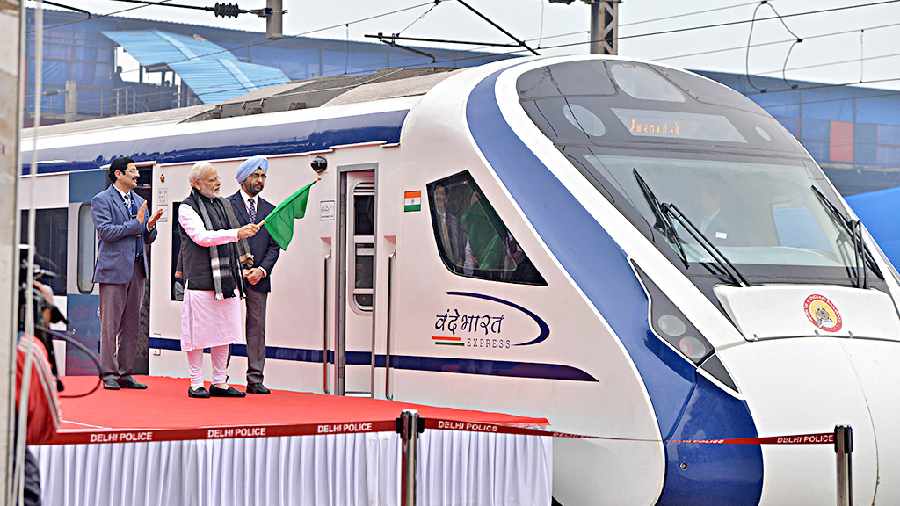 Prime Minister Narendra Modi flags off a Vande Bharat Express at New Delhi railway station
File picture
---
Siliguri
|
Published 06.12.22, 05:30 AM
|
---
The railways have decided to launch the service of a Vande Bharat Express – a semi-high-speed passenger train — from New Jalpaiguri station next year.
"Indian Railway has decided to introduce a Vande Bharat Express from NJP next year. The route will probably be from NJP to Howrah. Another route, that is from NJP to Guwahati, has also been discussed," Ansul Gupta, the general manager of the Northeast Frontier Railway, said at the Siliguri Junction station.
According to him, the railways will set up proper infrastructure at NJP for the maintenance of the proposed train.
"The train will run at a speed of 130km per hour. That is why we have decided to improve the tracks. There is a plan to complete the upgrade of the tracks between NJP and Malda by March. Also, in another eight to nine months, the maintenance facility would be ready at NJP," Gupta added.
As of now, five Vande Bharat Express trains run across the country. If the service is introduced from NJP, it will be the first train of this genre to be introduced in the east and the northeast India.
"On some other routes, there are plans to replace Shatabdi Express trains with Vande Bharat. For the NJP-Howrah route, it is, however, yet to be decided whether Shatabdi will continue," said a source.
On Monday, Gupta, along with Raju Bista, the Darjeeling MP, and some others, inaugurated a number of facilities at the NJP and the Siliguri Junction stations.