UP will be BJP's Waterloo, Akhilesh fought like Abhimanyu, says Mamata
'I am interested if everyone in the Opposition agrees to work together'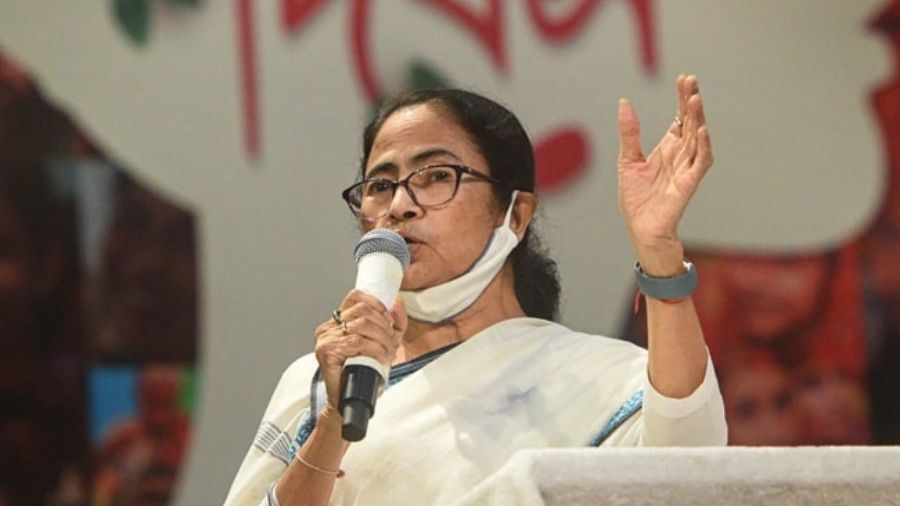 Bengal CM Mamata Banerjee
Twitter
---
Calcutta
|
Published 11.03.22, 04:24 PM
|
---
On the day Narendra Modi travelled the streets of Ahmedabad to celebrate the BJP's emphatic poll victories in multiple states, Bengal chief minister Mamata Banerjee, sitting 1,966 km away in her chamber at the state legislative Assembly described the Prime Minister's roadshow on Friday as a sign of hubris but did not name him.
She also had a few words of advice for Samajwadi Party chief Akhilesh Yadav with whom she had aggressively campaigned in the run up to the Uttar Pradesh elections.
"On the first day itself, he has become so aggressive. That is the sign of hubris, downfall," Mamata said at a news conference after the state budget was placed in the Assembly. "Every time we have won elections, we have pledged to be more submissive. 2024 is still two years away. Who knows what will happen? Winning Uttar Pradesh will be BJP's Waterloo."
"Can Chandrima (the minister of state for finance) say with certainty she will remain finance minister after two years? Can I say or can Amit da (former state finance minister Amit Mitra) say whether we will be alive after two years?"
Though the Trinamul failed to make the cut in Goa where it had been camping hard for the last six months, Mamata appeared upbeat. One of the reasons behind the Bengal chief minister's optimism could be the downslide of the Congress, which failed to retain Punjab, won only two seats in Uttar Pradesh, and came nowhere near forming the government in Goa, Uttarakhand and Manipur.
"I cannot speak about Congress. They are a separate party. Earlier, they held power in all the states. Now they have lost credibility," Mamata said in reply to a question.
It was unclear whether Mamata was pitching for an Opposition alliance, which she is very much in favour of, sans the Congress. "I am interested if everyone works together. If they want to do it without me, I am happy," she said.
Mamata's solution to stop the BJP's electoral juggernaut is for the Opposition to project the strongest candidate in every constituency of the country.
"The BJP did not win by popular mandate, but (by) machinery mandate. A fractured Opposition went to its advantage," she said. "Akhilesh should not get depressed or upset. He must reach out to the people. They have gained in a number of seats as well as vote share. Like us he fought alone. He fought like Abhimanyu (son Arjun in Mahabharata)."
Mamata said the Opposition parties would have to come together and decide on the strategy. "Once voters know this is the strongest candidate against the BJP then they will vote for them," she said.  
She also expressed doubts over the sanctity of electronic voting machines. "If the district magistrate of Varanasi was suspended for tampering with EVMs then it is a serious offence. Here we guarded the EVMs. In Punjab, AAP did the same. But in UP there is no such system," she said.
The Trinamul chief is also unhappy with Goa alliance partner Maharashtrawadi Gomantak Party siding with the BJP to help it form the government. "We don't have any MLAs. But there was a pre-poll alliance. MGP should not join hands with BJP. We don't like it," Mamata said.