Broken dream: Nadia son's wish for a brick house to replace hut
27-year-old CRPF constable was to return home to finish construction of a pucca house for his elderly parents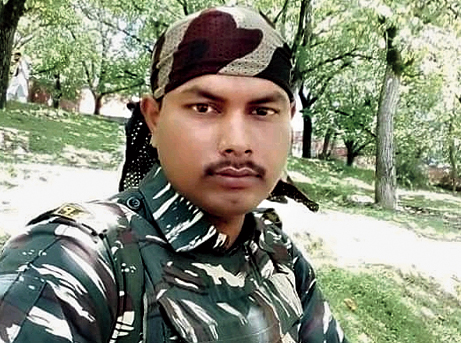 ---
---
Sudip Biswas had told his sister to look for a bride and, on Thursday afternoon, called up his father in Nadia saying he wanted to gift him a pucca house this year-end.
A little over two hours later, the 27-year-old CRPF constable's bus was hit by the car bomber in Pulwama.
"Around 1pm, Sudip called when I was working in a field. He asked me not to work under the sun as I have not been well. He advised me to take it easy and told me about his plan to come home on long leave by the end of this year to complete the construction of our new house. He asked me to quit working and be ready to enjoy our new home," said Sanyasi Biswas, 56, a farm labourer.
At present, the family lives in a mud-walled and tiled-roofed house here in Tehatta. Construction started last year on the new house on an adjoining plot, with the family building it in phases whenever funds could be rustled up.
A CRPF officer rang up Sudip's brother-in-law Samapta Biswas around 3.30am. "A CRPF officer called me to inform that Sudip was injured in the terrorist attack. He told me to pray for his speedy recovery. But later, around 9.30am, the officer called again to say Sudip had died," Samapta, a trader, said.
Sudip's mother Mamata, 51, lost consciousness as soon as Samapta told her about the death. "She regained consciousness but fainted again several times," said one of the neighbours who had flocked to the Biswas home on Friday.
Sudip had passed his higher secondary examination in 2010 and, according to his relatives, joined the CRPF in 2015 to support himself and his family financially. He had served in Arunachal Pradesh before being posted in Kashmir.
Sudip came home last on December 19 last year and left for Kashmir on January 15 this year. "He told me about his plan to visit home again by December," his younger sister Jhumpa Biswas, who got married two years ago, said.
According to Jhumpa, the family did not hear about the attack immediately as they don't have a TV. "My parents did not know about the terror strike immediately as we don't have a TV at our home. Our parents are very poor. Since Dada (Sudip) got a job, we were gradually trying to overcome our hardship. His dream was to build a new home and gift it to our parents. We were brought up in a hut. So Dada planned to build a proper house so that our parents could live in comfort the rest of their lives."
Jhumpa, who lives with husband Samapta in an adjoining village, then indicated that Sudip was looking to get married.
"He had told me to find a suitable bride for him. But the blast shattered all his plans and dreams."
Many could not believe the boy who helped his father on farms after school would never return home. "How long will the government count the bodies of our soldiers in Kashmir?" Sahabuddin Mullick, a neighbour, asked.
Sudip's body is likely to arrive on Saturday.