Twin Tolly Bailey bridges on cards
One will link Mahatma Gandhi Road with Narendra Nath Ghosh Lane and and the other will connect Izzatullah Lane and Canal Road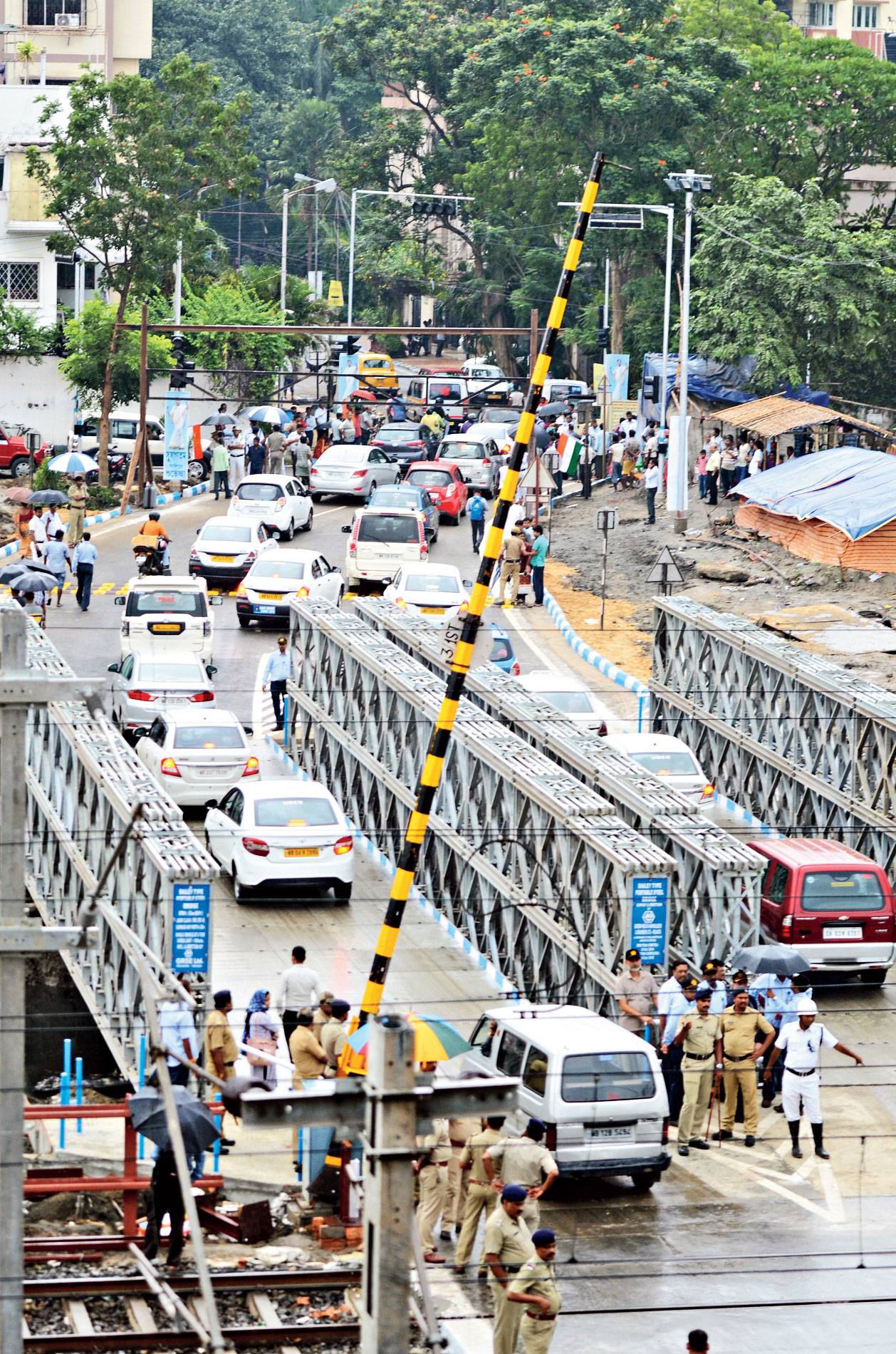 The two Bailey bridges that were built in New Alipore after the collapse of the Majerhat flyover. Two similar bridges will come up in Tollygunge
Telegraph picture
---
Calcutta
|
Published 25.10.18, 08:54 PM
|
---
The state government has decided to set up two Bailey bridges over Tolly's Nullah in Tollygunge to ease the traffic flow across New Alipore, Behala and Joka.
One of the Bailey bridges will link Mahatma Gandhi Road with Narendra Nath Ghosh Lane and run parallel to the Karunamoyee bridge and the other will connect Izzatullah Lane and Canal Road.
An official in the urban development department said the Bailey bridge that would run along the Karunamoyee bridge, around 1.5km apart, would be opened to traffic in December. The other will be ready by January.
A Bailey bridge is a portable, pre-fabricated structure with a modular assembly. For years, these bridges have remained the most preferred option for the army in filling connectivity gaps, especially in remote areas.
"We want to provide alternative avenues for vehicles headed for the city proper from parts of Behala, Joka and adjacent areas. Work to set up the first bridge (the one along the Karunamoyee bridge) will start next week," urban development minister Firhad Hakim said on Thursday.
Hakim visited both sites with engineers from the Calcutta Metropolitan Development Authority (CMDA), police officers and representatives of the Garden Reach Ship Builders and Engineers (GRSE) on Thursday before drawing up the plans.
The CMDA, which functions under Hakim's department, will execute the two projects with help from GRSE, a central government outfit that set up the two Bailey bridges over the Chetla canal following the collapse of the Majerhat bridge. The twin brides connect Alipore Avenue with Humayun Kabir Sarani in New Alipore.
"The urban development minister has informed us about the government's willingness to set up two Bailey bridges. We visited the two sites with him on Thursday. The dimensions of the bridges are yet to be finalised," a GRSE engineer said.
"We have told the minister that it is possible to set up the bridges over the Chetla canal. The other formalities will now be taken up."
Officers in the traffic police said the load on the Karunamoyee bridge would reduce a lot if small vehicles, such as cars and two-wheelers, plying between Tollygunge and Joka/Behala are directed to the Bailey bridge.
"According to the initial plans, Tollygunge-bound vehicles from Joka and Behala will be allowed to use the new bridge in the morning rush hours. In the evening, Joka/Behala-bound vehicles will be allowed on the bridge," an official said.
As part of the project to build the other bridge, minister Hakim said the government would seek some land from the Tollygunge Club to widen KP Roy Lane.
"The police had approached us for an informal talk. The club has not received any formal intimation on the matter," said A.R. Mukerji, chief executive of the club.
Izzatullah Lane, through which commuters will approach the bridge from the east, is connected to KP Roy Lane, which in turn leads to Deshpran Sashmal Road, just behind Tollygunge Club.