Twice-a-week total lockdown in Bengal
Introduction of complete shutdown after reports of community transmission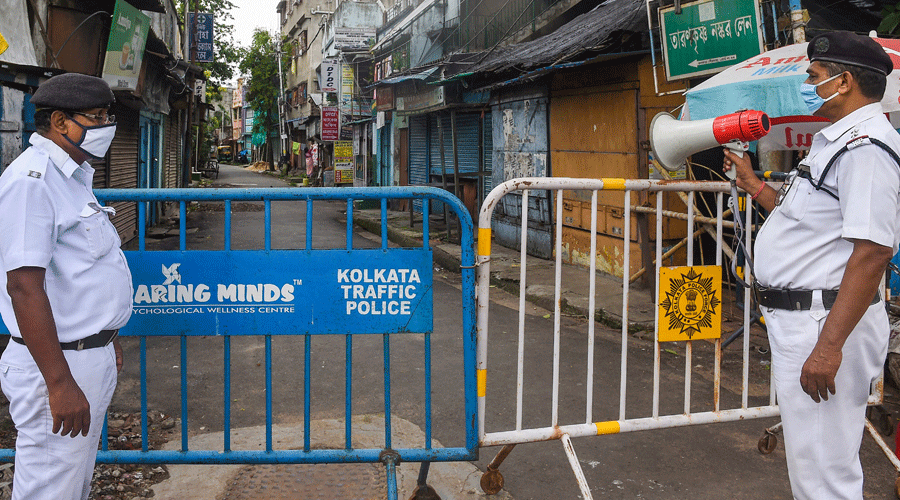 ---
|
Calcutta
|
Published 21.07.20, 04:09 AM
---
The Bengal government has decided to impose a complete lockdown across the state for two days every week for the time being and said that community transmission is presumably taking place in some areas.
This week, Thursday (July 23) and Saturday (July 25) will be treated as the two complete lockdown days. Next week, Wednesday (July 29) will be one of the lockdown days while the other day will be decided early next week.
A committee chaired by chief minister Mamata Banerjee will decide on which two days the complete lockdown would be imposed.
"The state government feels that the efforts to break the chain of Covid-19 spread have to be initiated in a strong manner," Alapan Bandyopadhyay, state home secretary, said at Nabanna on Monday.
"The state government, after taking experts' views and the health department's inputs into account, has decided to impose a complete lockdown two days a week. This week, Thursday and Saturday will be the complete lockdown days."
The home secretary said that all offices — both government and private — and transport facilities would be closed during the complete lockdown days.
Sources in Nabanna said that during the complete lockdown days, the state would follow the strategy adopted during the earlier nationwide lockdown.
This means that only essential services will be allowed to function and the personnel needed for such work will be permitted to commute in private vehicles as well as those run by their establishments.
Medicine shops and stand-alone shops selling daily essentials will be allowed to function but the hours have not been specified yet. "All other shops, including malls and market complexes, will remain closed on these days," a senior official said.
The continuous lockdown already in place in the containment zones will continue. The two-days-a-week complete lockdown will cover the entire state and will include areas outside the containment zones.
Sources said the state government, which was against the reintroduction of a blanket lockdown till the other day, had decided on the two-days-a-week lockdown after it received reports saying community transmission may have started in some areas.
"It is being surmised that Covid-19 has started spreading in the community. Following discussions with scientists and experts, it is being presumed that some community transmission is taking place in some areas," the home secretary said.
"It's expected that the sudden lockdown once or twice a week will produce results."
Bank holidays
The Bengal government has declared all Saturdays as public holidays for banks operating in the state under the Negotiable Instruments Act, 1881.
Till now, bank branches remained closed only on the second and fourth Saturdays.
Sources in Nabanna said the decision was taken after several bank officials and staff tested Covid-positive in the past few weeks.
The banks have been advised to limit customer services between 10am and 2pm, instead of continuing them till 4pm as is done now.