Tumpa touched by first contact with sarkar
In Birbhum, around 7,000 people came to 25 Duare Sarkar camps on Day One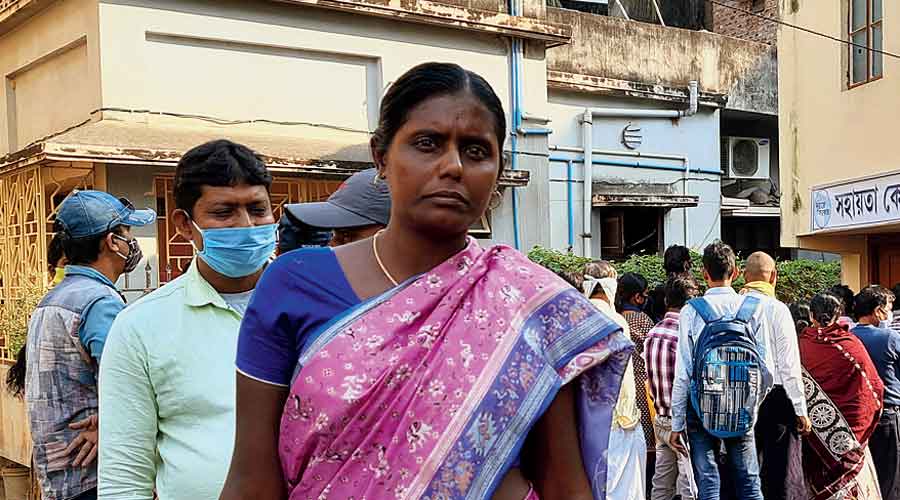 Tumpa Kundu at the Duare Sarkar camp in Bolpur town on Tuesday
Amarnath Dutta
---
Bolpur(Birbhum)
|
Published 02.12.20, 01:51 AM
|
---
Tumpa Kundu, 36, a homemaker-turned-cook who lost her husband four years ago in Birbhum's Bolpur town, left her home on Tuesday afternoon for her first-ever interaction with government officials as part of the Duare Sarkar programme.
Kundu, with her two small sons, walked to the Duare Sarkar camp in the town's ward 6 to find out if the government had schemes for her needs.
Ever since she lost her husband, a grocer, she had been asking people, including the local councillor, about government schemes that could help her family, but no one had given her a clear picture.
"Many people told me to go to the SDO and a few advised me to visit the municipality office. I could not muster courage to visit those offices," said Kundu, a school dropout, as she stood in the queue at the Duare Sarkar camp.
Apart from her two sons, Kundu, who works as a cook, has her visually impaired father and her mother to support. The five of them live in a mud house in the town's Canal Par area. On Tuesday, Kundu finished work early and reached the camp around 1.30pm. After a 10-minute wait at miscellaneous services desk, she  met officials who asked her to fill up a form to apply for the Swasthya Sathi health insurance scheme.
After submitting the form, which she filled up with the help of a youth, Kundu said: "It was overwhelming to sign and submit a government form for the first time."
Kundu said she had heard vaguely about government schemes but officials at the camp gave her clarity. "Till Tuesday, I had no idea about the eligibility criteria for various pensions. I was told I could apply for the widow pension if I came back with relevant documents. My father is also eligible for a monthly pension of Rs 1,000 as a physically challenged person," she said, adding she would come back on Wednesday with papers.
In Birbhum, around 7,000 people came to 25 Duare Sarkar camps on Day One.
"The lady (Kundu) came in touch with the government for the first time," said Sweta Agarwal, additional district magistrate (general), Birbhum. "We are very happy we could reach out to such people."
Soumitra and Santiniketan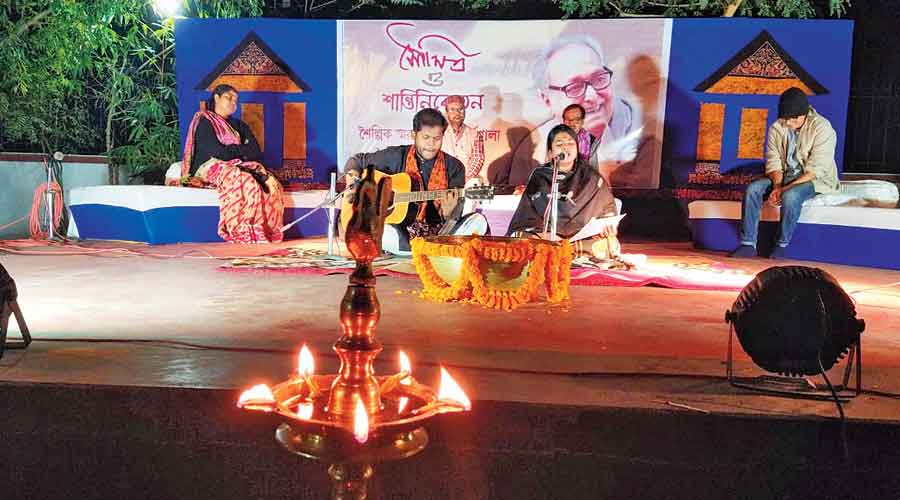 Four Santiniketan residents who interacted with Soumitra Chatterjee in the Tagore town that was the late thespian's favourite weekend getaway remembered him at "Soumitra and Santiniketan", an event lit up by adda and anecdotes, on Sunday.
Organised by the Panchabon Art Resort in Santiniketan, those who took part in the adda were professor of Bengali in Visva-Bharati Manabendra Mukhopadhyay, Patha Bhavana teacher Debalina Dalal, Rabindra Bhavana official Nilanjan Banerjee and former Kala Bhavana curator Sushovan Adhikari.
The other draw was an art workshop with sketches by some Kala Bhavana students on Chatterjee's  screen and non-screen avatars.
"Chatterjee was awarded the Deshikottama, the highest accolade of Visva Bharati... After his death, authorities didn't host any event to pay him homage. But we tried our best to honour him in a small way…" said Tapas Mallick, resort owner.