Truant tablets fail to check anaemia
Food for thought at workshop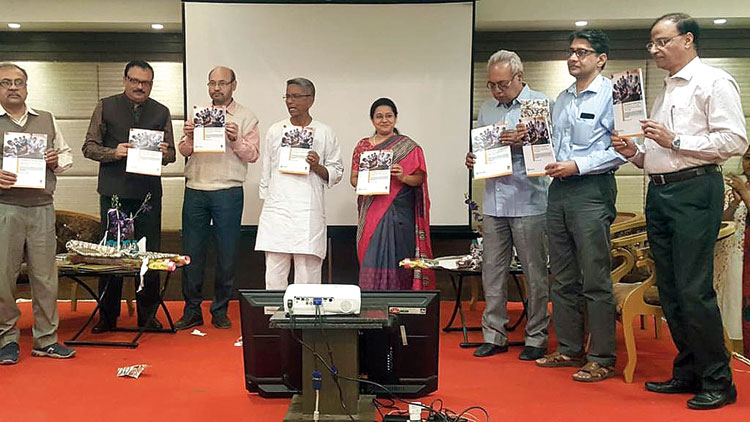 Guests release the WIFS programme assessment report at the CINI and Nutrition International event
The Telegraph picture
---
Calcutta
|
Published 16.02.19, 10:19 AM
|
---
More than 60 per cent adolescent girls in the state suffer from iron deficiency and anaemia, a survey conducted on behalf of the Union health and family welfare ministry has revealed.
The 2015-16 National Family Health Survey report puts the figure at 62.2 per cent, up from 62 per cent in 2005-06 despite government schools and ICDS (Integrated Child Development Services) centres distributing iron tablets among adolescents for the past seven years.
The state had procured around 3 crore folic acid (blue) tablets for distribution in September last year, a state health official said. All students of government schools are supposed to get 52 tablets each in a year. But many 10- to 19-year-olds in Bengal do not get the tablets, a study conducted by NGOs Child In Need Institute (CINI) and Nutrition International has found out.
The report by the NGOs blames lack of awareness, early marriage and pregnancy and the laidback attitude of schools for irregular distribution of folic acid tablets.
"Anaemia leads to difficult pregnancies, health hazards and maternal mortality. Instances of early pregnancy are high in the state. It is essential for adolescent girls to take iron supplements. But often the tablets lie in the block offices and schools either don't pick them up or fail to distribute them among students," Samir Chaudhuri, the founder-director of CINI, said at a workshop on Friday.
An assistant director, school health, in the state health and family welfare department, said teachers have been asked to monitor the distribution of tablets while recording attendance. "It's not that tablets are not available. Only the target group does not know how important it is for their health and don't ask for it," he said.
The programme discussed ways to strengthen the Weekly Iron and Folic Acid Supplementation (WIFS) Programme initiated by the Centre in 2013. "Government schools should make parents aware of the issue at parent-teacher meetings," said Mini Vargese, national programme manager, Nutrition International.
A situation analysis report, prepared on the basis of a study conducted in 10 districts, was released on the occasion. "The problem is particularly grave in Murshidabad, South 24-Parganas and Purulia where schools don't keep track of folic acid distribution. The dropouts also don't collect their quota from the ICDS centres," Chaudhuri said.
Despite the irregularities, instances of anaemia among boys has dropped from 40.1 per cent in 2005-06 to 31.7 per cent in 2015-16. "More girls are being enrolled in schools than boys. Their dropout rate has also dipped in the past five years. But most don't get proper nutrition at home because of gender bias," said Sapan Bikash Saha, the project director-nutrition of CINI.