TMC expresses concern on reports of communal tension in Bangladesh
Sheikh Hasina had urged Hindus in the country not to consider themselves minorities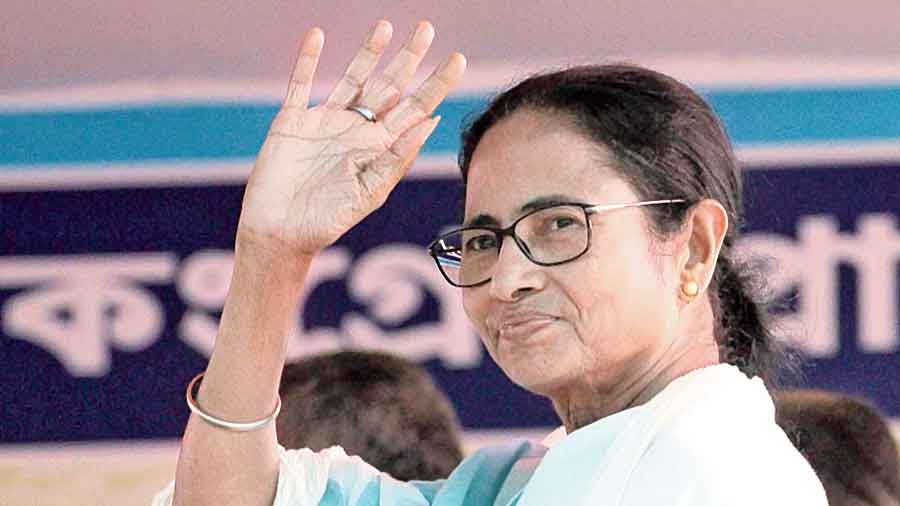 Mamata Banerjee
File picture
---
Calcutta
|
Published 16.10.21, 12:27 AM
|
---
The Trinamul Congress, through an editorial in its Bengali mouthpiece Jago Bangla, on Friday expressed concern on  reports of communal tension around Durga Puja in neighbouring Bangladesh, appreciated the Sheikh Hasina government's role against it and urged the Narendra Modi government to "speak up".
In the short editorial titled "Bangladeshey shanti thakuk (May peace prevail in Bangladesh), chief minister Mamata Banerjee's party championed the cause of minorities everywhere.
The article condemned attempts to divide people on the basis of faith and warned against the Bangladesh incidents being misused to polarise people in India.
"We are in favour of integrity and amity in India. We are in favour of protection of minorities. That applies to Bangladesh as well. There too, minorities should be protected," the editorial said.
This is the first reaction from Bengal's ruling party, a day after Bangladesh premier Hasina said neighbouring countries like India should also be vigilant to ensure that religion is not used to divide people in the backdrop of clashes in several parts of her country during puja. Hasina had also urged Hindus in Bangladesh not to consider themselves minorities.
Hasina's observations came at a time when there is a growing perception in Muslim-majority Bangladesh that the condition of Muslims in India has worsened since the change of guard in Delhi in 2014.
"The Bangladesh government and the administration should take appropriate measures. That is what they have been doing, according to reports. The government of India should speak up without delay," read the Jago Bangla editorial.
"Our appeal to citizens, do not spread acrid, biased comments over this. All that needs to be done with the aim of peace, let that be done. It should be seen that there is no inadvertent provocation ...Nobody's feelings should get hurt. We want a responsible resolution," it added. "When allegations come from Bangladesh, it is natural for us to feel bad. We have to be vigilant so that these allegations are... not misused as opportunities by fake champions of religion to spread venom ...."
The Hasina government initiated quick administrative action — Border Guard Bangladesh (BGB) troops were deployed in 22 districts to provide security to puja pandals and temples and 43 people were arrested — after attacks in Cumilla and other places in Chittagong range.
"The saffron ecosystem thrives on the misuse of such opportunities to foment tension and further the RSS's divisive agenda. Bangladesh is often used as an excuse by the BJP and its sister outfits to encourage hatred between communities in Bengal. We have been on alert to keep things from taking an untoward turn here," said a senior Rajya Sabha member of Trinamul.