Trinamul daily mocks Congress and Kanhaiya Kumar
Adhir Ranjan Chowdhury has called Mamata the BJP's Trojan horse, accusing her of acting as an agent of the saffron camp to weaken the pan-India unity of non-BJP forces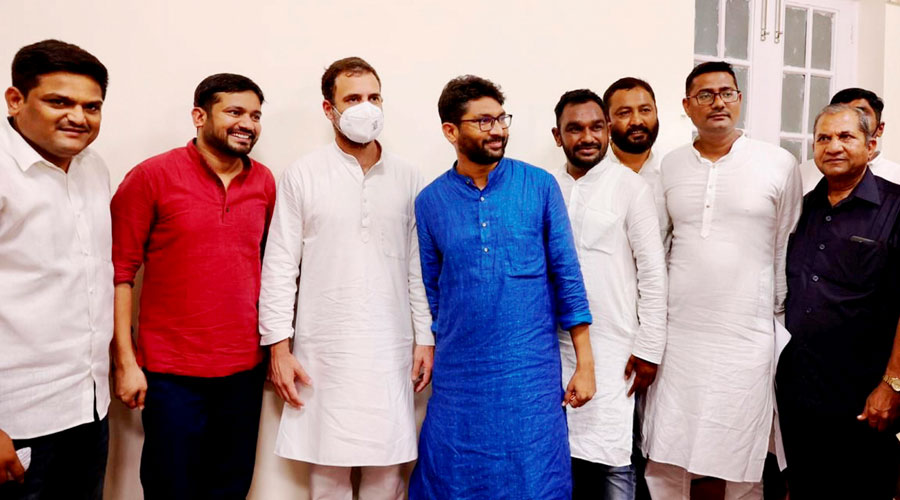 Congress leader Rahul Gandhi with Kanhaiya Kumar, MLA Jignesh Mewani and others at AICC HQ in New Delhi, Tuesday, Sept 28, 2021. Kanhaiya Kumar joined the Congress party.
PTI Photo
---
Calcutta
|
Published 01.10.21, 02:50 AM
|
---
The Trinamul Congress mounted yet another offensive on the Congress when the mouthpiece of Bengal's ruling party carried an editorial on Thursday, spewing scorn on the Congress and Kanhaiya Kumar over the young Leftist leader's induction overseen by Rahul Gandhi.
"Had they fallen short of poster-boys?" asked the short but stinging editorial in Jago Bangla.
"At a time realistic steps are necessary to strengthen the foundations of the alternative force, instead of doing that, the Congress is spoiling the situation by taking immature, myopic, cheap steps craving publicity. At the risk of offending some, we are compelled to state that this is called a circus," it added.
Apparently referring to the criticism of Trinamul over the recent induction of the likes of Sushmita Dev and Luizinho Faleiro, the editorial questioned the holier-than-thou approach the Congress had been taking on such matters, accusing Mamata's party of weakening the fight against the BJP.
"Why then did the Congress take Kanhaiya Kumar from the CPI, or the Left camp? The Left, too, are anti-BJP. Then why did the Congress take him from there?" asked the editorial, mocking the Congress over the induction of Kanhaiya amid "elaborate fanfare" and his defeat in the Lok Sabha polls in 2019 from Begusarai by over 4.22 lakh votes to the BJP.
"Such great dreams of the Left around Kanhaiya, such a noble leader! Before leaving, he even took away the party office's air-conditioner, because it was bought with his own money," the editorial added, referring to the purported incident at the CPI's Patna office. "Politics, with such narrow-mindedness?"
Adhir Ranjan Chowdhury, the Congress's leader in the Lok Sabha, has called Mamata the BJP's Trojan horse, accusing her of acting as an agent of the saffron camp to weaken the pan-India unity of non-BJP forces.