Trinamul Congress vs Justice Abhijit Gangopadhyay
HC judge, during the hearing of a SSC case, said that he would ask Election Commission to withdraw the party's symbol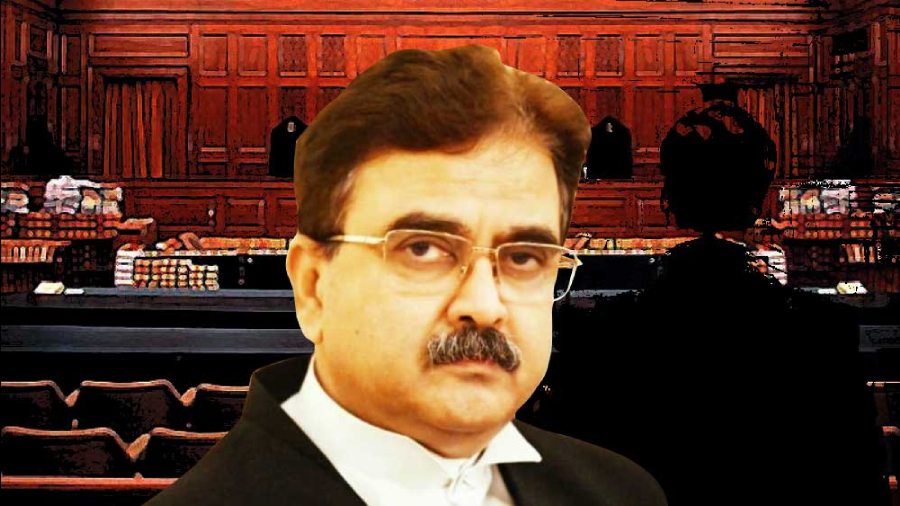 Justice Abhijit Gangopadhyay
anandabazar.com
---
Calcutta
|
Published 26.11.22, 05:41 AM
|
---
Justice Abhijit Gangopadhyay of Calcutta High Court on Friday said during the hearing of a case regarding appointments made by the School Service Commission that he would ask the Election Commission of India to withdraw the party's symbol and such a move would create history.  
Trinamul reacted to the judge's observations with scathing criticism and scorn.
"You (the judge) will say you will direct the abolition of a political party, summon them for questioning, what is this? I am addressing A.G. Aranyadeb Ganguly. Maybe someone thinks of themselves as Aranyadeb," Trinamul state general secretary Kunal Ghosh said at a news conference. 
Justice Gangopadhyay's bench had issued several rulings deemed adverse to the Mamata Banerjee government.
Aranyadeb (god of the jungle) is the Bengali name for Phantom, an American adventure comic strip, where the main character is a crime-fighting superhero — with no superpowers — operating from a fictional African country.
Ghosh began the news conference with elaborate statements of Trinamul's faith in the judiciary and respect for judges, before mounting the no-punch-pulled offensive.
At 10.30am, state education secretary Manish Jain appeared before the judge to answer questions regarding supernumerary posts created by the School Service Commission. Justice Gangopadhyay asked the IAS officer who had instructed the commission to create supernumerary posts for candidates deprived of teaching jobs so that those who had allegedly got employment illegally could continue in service.
Jain said education minister Bratya Basu had directed him to take such a decision. While replying to further queries by Justice Gangopadhyay, the bureaucrat said the government's legal cell and lawyers, including advocate-general S.N. Mookherjee, had endorsed the decision. Jain also said the cabinet had approved the decision.
In response, the judge asked: "How can a government take a decision to save the persons who obtained the jobs illegally? How can a government ignore a court directive and take a decision on its own?"
"Then, I have to say democracy is not in the hands of proper people…. I will issue contempt notices against all ministers of the state. They will have to come to this court and face my questions," he added.
Naming Trinamul, Justice Gangopadhyay continued: "I will ask the Election Commission (of India) to withdraw the symbol of the party."
"I know some other political parties will be aggrieved, but I don't care. The incident will create history, where every person of the nation will see how far the judiciary can go," he added.
When Justice Gangopadhyay was in the flow of words, a  state government lawyer came and informed him that the Supreme Court had issued an interim stay on the CBI probe he had ordered on Wednesday. In that order, Justice Gangopadhyay had directed the CBI to find out who had come up with the idea of creating supernumerary posts to save the jobs of the existing teachers.
Trinamul said it was willing to carry out the instructions or the orders issued by the judiciary, but it had reservations about Justice Gangopadhyay's observations. 
" You are misusing the judge's chair, you are building your own image, you are laying the ground for a political career after retirement. Judges have the power, they can give instructions and orders, what are these observations?" asked Ghosh, who is also a spokesman for Trinamul.
Asked if the judge was trying to defame Bengal, Ghosh lambasted Justice Gangopadhyay over a recent observation regarding Trinamul spokespersons.
"Taking the protection of a judge's chair, if someone says they would have our party abolished, as the spokesperson, will I treat that person to rosogolla? Go, Aranyadeb Ganguly, do whatever you are able to do. One cannot occupy a judge's chair and roll out one's political wishlist," said Ghosh, who is known for his proximity to Abhishek Banerjee. 
Chief minister Mamata Banerjee's nephew and political heir-apparent, Abhishek has frequently taken Justice Gangopadhyay's name in public and raised critical questions on some of his rulings and observations.
Senior advocate Bikash Ranjan Bhattacharyya — a CPM Rajya Sabha member and a petitioner against the state government — said the observations were best not made by the judge.
"The judge made certain observations. It would have been good if the observations were not made. But the observations are just observations, there is no need to get so riled up over them," said Bhattacharyya.
"What observation is correct, what is not, can be subject to a debate. A judge's observation is just a comment, not an instruction or an order. That observation cannot be the basis of a legal battle," he added. 
"But they have been part of corruption. Why are they so averse to the idea of having to accept that fact? There was corruption, and it was created by none other than Mamata Banerjee herself."