TMC reiterates demand for Jagdeep Dhankhar's removal
According to sources CM might meet the governor ahead of his address to the Assembly, but acceding to his demands remains out of question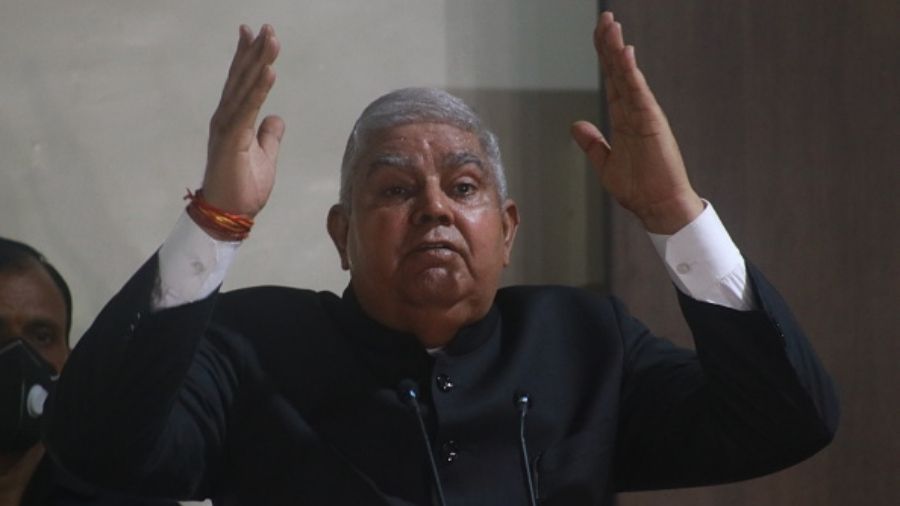 Jagdeep Dhankhar
File Picture
---
Calcutta
|
Published 30.06.21, 02:54 AM
|
---
The Trinamul Congress on Tuesday reiterated its demand for the removal of Jagdeep Dhankhar as Bengal governor and mounted a scathing offensive on his disagreement with the state cabinet's draft of his address to the Assembly on coming Friday.
Dhankhar had said he wanted to discuss certain "discrepancies" in the draft speech with chief minister Mamata Banerjee and hoped she would call on him on Tuesday. But Mamata didn't go to the Raj Bhavan on Tuesday.
Sources in the government said she might meet the governor before his address to the House on Friday but acceding to his demands would remain "out of the question".
Trinamul spokesperson Sukhendu Sekhar Roy said the constitutionally recognised route was that the governor would be aided and advised by a council of ministers, headed by a chief minister.
"He is not swayambhu (self-manifested)…. The issue at hand is between the chief minister and the governor. But these things, which should remain confined to these two foremost constitutional figures of the state, by bringing that into the public domain, the governor has violated his oath of secrecy," Roy told a press conference.
Addressing the press conference with Roy, another Trinamul spokesperson Bratya Basu said: "… prior to this, in the legislative history of India, the address for such a session drafted by a cabinet… not one governor has talked about changing the draft, adding or removing content."
Basu and Roy repeatedly stressed the "need" for Dhankhar's removal by the Centre.
"The Centre must give Bengal freedom from him," said Basu.
"He disregards his real boss, the President of India, on his Delhi trips…. He undermines the role of BJP state president here, by appropriating the mantle of the leader of the Opposition," he added, going on to say Dhankhar was "probably" the first governor since Independence who conducts news conferences and gives interviews to privately owned media houses on his own, demanding a code of social and mainstream media conduct for governors.
"He misuses Twitter, Facebook…. Naturally, the Constitution of 1950 does not specify the dos and don'ts with regard to these things, for a governor," said the minister.
"I demand before the Centre that when various governors are misusing social media, there should be a specific guideline setting the limits of gubernatorial conduct in such spaces," said Basu.