Trinamul Congress chief unveils outreach programme
3.5 lakh 'Didi's emissaries' to visit two crore houses before panchayat elections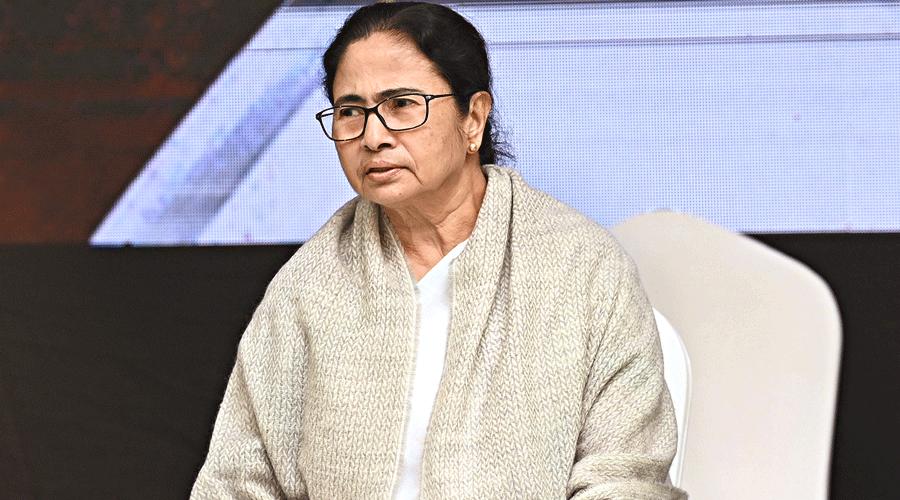 Mamata Banerjee at Nazrul Manch in Calcutta on Monday.
Bishwarup Dutta
---
Calcutta
|
Published 03.01.23, 02:47 AM
|
---
Trinamul Congress chairperson Mamata Banerjee on Monday unveiled her party's new mass outreach programme, as part of which around 3.5 lakh party members will be sent as Didir Doot (Didi's emissaries) to all two crore households in Bengal before panchayat elections.
Reminiscent of the mega Didi Ke Bolo campaign envisaged by poll consultant Prashant Kishor in 2019, the new initiative called Didir Suraksha Kawach (Didi's talisman or armour of protection) apparently has the core objective of placating disgruntled sections of the masses and enhancing transparency at the grassroots.
A barrage of graft allegations had hit the ruling dispensation through 2022.
Trinamul, which turned 25 on Sunday, had been working on the Didir Suraksha Kawach for a while under the guidance of national general secretary Abhishek Banerjee, said a source.
At the launch of the programme before hundreds of Trinamul leaders at the Nazrul Manch in Calcutta on Monday afternoon, Mamata said it was being done to ensure that every household in Bengal received the "protective shield" across ages, socio-economic backgrounds, castes and creeds.
The chief minister said a robust feedback mechanism would also be put in place to ensure that every household was secured through welfare schemes of her government.
"We have already covered around 99 per cent of the people through our welfare schemes.... The government will do its job but some complaints are received at the party level as well. Since everything, from a vast majority of panchayats to the state government, is being run by Trinamul leaders, this will help leaders connect better with the masses," said the chief minister.
"Like (the administration does in) Duare Sarkar, under this programme, the Trinamul Congress will go to the doorsteps of people to assist them in accessing welfare schemes," added Mamata.
On paper, poll consultant Kishor is no longer associated with Mamata directly since problems between him and the old guard in the leadership culminated in her distancing herself and the party from him. But that he continues to be a big influence on her nephew Abhishek — and therefore the party — was evident again from this latest initiative and its similarities with Didi Ke Bolo.
On Monday, Kishor's I-Pac (Indian Political Action Committee) was as ubiquitous — during the start of the Didir Suraksha Kawach, before and after it — as it was on July 29, 2019, at the launch of Didi Ke Bolo.
Following the launch, which was Module I of Didir Suraksha Kawach, Module II (i) will comprise teams of a total of 350 leaders conducting a door-to-door campaign for 45 days from January 11. They would spend an entire day and night in specific areas of gram panchayats and urban local bodies. Each of the 350 has been told to visit at least 10 panchayats and urban bodies. Bengal currently has 3,347 gram panchayats and 125 civic bodies.
Sources in Trinamul said Abhishek had instructed the selected 350 to compulsorily participate in" the programme and most had already given their dates of availability to his office.
The 350 have been asked to keep a low profile during their module. The community lunch in which they would participate ought not to be a feast — which happened often in the case of Didi Ke Bolo — but a basic lunch, they have been told.
They have also been asked to do proper homework about the places they visit and the people there. They are expected to draw up a list of potential opinion-builders or thought-influencers from the area.
The Module II (ii) will revolve around the Duare Didir Doot (Didi's emissary at the doorstep), which would involve 3.5 lakh booth-level workers of the party. They would visit every household of the state with the Didir Doot cellphone app to inform people of the initiative and help them get included as beneficiaries in 15 key schemes of the state government, across six core sectors — food, housing, healthcare, education, social security, income, and employment.
The schemes include Khadya Sathi, Nijo Griha Nijo Bhumi, Swasthya Sathi, Kanyashree, Lakshmir Bhandar, Krishak Bandhu and Samajik Suraksha Yojana.
Each team would comprise five booth-level workers and exclude those who are disliked or tainted. The training of the teams would be held at district headquarters by a team of experts from Calcutta. District leaders have been told to include women and at least two persons who are tech-savvy in the teams.
The senior leaders have also been asked to visit gram panchayats and submit confidential reports on the areas under other leaders. Abhishek's office would crosscheck the confidential reports later. "We want to ensure that accessibility, affordability and quality of public services are enhanced for the welfare of all residents of the state," said the Diamond Harbour MP.
Mamata claimed that the programme's rollout was in no way related to elections.