'Translation needs silencing of my mind'
Ramaswamy is probably the only Tamil person who is translating serious Bengali fiction into English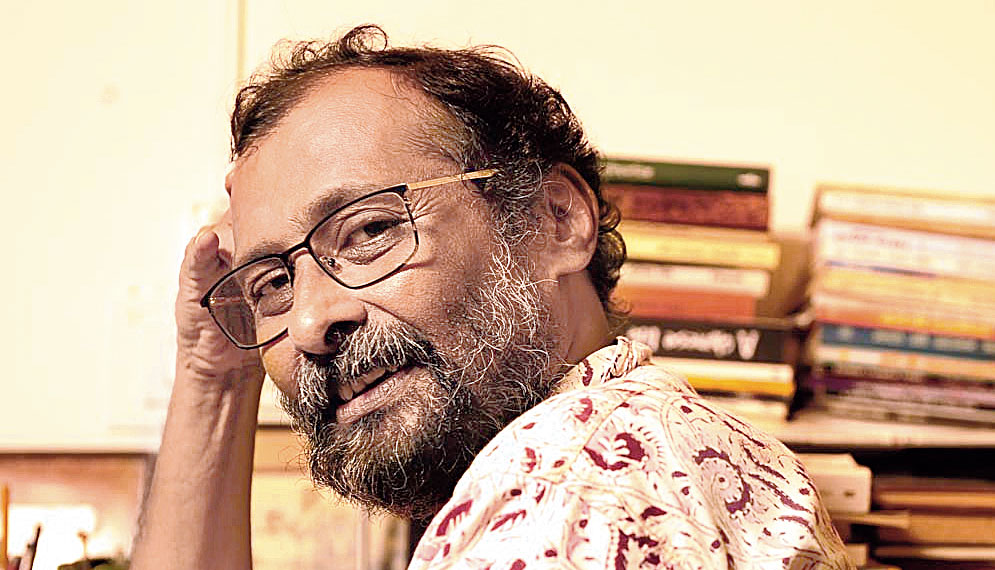 V. Ramaswamy.
Picture by Shubhendu Chaki
---
Calcutta
|
Published 01.09.19, 07:23 PM
|
---
V. Ramaswamy began to translate Subimal Misra by accident. If such things can be called accidents. .
Misra is by no means an easy author. The stories of this avant-garde, reclusive Bengali writer can seem elusive, ungraspable; the prose is sprinkled with deliberate misspellings and the lettering can look like a design by itself, with the point size suddenly increased. The text can be interrupted by giant graphics. His subjects can be "horrible", says Ramaswamy; though essentially about the human condition, they often dwell on brutal, savage aspects of life. Like a poor girl being taken to Digha for sex by two young men. Later, they murder her. "They enjoy her flesh and then remove her flesh," says Ramaswamy.
"There is no story, no plot, no progression," says Ramaswamy. "It's all language." It is an argument. And frames. Misra's fiction is unique, also because he takes his inspiration from cinema — that of Jean Luc Godard, considered by some the most radical French filmmaker of the 60s and 70s. The reader does not find any comfort of a narrative in Misra.
Ramaswamy knew nothing of all this when he decided to translate into English the works of Misra, a celebrated name in the Bengali little magazine world. A person Ramaswamy was meeting for the first time, in a bar, in 2005, told him that there was hardly any Bengali writer worth reading. Subimal Misra was an exception. Ramaswamy had come to trust this man's judgment from their previous interactions, and at that very moment he decided he would translate Misra. At that time he had not even read any Bengali literature. His was an audacious decision. It worked.
Not all promises made in a bar are kept. But this one was. Ramaswamy has translated several short stories and a few novellas by Misra, published in three volumes by Harper Perennial, an imprint of HarperCollins, since 2012. He is a dedicated Misra translator.
Besides, he is probably the only Tamil person who is translating serious Bengali fiction into English.
"I was almost born in Calcutta," says Ramaswamy, 59, a slightly-built, energetic man who speaks softly, clearly, smilingly and with a great economy of expression. He came to the city six weeks after his birth. He was born to Tamil parents and grew up immersed deeply in the life of this city, its culture and ideology. His wife is a Bengali.
He studied economics in St Xavier's College, Calcutta, and went on to study chartered accountancy in the UK. He realised he was not meant to be an accountant and returned to the city to begin an engagement with the rights of squatters and slum-dwellers.
He founded an organisation in Shibpur, Howrah, finally handing the organisation over to the community youth, as that was the aim. He also started Talimi Haq School — the name meaning Right to Education School.
He would eventually remove himself from the sphere of activism, as he felt he could not change anything. "I felt I was banging my head," he says.
That was in the 80s and 90s. Around 2000, he took charge of a factory that belonged to his father and his father's partner. The factory, in Kasba, manufactures rotameters, which are devices that measure the flow rate of a liquid or a gas used in a process.
"Rotameters are used in the food and chemical industries, or in anaesthesia, in processes where the amount of liquid or gas has to be controlled," says Ramaswamy. We are in his factory office, which, apart from a few copies of his translations, does not betray the presence of a writer. Rotameters are his profession and translation is his passion.
He makes a sharp distinction between language and literature to explain his practice of translation. It sounds like an entire theory of translation, articulated in his measured tones.
"My relation to translation is a linguistic relation, not literary," he says. "My own idea of literature is uninformed by any reading of literature."
"I know the Bengali language by ear," he says. The conversation, so far, had proceeded in English; now suddenly Ramaswamy switches to Bengali. "Bhashar arale thaka, gabhire thaka maneta ki amar jana achhe (I know the meaning that lies below the surface of the language, in its depths)," he says. "I have a grasp of the language."
Then he defines what he thinks are his limits. "I am a translation machine. It's impossible for me to be a Subimal reader. I am at best a skilled translator. I translate in a language that matches the original."
He attempts an unusual reading of Misra through the process. "A friend and collaborator reads my translation and tells me what Subimal means," he says.
"Translation needs the effacing of my self. I have been reading religious texts. I know what it is to silence one's mind. Translation needs silencing of my mind," he says.
"No pakami (cleverness) of your own, no bowdlerisation," he adds.
The other authors he is translating or will translate are, again, an unusual lot, some of them difficult and challenging. They include Bangladeshi writer Shahidul Zahir, Nabarun Bhattacharya, who wrote one of the sharpest critiques of contemporary Bengal, Swati Guha, director, Nazrul Centre for Social and Cultural Studies, Asansol, who has written a novel called Samudra, Ansaruddin, a marginal farmer in Nadia whose writing provides an ethnographic account of rural Muslim milieu of Bengal and the changes within it, Aditi Falguni from Bangladesh and Raghab Bandyopadhyay, another remarkable experimenter of language. And the fourth volume of Misra's works.
A great reward has been a close acquaintance with Misra. The 76-year-old writer, who lives in Maheshtala, had spurned the world's recognition following the example of Jean Paul Sartre's refusal to accept the Nobel Prize. He is ill now and in need of support. Ramaswamy visits him regularly.
Misra would publish his books himself earlier, sitting with the typographers himself, so that no error was introduced to his writing. He had felt that all great books had been written; a writer was required to do something different.
Ramaswamy compares Misra to the American writer William Burroughs or Austrian writer Elfriede Jelenick. One of Ramaswamy's translated volumes, dedicated to Godard by Misra — "Jini amake bhasha shikhiyechhen The one who taught me language" — reached Godard. It was a happy moment for Misra.
"Translation is torture. Translation is a solitary and lonely enterprise," says Ramaswamy.
As is life. But both have their rewards.