Tata Steel picks up transgender persons for traineeship programme
Aene and Aashi are in the first batch of 14 transgender persons who have been inducted by the century-old company as part of its diversity and inclusion (D&I) effort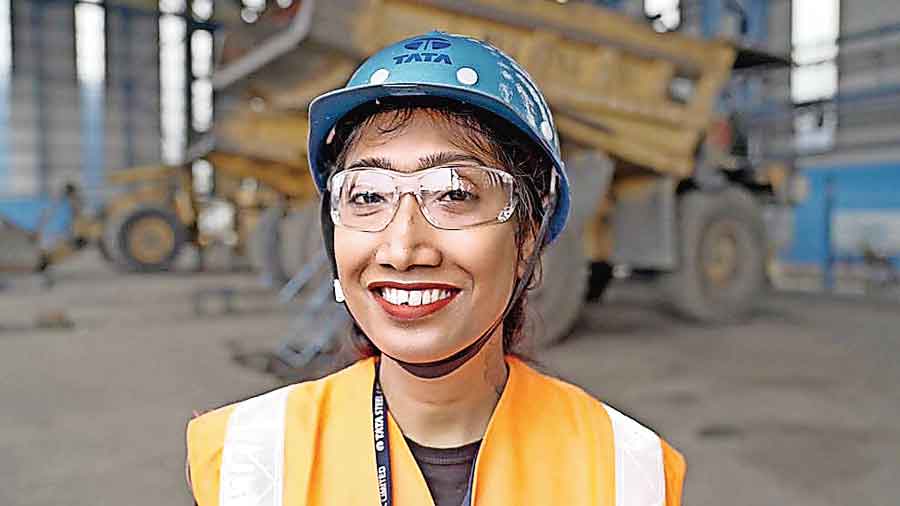 Aene Nath at Tata Steel's West Bokaro coal mines.
---
Calcutta
|
Published 08.08.22, 03:03 AM
|
---
There was a time when Aene Nath did not know how to ride even a Scooty; now she sits proudly in the tiny cabins atop large dumpers and dozers operating in a coal mine.
It normally takes her just under 10 hours to reach Tata Steel's West Bokaro division in Jharkhand from her native place at Rishra in the Hooghly district of Bengal. But it is almost impossible to measure the distance she has traversed socially over the past nine months.
For someone growing up as a transgender person in a district town and often subjected to verbal abuse and ridicule for her appearance, the offer of a traineeship at Tata Steel was beyond her wildest dreams.
"I didn't know whether to laugh or cry when it came," Aene said from her workplace. She is now preparing to leave for Chennai for the final leg of her training programme at the Caterpillar factory.
There she will be joined by Aashi Singh, who previously worked in a salon in Ranchi before being picked by Tata Steel for the traineeship programme.
Aene and Aashi are in the first batch of 14 transgender persons who have been inducted by the century-old company as part of its diversity and inclusion (D&I) effort. There are now at least 100 of them at various Tata Steel locations.
Even though they were recruited over the past nine months, Tata Steel had begun preparing a long time ago for the change, trying to create a sensitive and inclusive workplace environment for those who proudly march under the rainbow flag and count themselves among the LGBTQIA+. It hasn't been a cakewalk. "Believe me, the first 2-3 years were spent trying to convince ourselves that we needed it. I got so tired of answering why we were doing this that I started retorting, 'Why not?'" said Atrayee Sanyal, vice-president of human resource management at Tata Steel.
Supported by the top management, Tata Steel went along with the principle that a large organisation needs to create an inclusive environment.
Sanyal's team realised that the ground must be prepared before the first batch arrived, so that the trainees would feel comfortable at the workplace and in the community where they would live.
Most people have almost no interaction with transgender persons, many of whom are seen begging at traffic signals or doing ritualistic chores of badhaai at homes. Thus, the sensitisation programmes covered not only the workforce but also the gram panchayat, union leaders and opinion leaders.
A small batch of transgender persons were invited last year to the West Bokaro division, which has the steel behemoth's captive coal mines, before the recruitments. They toured every site, including the workplace, canteen, places of worship and the market.
The initial responses were mixed. Some said that if the experiment at Tata Steel failed, no one else would succeed and it would be a setback for the efforts at workplace diversity and assimilation. A number of naysayers wondered whether the transgender persons would be able to stick it out.
To demonstrate their seriousness in pushing the envelope on transgender inclusion, the division considered opening up key positions in the mining business for this community.
"We thought if we can bring them into key skilled jobs, they can work everywhere," said Sudhir Kumar Singh, a senior HR manager at the West Bokaro division of Tata Steel.
After eight months of groundwork, applications were invited -- and 74 responded. Fourteen were selected from a total of 48 who turned up for the interview.
"We are providing them bachelor accommodation on a twin-sharing basis in our housing colony. They are invited by neighbours for tea and coffee at family functions," Singh said.
Apart from a monthly stipend of about Rs 20,000, which is a little higher than what the other trainees get, they are provided all employee and medical benefits that are available to the rest. That is not all.
Medical transition and hormone treatment, two of the key medical requirements for many transgender persons, are being provided even though Tata Steel's insurance partners do not cover these yet.
"We identified some of their key needs and introduced them right at the beginning," Sanyal said. An advantage here was that the company has its own hospital in Jamshedpur.
Some of the trainees said the Tata Main Hospital earlier had only male and female wards. "Now there is a trans ward at the hospital following a request from us," said Ravi Srivastava, a transgender trainee from Chhattisgarh at Tata Steel Jamshedpur.
Sanyal said the company had set no limit to how many transgender persons can be taken into the workforce. The transgender drive is part of a larger initiative that aims to increase the recruitment of women, LGBTQIA+, people with physical disabilities and the affirmative action community.
"We want to ensure that 25 per cent of the workforce comes from these four groups by 2025. At present, we are at 17 per cent," Sanyal said. The company had a workforce of about 35,927 people on March 31, 2022.
Recruitment from the two sub-groups, women and the affirmative action community, has been fairly robust compared with the other two. A National Human Rights Commission report on transgender persons from 2018 might help explain why.
Bappaditya Mukherjee of Prantokatha, an NGO that works with transgender persons, said the report had found that 98 per cent of transgender persons are thrown out of home when they reach puberty.
"I can see that some of the large corporate houses, especially MNCs, are looking to hire transgender people as part of their diversity initiative. But these companies' talent or skill requirements now far outweigh what is available (within the transgender community). Only a handful of them manage to graduate," Mukherjee said.
Tata Steel is trying to plug the gap with a rigorous training programme.
Aene is already feeling the change but is hungry for more. "Those relatives who shunned me once are now sending friend requests on social media. I can feel the change but I am not stopping here," she said.
Aashi summed it up, saying her job would prove a point to the world. "Hum sirf nachne wale nahi hain. We can do the work the rest of you do, maybe a little better," she said.