Traffic curbs for road cave-in
The CMC is trying to throw open the flank by late on Tuesday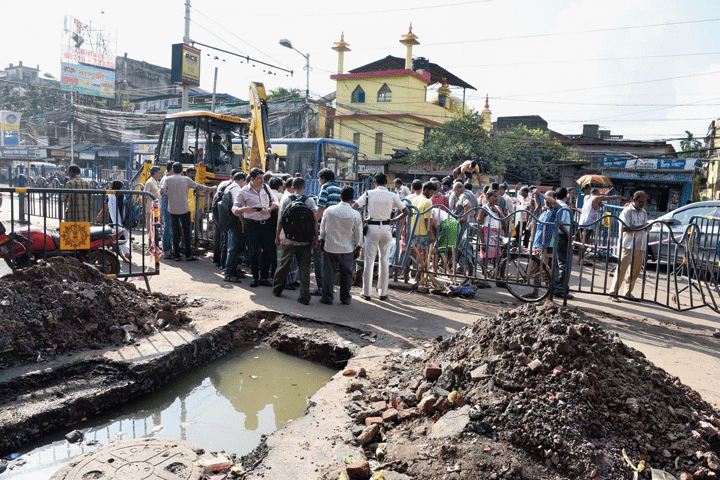 ---
|
Calcutta
|
Published 11.11.19, 08:39 PM
---
A portion of APC Road near the Sealdah flyover caved in on Monday, possibly after an underground sewer line collapsed.
An 80-metre stretch on one flank of the busy road had to be closed to traffic, leading to snarls on Monday morning.
A portion of a 12-inch diameter sewer pipe had collapsed, causing sewage to leak and enter the soil. This may have triggered the subsidence, a senior official of the Calcutta Municipal Corporation (CMC) said.
The official said efforts were being made to fix the leak by Tuesday morning, after which the road would be restored.
"There are two parallel sewer lines, one bigger than the other. There is also a third sewer line called the rider line that connects the first two lines. A portion of this connecting sewer line collapsed," the official said.
"A rider line is one where sewer lines of all localities meet. It is connected to the main brick sewer line at some points," a CMC engineer said.
Only small vehicles headed towards Sealdah were allowed on the affected stretch while buses had to take a detour.
The closure of one flank of APC Road, just a few metres from the northern end of the Sealdah flyover, led to traffic snarls on Monday morning. Sealdah-bound buses had to be stopped on a long stretch of APC Road to ease the traffic.
Tuesday being a public holiday for Guru Nanak Jayanti could mean fewer traffic snarls.