Traders who don't understand business
Brothers Nandy in Jorasanko adda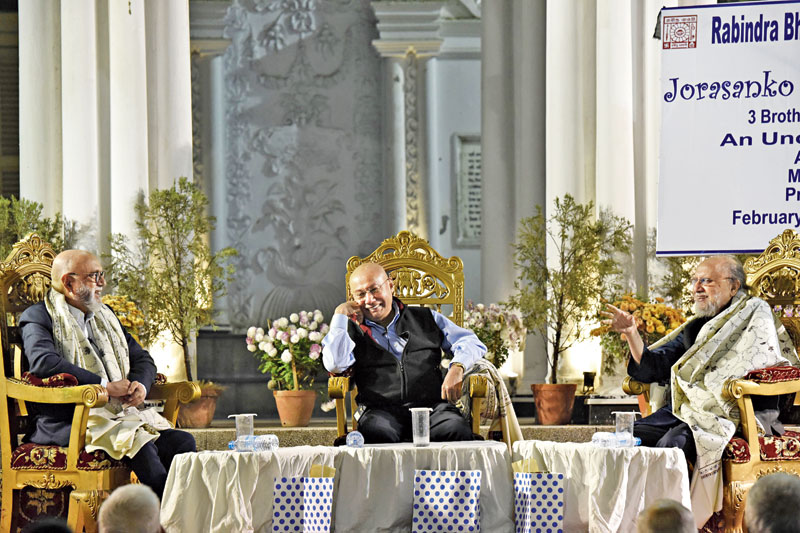 (From left) Brothers Pritish Nandy, Manish Nandy and Ashis Nandy in conversation at Jorasanko on Saturday evening.
Picture by Sanat Kr Sinha
---
Calcutta
|
Published 08.02.20, 07:44 PM
|
---
Three Nandy brothers, Ashis, Manish and Pritish, sat for a fireside chat at Tagore's Jorasanko home on Saturday and spoke on the red flags they see across the country.
Ashis, 83, is a political psychologist and social theorist. Manish, 80, an economist, was earlier with the World Bank. Pritish, 69, is a former editor, poet, painter and film producer.
Excerpts from the adda hosted by Rabindra Bharati University:
Economy
Manish: The two-leader party is trying its level best to homogenise the country.
Pritish: They are baniyas (traders). But yet they don't understand business. Once you take a look at the country's economy, you would understand they don't understand anything about business….
Unemployment is at an-all time high.
Manish: The economy will be completely destroyed in three years if things go unchecked. These two men are not realising if there is no goodwill between communities, business can never grow.
If communal tension persists, foreign investors will stop investing in India.
If I want to sell a soap, I wouldn't want to sell it to only Hindus or only Muslims. I'd want both.
Now, the opposite is happening. And, very consciously, there is an attempt to widen the chasm.
Jeff Bezos
Manish: They did not even spare Amazon founder and the Washington Post owner Jeff Bezos. And what was the ground? Because the Washington Post ran a story opposing the amended citizenship law. He was not granted appointment by the Prime Minister's office.
Kishore Kumar
Pritish: About two weeks ago, Prime Minister Narendra Modi was supposed to attend a gathering of those from the Hindi film industry that we know as Bollywood in Bombay on the issue of CAA [Citizenship (Amendment) Act].
There, he had plans to talk about the benefits of the CAA. As the PM came to know about the possibility of a not so impressive turnout, he sent Union minister Piyush Goyal. None of the well-known actors, directors, filmmakers or producers was present there barring two-three BJP people who are in the business. People come even out of fear. But some people are not afraid anymore.
During Emergency, one Kishore Kumar had stood up to the government. Now thousands of Kishore Kumars are daring to do so.
Shaheen Bagh
Ashis: In spirit, Shaheen Bagh resembles the Quit India movement. During the Quit India movement, even as Mahatma Gandhi or other front ranking leaders were arrested, the British had failed to contain the protest that was springing up across the country in an unorganised shape.
The same has happened with Shaheen Bagh. One Shaheen Bagh has given birth to so many protests, be it in Park Circus or in Bangalore. The BJP does not how to contain them.
Institutions
Manish: Everyone knew that police were corrupt. But still we believed that institutions like the Supreme Court would remain absolutely neutral while holding trial. We were of the view that the Election Commission of India would more or less remain fair. The universities would be run by the academics. But now these places, on whom we would rely the most to hold aloft the sprit of democracy, have been dismantled carefully.
Pritish: This is the first step of the process. Called lumpenisation, legitimisation of lumpenisation.
Manish: In the US, there is an advantage to the extent that some of the institutions have still not surrendered. Attempts are underway to make them fall in line, but they have so far resisted.
BJP's desperation
Ashis: Many in India feel the BJP will lose Delhi because it has fared miserably on the economic front.
Pritish: The signs of desperation that are visible in the BJP suggest that the party is destined to lose Delhi.
Manish: They are scared of what they will do once they lose (Delhi). This ruthlessness comes from that fear.
Media
Pritish: Earlier, when the government issued a handout, the first thing the editors did was to question it. Now, they publish it.