Tournament in paddlers' hub Siliguri
After 5 years, national championship to be hosted in cradle of table tennis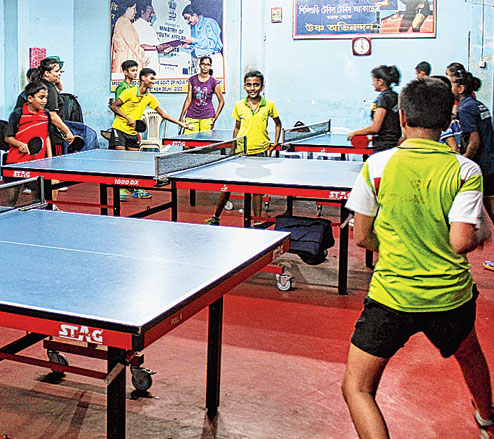 ---
|
Siliguri
|
Published 12.11.16, 12:00 AM
---
Siliguri, Nov. 11: The paddlers' cradle of Bengal will host the National Cadet and Sub-Junior Table Tennis Tournament from January 1-6, 2017, that will see over 700 players battling for hours.
The players will be in the under-12 and under-15 age groups and the event organised by the Table Tennis Federation of India.
"A large-scale event like a national championship in any town creates excitement among local players as well as sports lovers. Siliguri has hosted some national table tennis championships but this one is being held after four-five years," Amit Dam, a table tennis coach who has run the Siliguri Table Tennis Academy since 1993, said.
Siliguri has a special place on the table tennis map of India as it has produced three Arjuna awardees - Mantu Ghosh, Subhajit Saha and Sounyajit Ghosh - and several other table tennis players from the town.
The event, announced today, has made youngsters, senior and veteran players, coaches and sports lovers, enthusiastic.
Siliguri has 16 coaching centres where over 500 kids regularly practice under the watchful eyes of several former players like Mantu Ghosh and Subrata Roy.
"Siliguri has been known for table tennis for decades as the town has bred many table tennis paddlers of Bengal who have played and achieved success in different tourneys. What can be a better sport event than a national-level table tennis championship?" Mantu, a former national champion and the first Arjuna awardee of Siliguri, said today.
However, Mantu and some other veterans of the game simultaneously pointed that as Siliguri did not hold any major national championship in past five years - in 2007 the seniors' national championship was held here and the national championship of juniors and youths in 2011 - interest has waned in the game.
"We have paddlers enrolling at the coaching centres everyday but performance-wise, the town could not produce younger players who could prove their mettle at championships in recent years," Mantu said.
At this point, she said, a tournament here will encourage young paddlers to continue honing their skills.
"I have been playing for two years and am yet to secure the necessary ranking to play at a national tourney. It would have been excellent if I would have got a chance to play in the tournament that would be held here," Swapnil Mitra, a Class VII student who is coached by Mantu, said. "It would be great to watch matches and learn new skills."
This afternoon, state tourism minister Gautam Deb, said: "In total, 715 players from different parts of the country will participate. A sum of Rs 50 lakh would be spent, out of which the state will bear Rs 15 lakh. The winners, along with medals and trophies, would be provided with cash awards totalling Rs 4.75 lakh."