Tour ban in West Sikkim, Lachen lifted
The dzomsa (traditional local body) also lifted the bar on tourists on Wednesday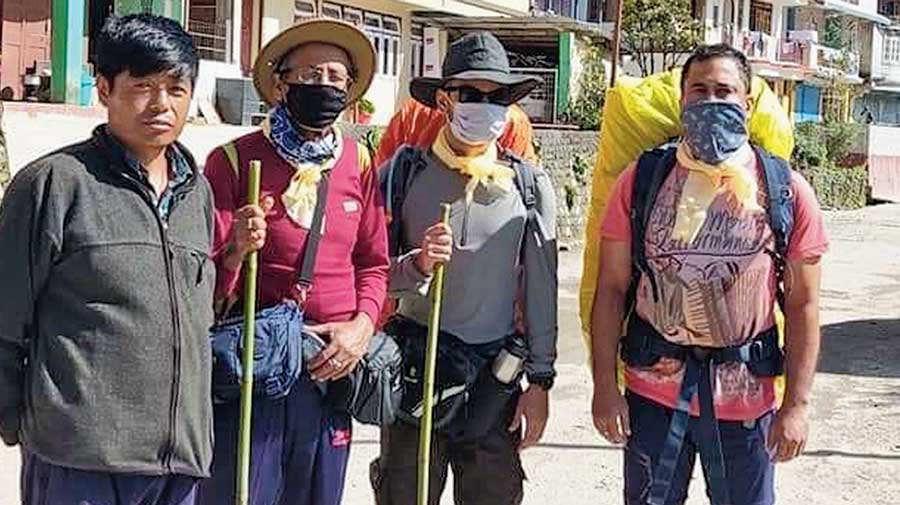 ---
|
Siliguri
|
Published 22.10.20, 02:26 AM
---
Entire West Sikkim was thrown open to tourists from Wednesday with the lifting of the ban on the entry of visitors imposed by a few local bodies of the district because of Covid-19 fears.
The dzomsa (traditional local body) of Lachen in North Sikim also lifted the bar on tourists on Wednesday. However, the ban remains in force at Lachung, the other tourist hotspot in the north district.
The dzomsas of the two hotspots were the first to bar the entry of tourists into their areas in early March.
In West Sikkim, the panchayats of Yuksom, Bermiok-Berthang and Thingling-Kheciperi lifted the ban on the entry of tourists at the intervention of the Sikkim government. "All of them (panchayats) have lifted the ban. There is no place in the district where any sort of restriction on the entry of tourists is in place," said Karma R. Bonpo, the district collector of West Sikkim.
With the lifting of the ban by the Yuksom panchayat, tourists can now go on a trek along the picturesque Dzongri-Goeche La route. Even though the Sikkim forest department had lifted the ban on access to the popular trekking trail last week, there was uncertainty over its reopening because of the ban imposed by the local panchayat.
After a gap of eight months, a three-member team of tourists from Khardah in north Calcutta embarked on a trek from Uttarey, which also is West Sikkim, on Wednesday. The trio took the Chewabhanjyang trekking trail which will end on the fringes of Singalila National Park in neighbouring Darjeeling district.
"This was the first trek involving tourists in eight months. We have received over 20 bookings so far. If everything goes well, we should be hosting tourists till December," said S.B. Subba, who runs a trek and tour agency at Uttarey.
Earlier on Wednesday, the district collector of North Sikkim, Tenzing T Kaleon, had said: "I am given to understand that the dzomsas of both Lachen and Lachung have told the local MLA that they will lift the ban on the entry of tourists, but nothing has reached me in writing."
Efforts to reach the office-bearers of the Lachung dzomsa and local MLA Samdup Lepcha, who is also Sikkim's roads and bridges minister, proved futile.