Too few takers for many state-aided schools
Parents often opt for private English-medium schools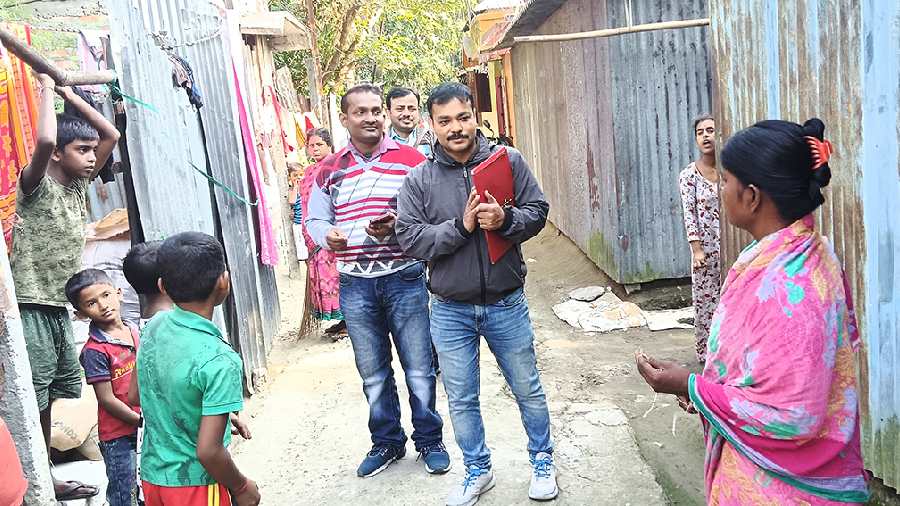 Teachers of a high school visit Dauaguri, a locality on the outskirts of Cooch Behar town, on Saturday to get students
Picture by Main Uddin Chisti
---
Cooch Behar
|
Published 29.12.22, 04:20 AM
|
---
Teachers of a number of state-aided high schools in Cooch Behar are visiting different localities and primary schools to get students for their institutions where the number of students is reducing for various reasons.
"We are visiting primary schools to encourage students of Classes IV and V to take admission in our school in the future. We are also talking to parents," said Utpal Sinha, the headmaster of Cooch Behar Town High School, which has 30 teachers but only 550 students.
Similar is the situation at Sri Sri Karunamoyee High School, another higher secondary school in the town. Sushmita Dey, the headmistress, said there are 20 teachers but only 300 students in the school.
"Our teachers are putting efforts to get new students. We have a proper infrastructure and an adequate number of teachers to teach more and more students," she said.
Chiranjib Mitra, the headmaster of Seba Sadan Shikshayatan, a state-aided higher secondary school in Guriahati on the outskirts of Cooch Behar, is facing the same challenge.
"We have 15 teachers and 435 students, which is much less than other schools. We have launched a drive to get more children in our place and regularly visit the neighbouring areas," he said.
Academics in the district said the reason for such a situation in some of the schools is manifold. Many parents send their children to private English-medium schools. Some parents admit their wards to reputed Bengali-medium schools. Also, there have been dropouts during the Covid-19 pandemic, especially in higher classes.
"Some dropouts resumed studies, but not all," said a senior faculty member of ABN College, who appreciated the initiative taken by these schools to get more students.
During their visits, the teachers are elaborating to students and parents on the additional facilities available in the schools, like vocational courses on computers, fine arts and options to join the NCC.  
Bina Poddar, the teacher-in-charge of Vivekananda FP Primary School of Dauaguri, said a group of teachers from Cooch Behar Town High School had been to their institution. They collected the list of students who are in Class VI and their contact details for probable future candidates.
"It is indeed a contrasting situation. On one hand, prominent schools are crowded with students. On the other, these schools are not getting students. We, however, can't do much as the parents always make the final decision on where to admit their wards," she said.