Tollygunge police station raid over drinking arrest
Constable allegedly slapped and beaten up by mob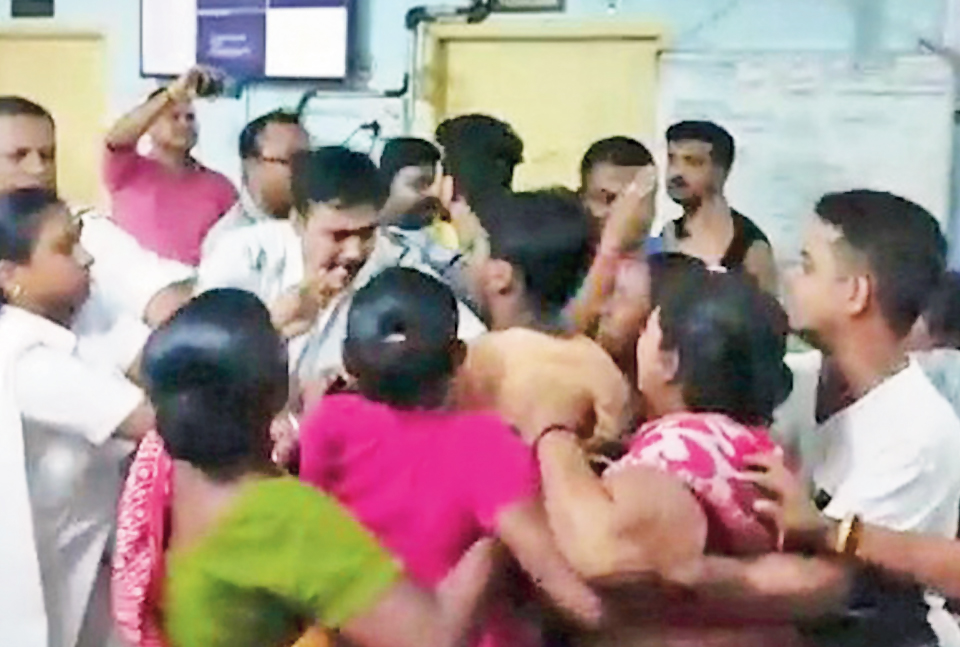 ---
|
Calcutta
|
Published 12.08.19, 11:10 PM
---
A group of men and women from a Chetla slum allegedly stormed into Tollygunge police station on Sunday night and assaulted a constable in public view after a youth from the locality was booked for drinking in the open and creating a nuisance on the footpath opposite Menoka cinema.
Two persons have been arrested for the mob attack.
The constable had just stepped out of the police station when he was allegedly slapped and beaten up by the mob that demanded police hand over to them the officer who had made the arrest. Videos being circulated on social media showed the constable running for cover inside the police station.
The incident brought back memories of the attack on Alipore police station five years ago when a group of men and women allegedly owing allegiance to the Trinamul Congress had ransacked the police station and managed to snatch from police custody a man arrested for trying to stop public servants from erecting a boundary wall on a government plot in Alipore.
TV footage had showed policemen cowering under tables and shielding themselves with files during the rampage.
A suo motu case of assaulting public servants and rioting was started on Monday morning against unknown persons who were part of the alleged mob attack on Tollygunge police station.
The arrested youth, Ranajoy Haldar, 21, was granted bail from the police station. Haldar and three of his friends had been sitting on the footpath opposite Menoka cinema, allegedly drinking in the open, when a police officer confronted them.
Three of the youths managed to flee but Haldar was caught, an officer of Tollygunge police station said. "He was drunk and was taken to the police station for creating public nuisance," the officer said.
Haldar, who works as a delivery executive for a chocolate manufacturing company, admitted to Metro on Monday that he had been drinking but claimed he had not done anything to disturb others.
"My friends had left and I was walking home when an app cab took a left turn and almost ran over my feet. I protested. Suddenly a police officer appeared and asked me to accompany him to the police station. He demanded
Rs 200 to let me and when I did not pay, he took me to the police station and started beating me up," Haldar said.
Haldar said he called up a family member and told him he was at Tollygunge police station when an officer allegedly snatched the phone and smashed it.
A little later, around 30-40 men and women packed into two auto rickshaws and several motorcycles reached the police station.
"We all wanted justice. Why would my son be arrested for doing nothing? And when we protested, we were beaten up inside the police station," Haldar's father said.
Some residents of the slum said they would demand justice from a local Trinamul leader who is also a minister in the government.