TMC's Sujit Bose's men removing hoardings says Subrata Dutta
Subrata Dutta: President of state Congress women's wing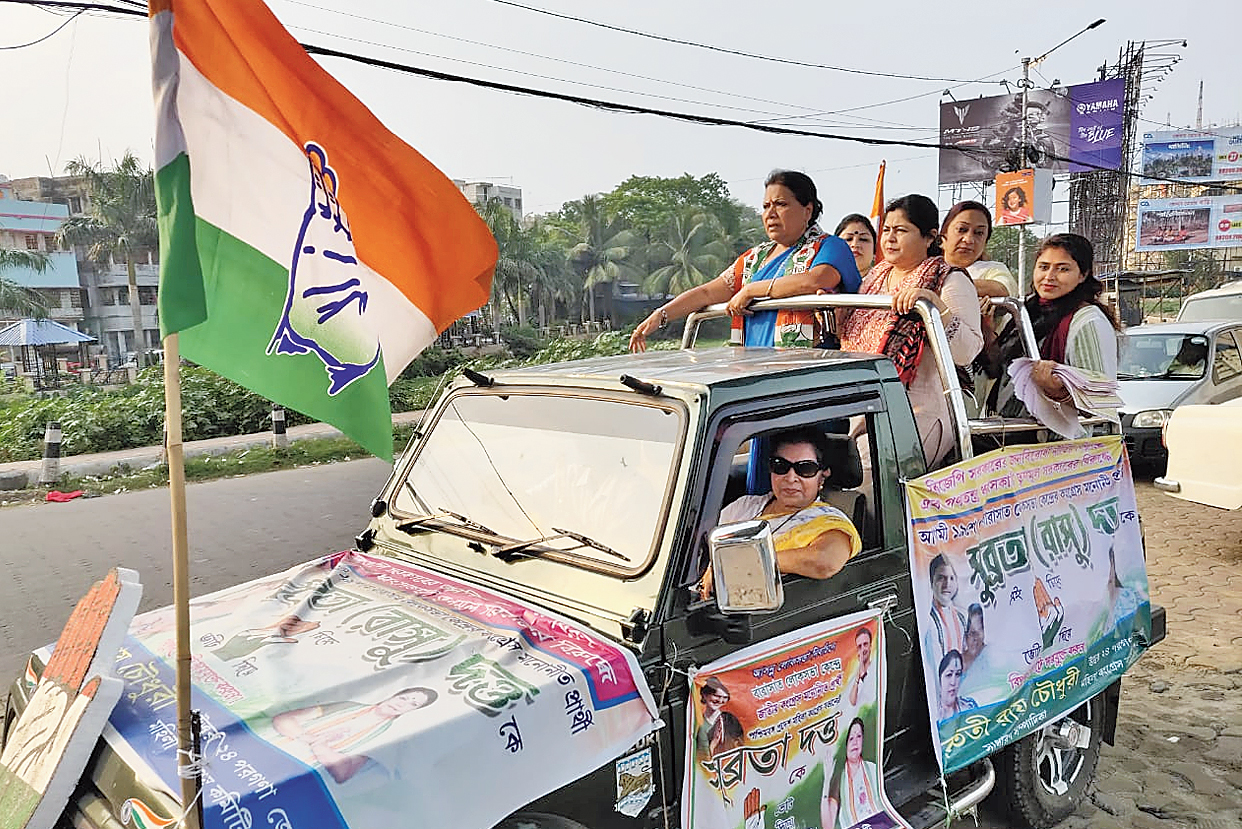 ---
|
Calcutta
|
Published 17.05.19, 10:35 AM
---
Tell us about your background.
I was born and brought up in CIT Road, Phoolbagan. My grandfather was a freedom-fighter. My father and uncle worked in the merchant navy. Before he expired in 2013, my husband too was a captain in the merchant navy which is why I spent many years abroad in between. I have two daughters. One is an MBA and the other a doctor. I used to be in business. Now I am a party wholetimer.
How did you come into politics?
I was in Chhatra Parishad before I left the country. When I came back, I joined Pradesh Congress and was a secretary for a long time during Manas Bhuniya's presidentship. I am now president of state Congress women's wing. This is my own debut at the hustings though I have worked for the campaigns of Somenda (Mitra) and Deepadi (Das Munshi) when they contested.
You are in the last lap of campaigning. How do you assess the situation?
If people can vote, this year's statistics will tell a different story. Everyone is asking: "Didi, can we vote?" Many women complained that they are not allowed to come out to vote. The memories of the panchayat elections are still fresh in their mind. This is largely Trinamul's doing. The central forces need to instil confidence in the voters. But in some places they are asking voters to vote for BJP! This is the last phase. We are fearing large-scale malpractice. Fourteen of our rallies have been cancelled by the police, that too at the last moment. We staged an agitation in front of the Barasat police station. There is so much infighting amongst Trinamul workers that they do not trust each other. They might not even vote for their own party candidates. Those votes can go either to Congress or to BJP.
What issues are you highlighting?
We have promised Rs 6,000 a month for families with monthly income below Rs 12,000. We want agricultural loans to be remitted. We have done that in Rajasthan, Chhatisgarh and Madhya Pradesh. We will also pass the women's reservation bill if we come to power. Workers do not get full payment for 100-day jobs here. Local leaders take hefty cuts from that as also from widow pension and elderly pension. In Barasat, healthcare delivery system is at a low.
What are you saying about your rivals?
The Trinamul candidate has not worked much as MP. Roads are damaged, Metro rail is taking too long, the national highway is yet to be widened. The hawkers by the highway have not been rehabilitated from the pavements. Villages still need roads and water. The roads of Barasat are so congested that the shops are encroaching on the roads. The canals are not cleaned. There are dengue outbreaks every year. The BJP candidate has never voted. Yet he directly gets a Lok Sabha ticket! As for the Left Front candidate, I want to remind people that wherever in the world the Communists have departed, they have never come back. They will not form a government at the Centre. So voting for them is a waste of a vote.
A word on your expectations in Salt Lake.
I cannot put up a single hoarding in Salt Lake. The Trinamul candidate's chief election agent Sujit Bose's men are removing them. So I am having to organise rallies there regularly.
And New Town?
There are too few voters there. There are mostly offices. The residents are registered elsewhere as voters.
Has Priyanka Gandhi's joining Congress helped your cause?
The Congress is largely identified with Indira Gandhi. Priyanka resembles her in her attitude and looks. Her presence is surely a positive signal.
How do you spend your spare time?
I am a dedicated Rotarian. I am the chief aide to the governor of Rotary district 3291. I was assistant governor for many years. Rotary is my oxygen. I also love to drive. I have won many awards in car rallies. I also like to listen to ghazals and old Hindi film songs. And I love to cook. I specialise in oil-free cooking.