TMC makes Babul Supriyo keep a low profile
The ruling party tries to keep BJP turncoat 'out of sight' in Ballygunge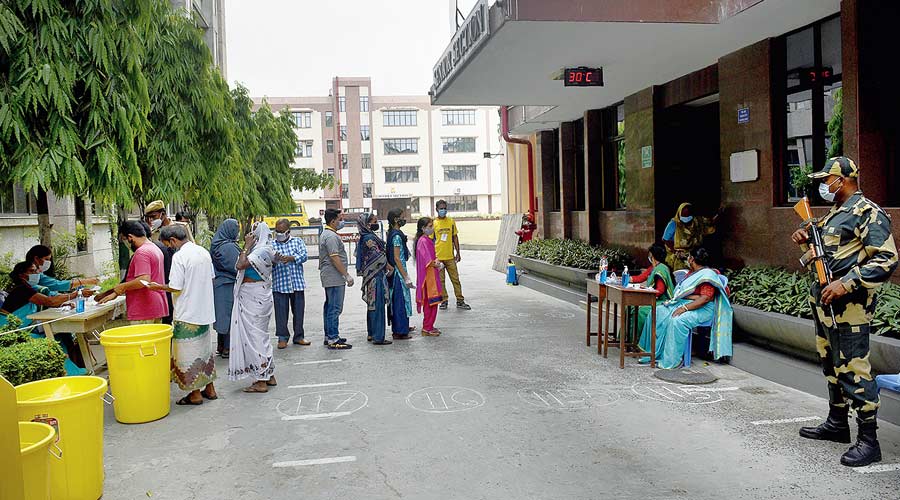 Voters queue up at a polling station at Mahadevi Birla World Academy in Calcutta on Tuesday.
(Bishwarup Dutta)
---
Calcutta
|
Published 13.04.22, 02:37 AM
|
---
Babul Supriyo, the Trinamul nominee for the bypoll to  the Ballygunge Assembly segment, was hardly visible on  polling day on Tuesday, amid murmurs that the ruling party kept the BJP turncoat away from voters fearing an  adverse impact.
While the former junior Union minister, desperately in need of a victory in Ballygunge to revive his political career, was largely absent from the poll arena, his opponents — Saira Shah Halim of the CPM and Keya Ghosh of the BJP — were hands-on.
He showed some activity towards the end of the day when he confronted two alleged fake voters at a polling station.
Multiple Trinamul sources said the party sought to keep Supriyo "out of the picture" as much as possible in a constituency with over 40 per cent Muslim population.
"We are aware of  severe discontent, especially among Muslims who identify him with the Asansol riots and abusive statements he made against  anti-CAA protesters (when he was with the BJP)," a Trinamul leader said.
Supriyo started his day in Ballygunge after 8am by going to a few booths but was stopped from entering one by central forces. He visited some areas near Park Circus, but spent most of the day in south Calcutta, including his election office in Dover Terrace. A little after noon, he drove his car back home in Howrah's Shibpur for lunch and returned around 3pm.. 
Asked why, he said he didn't want to eat "rich and heavy food", which is why he drove home for lunch.
"During that particular time all our senior leaders had also taken a break. I had to eat something. I didn't intend to eat something heavy and rich, so I went back (home). But I was back soon," Supriyo said.
Ballygunge, with seven wards, has over 40 per cent Muslim population. Wards 60 and 61 have the maximum Muslim density followed by wards 64 and 65.
"We consciously kept him away from minority areas during the campaign. It will be a boon for us that he wasn't seen much in the constituency on the polling day either," a Trinamul leader said.
Supriyo, however, claimed he was very much visible. 
"The polling was so peaceful. I'm confident of winning... I've been to every booth, to every ward of my Assembly," Supriyo told this paper.
CPM candidate Halim said she had started doing rounds of the Assembly from 7.30am. She remained in Ballygunge all through the day. 
BJP's Ghosh said that Trinamul must be very proud of their candidate, taking a dig at Supriyo for leaving the constituency for lunch at home.
The Ballygunge bypoll was necessitated by the death of Trinamul stalwart, Subrata Mukherjee in November 2021. He not only represented the constituency but was also a member of Mamata Banerjee's cabinet when he died.
Counting will be held on April 16.