TMC, Cong & CPM unite to protest killings
Mamata Banerjee led from the front with an unequivocal condemnation of the killings, describing it as an "evil portent" for the whole country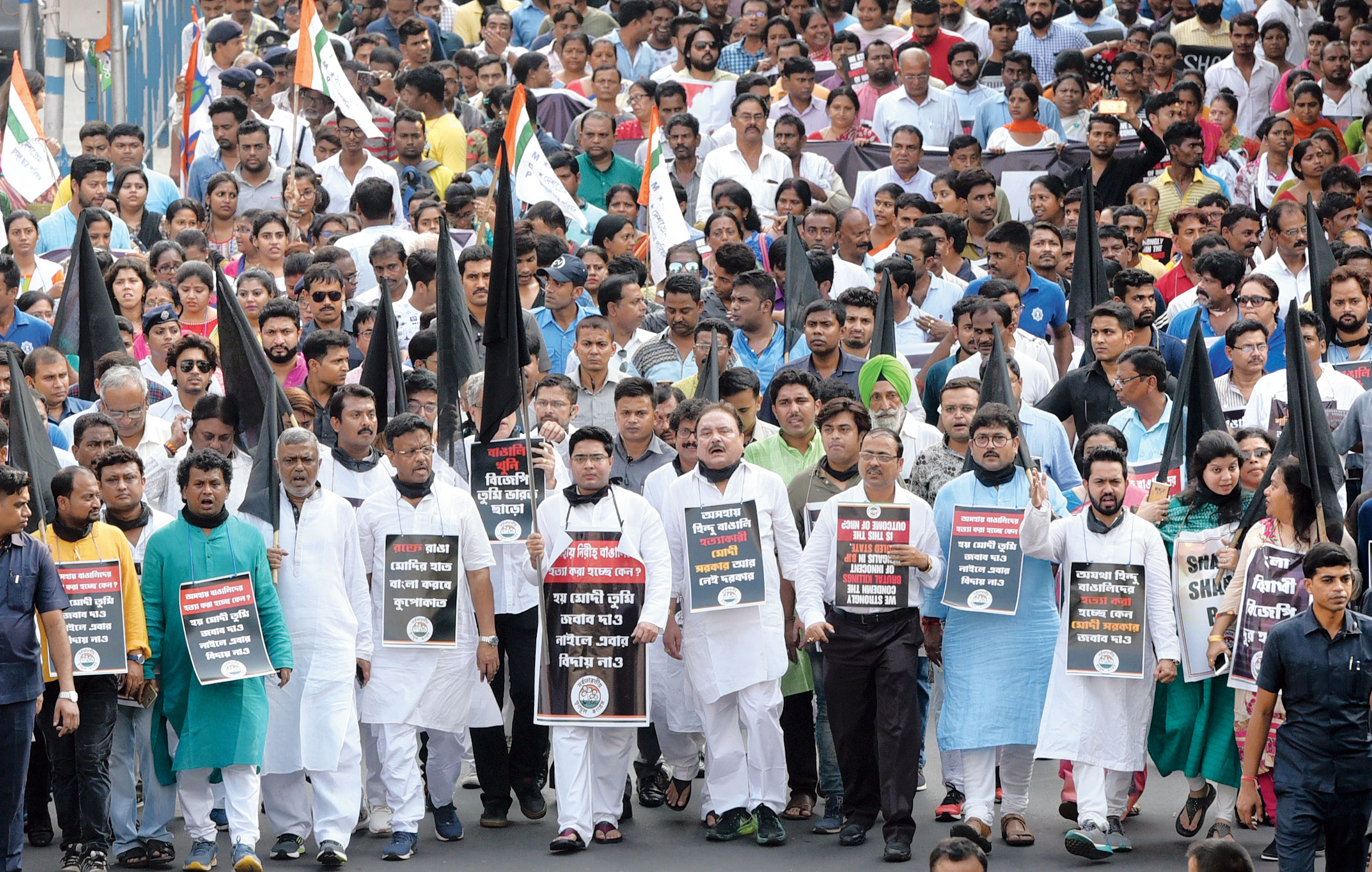 The Trinamul rally led by MP Abhishek Banerjee in Calcutta on Friday.
Picture by Pradip Sanyal
---
Calcutta
|
Published 02.11.18, 07:37 PM
|
---
The Trinamul Congress, CPM and the Congress united in Bengal on Friday to protest the killing of five persons in Assam's Tinsukia, while the usually vociferous BJP remained conspicuously silent for the most part of the day.
Chief minister Mamata Banerjee led from the front with an unequivocal condemnation of the killings, describing it as an "evil portent" for the whole country.
Her nephew, MP Abhishek Banerjee, led a rally in south Calcutta and sought a Supreme Court-supervised probe into the murders.
He called for the resignation of Assam chief minister Sarbananda Sonowal, who belongs to the BJP.
Trinamul has decided to send a delegation of MPs and MLAs to Assam over the weekend to "stand by" the families of those killed in Tinsukia.
The CPM, too, took out protest rallies. State secretary Surjya Kanta Mishra denounced the killings and the alleged politics of polarisation.
Bengal Congress president Somen Mitra announced
his party's plan to observe a "black day" in the state
on Saturday.
Mamata, who arrived in Calcutta from north Bengal in the evening, used the dais of several Kali Puja inaugurations to protest the killings.
"I am mortified. Darkness has descended ahead of the festival of lights…. I can see their faces. They belong to poorest of the poor families. Murderers do not discriminate between the rich and the poor. I am feeling extremely sad," said the Trinamul chief at a north Calcutta pandal.
"An unholy force is active across the country. There is an evil portent that has kept the whole country in doubt…. Agencies are threatening people to join some committee of the RSS or face the consequences. This is unprecedented," Mamata added.
A Trinamul leader said the killings of the five Bengali-speaking persons could turn into a "serious emotive issue" in Bengal, "which will greatly disadvantage the BJP here ahead of the Lok Sabha polls".
"There is Bihari khyadao (drive out) in Gujarat, Bangali khyadao in Assam. The people of the entire nation are terrorised. There is a game to spread fear everywhere," Mamata said. "Our motherland is like our deity…. If she is not happy, how can we be happy?"
After maintaining silence through the day, Bengal BJP chief Dilip Ghosh said the Assam killings were "unfortunate", but attacked the other parties for the "despicable" politicisation of the issue.