TMC, BJP feeding off each other: Mohammed Salim
The CPI(M) leader shares concerns over competitive political communalism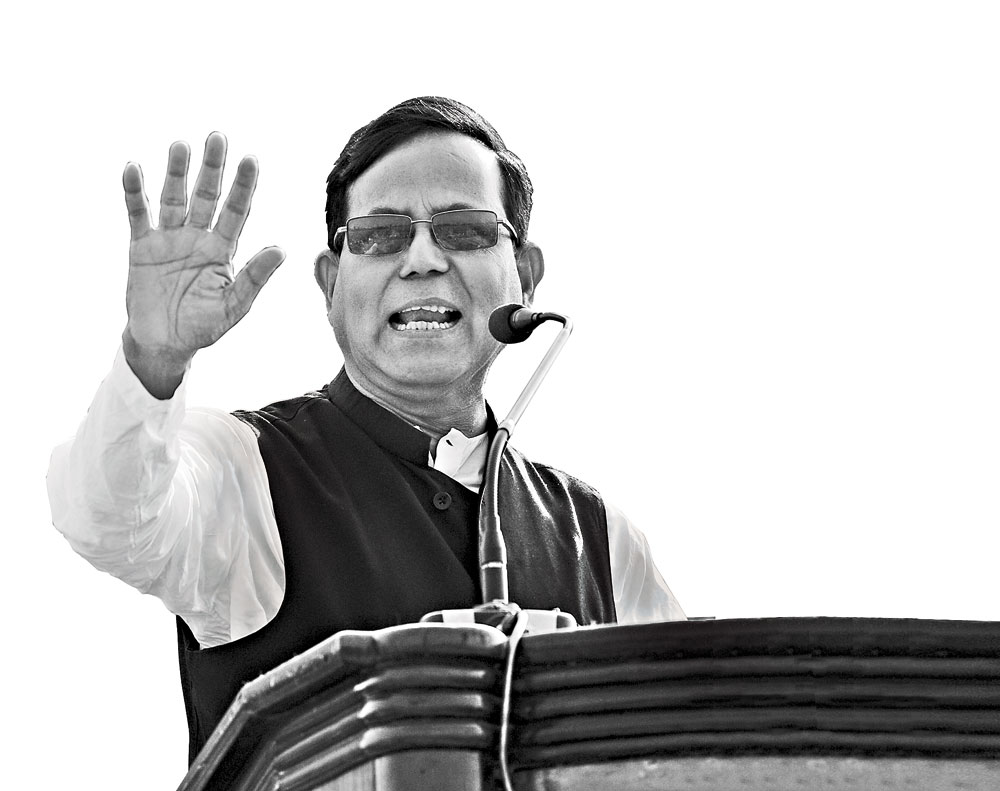 Mohammed Salim
Picture by Deshakalyan Chowdhury
---
Published 25.03.19, 09:26 AM
|
---
Mohammed Salim has just returned from Raiganj, his constituency, 400 kilometres north of Calcutta. He is in the city to attend a wedding reception and take care of some official work. The very next day he will be off with his "bonchka-buchki", or bundle of essentials, to the north Bengal town, where he will stay put till the Lok Sabha elections are done.
Salim is an out-and-out Calcuttan. His family has been living near central-west Calcutta's Kidderpore dock for eight generations. But ever since Raiganj sent him to the Lok Sabha five years ago, he has been doing this to and fro. His 2014 win, however, was by a slender margin (1,634 votes) and somewhat unexpected. Raiganj has been a Congress stronghold for decades and Salim was pitted against Congress's Deepa Das Munshi.
According to political observers, Salim gained as the anti-Left votes were split between Deepa and her brother-in-law, Pabitra Das Munshi, a Trinamul Congress (TMC) candidate. Others point out that Salim was able to garner support from Muslims, who constitute nearly 48 per cent voters in the constituency. Salim was also one of the only two CPI(M) Lok Sabha members from Bengal; most others had been ousted by a TMC wave.
I hit a raw nerve at the very beginning of the chat when I ask him how he managed to pull off that win despite being a rank outsider in Raiganj. The 61-year-old thunders, "Who is not an outsider? Isn't PM Modi an outsider in Varanasi? Aren't the MPs in my neighbouring constituencies — Darjeeling and Balurghat — outsiders?" The outsider tag is a gross "misnomer" in a democracy and the globalised world, he says. "It's a spillover effect of xenophobia in the public psyche and a sustained campaign. This is what helps people target others as Bangladeshi infiltrators, foreigners, based on identity, community or name. This is why there was a terrorist attack on mosques in New Zealand."
I am meeting Salim in his office at the CPI(M) headquarters on Alimuddin Street in central Calcutta. He is dressed in a white kurta and pyjama, and looks way younger in person.
We are each served with a paper bag of muri and chanachur (puffed rice mixed with fried gram and crackers) and a cup of lal chaa (black tea). The street that used to be Bengal's political nerve centre for 34 years has clearly lost its lustre. Guarding the mouth of the alley are huge cut-outs of TMC leaders.
Before we can settle down, one of the mobile phones on his table comes alive; the ringtone is shrill, screechy. Someone has spotted a Congress graffiti in Raiganj featuring Deepa. (This is a week and a half before Congress's list of Lok Sabha candidates was announced.) And yet the general impression was that the Left had a seat-sharing arrangement with Congress, and that the Congress high command had decided to leave the Raiganj seat for the Left party. Salim, once a skilled footballer, shoots, "It's their (Congress) graffiti, why don't you ask them? All I can tell you is that I am contesting on behalf of the CPI(M) and the Left Front." Later in the day, it becomes evident that seat-sharing talks between Congress and the Left have broken down, and Raiganj has been thrown open for a four-cornered fight between the Left, Congress, TMC and BJP. So much for the grand alliance of parties coming together to take on BJP.
Salim, however, is thoroughly enjoying the chaotic situation. I get a sense that he is rubbing his hands in anticipation of a tough match and is readying to strike the ball straight into the rival's net with a neat free kick.
Salim has been active in the Lok Sabha. He participated in 85 debates — issues ranging from incidents of religious conversion to communal violence, from the National Register of Citizens to mob lynchings, from the impact of demonetisation to the deplorable condition of tea garden workers in Bengal. He also sent a strong note of dissent against the Citizenship (Amendment) Bill 2016 as member of a joint parliamentary committee.
"My attendance in Parliament would have been 100 per cent if I didn't have to attend two sessions of our party congress, and the Assembly, municipal and panchayat elections. Just like in my school days, I am very particular about attendance," he says.
Whenever Parliament is not in session, he visits his constituency. "I try to be with the people of Raiganj, during good times and bad. I am just a phone call away," he says. As if to prove his point, the phone rings again. I gather it is from someone who had lost his way at the Howrah station and has finally reached home. After the call Salim explains, "This migrant labourer was on his way to Kerala. He had been drugged and his belongings were snatched by a gang of thieves in the train. Earlier, they used to call the village pradhan or the panchayat member; now they call me. That has been my achievement in the past five years."
Salim says he is doubly alert during religious festivities — Holi, Durga Puja, Eid, Muharram. "Even a minor incident can multiply into violent outrage," he says. He rues the fact that both BJP and TMC have been trying to foment communal trouble in the state for political gains. He talks about how the radical Hindutva of the Sangh parivar doesn't go with the ethos or philosophy of Bengal firmed up by Rabindranath Tagore, Nazrul Islam or Swami Vivekananda.
He argues that TMC has worked in tandem with BJP and the Sangh parivar on the common tool of religious polarisation. One pretends to appease the minority, while the other appeases the majority community, he says, "Identity politics has taken the worst shape in Bengal." To elucidate the point he shows me a video of a rival political party in which one of the leaders is urging people not to vote for Salim who is a communist and an atheist. "These people never bow down to God," the leader can be heard saying. According to Salim, he was chosen for Raiganj for his experience in handling critical situations. "Close to the chicken's neck [the strip of land that connects Bengal and the Northeast to the rest of India; surrounded by Bangladesh and Nepal] this area is extremely sensitive. Smuggling and other anti-national activities are rife here," he says. Salim claims he has been able to win the trust of a large section of people.
That he has secured the top spot in terms of utilisation of MPLADS (MP Local Area Development Scheme) funds in the state somewhat supports his claim. The scheme enables MPs to recommend developmental work in their constituencies. "Not only did I ensure utilisation of the funds allocated to me, I also made sure that the under-utilised funds of the former MP [Deepa Das Munshi] were used for development," he says. A local doctor, who doesn't want to be named, corroborates that Salim has indeed worked sincerely on building roads and developing the infrastructure of schools, hospitals and other public amenities. "The funds have been utilised uniformly across Raiganj," says the doctor, who has been practising in the area for decades.
Another phone call, brief, screeching. This time, one of the foot soldiers is alerting him about a "bomb blast" in Goalpokhar in Raiganj. He mumbles, "See, poll violence has started. A child lost its arm while miscreants were making bombs." He tries to call the district magistrate and the superintendent of police to inform and take action, but his calls go unanswered.
I compliment him on his robust social media presence and regular updates but he will have none of it. The credit goes to a new generation of youth and student volunteers. "From painting graffiti and pasting posters, we have graduated to online platforms. We just make sure that no fake news or fake pictures are circulated." He adds that a large number of students are returning to the Left fold. "After a lull, ideologically-motivated students are coming back to us," he claims. These students have come up with new slogans with hashtags #Vote4Left #DilseSalim #PhirseSalim.
But is the party reinventing itself? Will the Marxists in India now recognise Dalits and come up with some kind of a neo-Marxism? Salim shoots back, "Well, Marxism is not a dogma. It helps one develop an outlook to analyse the socio-economic condition of people in a specific place, in a specific time frame. You need creative application based on ground realities." Until 2000, Marxists worried about "class struggles", ignoring the bitter reality of Dalits. According to Salim, now Marxists recognise Dalits as depressed or suppressed classes. "There is an overlap between caste and class. But we shall never create a political formula based on caste identities. We'd rather combine these realities judiciously with democratic ideas," he says.
As Salim puts forward a formula for CPI(M) 2.0, there's another phone call reminding him of the wedding reception. He asks them to wait as a television channel is in the queue for an interview. Salim, even on a break from Raiganj, is getting on with his campaign.