Time travel with science fiction
Aliens, robots, monsters… the audience got to hear about all these and more at a science fiction seminar held in the course of a book fair at FE Park recently.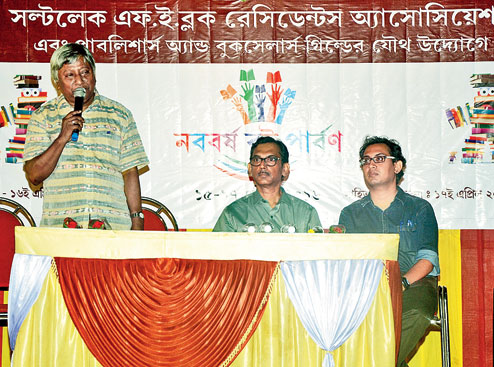 ---
---
Aliens, robots, monsters… the audience got to hear about all these and more at a science fiction seminar held in the course of a book fair at FE Park recently.
The fair had been put up by the Salt Lake FE Block Residents' Association and the speakers at the seminar were science fiction authors Anish Deb, Saikat Mukhopadhyay and Samudra Basu, who is a researcher and collector of children's literature.
At the onset, Krishnendu Mukhopadhyay, who was the convenor of the event, briefed the audience about science fiction. "Science fiction comprises simply stories that use science to solve problems," he said. "It is a natural progression for readers who listened to fairy tales in their childhood. That's because while fairy tales are all fantasy, these are reasoned out by science, part of which may be imagined. But lest it scare potential readers away, let me stress that one doesn't need to understand Einstein's theory of relativity or Newton's laws to understand science fiction."
Mukhopadhyay touched upon the works of science fiction authors like Jules Verne, who wrote Journey to the Center of the Earth, Twenty Thousand Leagues Under the Sea and Around the World in Eighty Days, H.G. Wells, who wrote The Time Machine, The War of the Worlds and The Invisible Man, Isaac Asimov, Arthur C. Clarke and Robert Heinlein.
The speakers then took over. "Many seminars are held on tigers but none on crows as the former is endangered. I hope that's not the case with this seminar on science fiction," began author Mukhopadhyay. "We writers love this genre as we have an infinite playground. We can use invisible men, teleporting, aliens and what not! In fact reality today was science fiction yesterday. Just think of mobile phones," he said, going on to narrate in short some stories of science fiction authors Ray Bradbury, Asimov and even Anish Deb, a fellow-speaker.
"Science fiction attracts readers as it describes things beyond normal human capabilities. If someone jumps 10-ft here the whole neighbourhood will gather but no one will bother if someone jumps 1-ft," said Deb. "Only, science has to be the controlling factor in these stories."
Deb shared how the first science fiction stories came about (see box) but added that he is yet to meet an editor who insists that his authors write specifically on this genre.
Basu felt the genre needed more platforms for writers. "In the 1960s and 70s, Bengali literature had several science fiction books and magazines. Satyajit Ray created the popular Professor Shonku (left), Premendra Mitra created Ghonada and they are still popular. Sadly in the 90s, when India surged ahead in science, Bengali science fiction fell behind. To revive the genre, the works of current science fiction writers need to be showcased with new vigour, preferably in newspapers."
The audience appreciated the effort to hold the seminar. "While today I wish to buy some Sunil Ganguly book, I also enjoy reading about space, aliens and conspiracy theories about man's landing on the moon," said Samir Chakraborty, a resident of FE Block who had come to the fair. "Such seminars are interesting and should be encouraged."
TALE OF TWO FIRSTS
• The first-ever science fiction novel was Frankenstein; or, The Modern Prometheus. Published in 1818, it was written by Mary Shelley when she was aged between 18 and 20. The idea for the book originated when Shelley was visiting Lake Geneva along with authors P.B. Shelley (who would later be her husband), Lord Byron and John Polidori.
The friends had decided to compose horror stories on that holiday and Shelley soon had a dream that would lead to the novel. The book, about a monster created by a science experiment, was influenced by Zoonomia, a book by Erasmus Darwin, Charles Darwin's grandfather, on anatomy. Despite early reviews that found it absurd, the book was an instant success and is still widely read almost 200 years after publication.

• The first piece of science fiction literature in Bengali is credited to scientist Acharya Jagadish Chandra Bose. In 1896, a then-famous hair oil brand Kuntalin had announced a story-writing competition. The only criterion was that the oil be incorporated in the story. Bose wrote Niruddesher Kahini, a short story about how a cyclone in the Bay of Bengal is tamed when a passenger on a ship empties a bottle of the hair oil into it. The story was backed with scientific but fictional explanations. Bose was already a respected scientist by then and wasn't sure how the story would be accepted by people, so he sent the entry in without naming himself. But the story was loved. It won the first prize and the identity of the author became public.
Bose later worked on the story, titled it Polatok Toofan and included it in his collection Abyakto in 1921.
Following the success of the story, Hemendra Mohan Bose, the entrepreneur who owned Kuntalin, declared the Kuntalin Puraskar to be an annual contest and it went on to encourage many upcoming writers of the time, including Sarat Chandra Chattopadhyay who won it in the early 1900s.
Which is your favourite science fiction title? Write to The Telegraph Salt Lake, 6 Prafulla Sarkar Street, Calcutta 700001 or email to saltlake@abpmail.com