Time and Yuletide
The story of this season in Calcutta is entwined with the story of the Anglo-Indian community of the city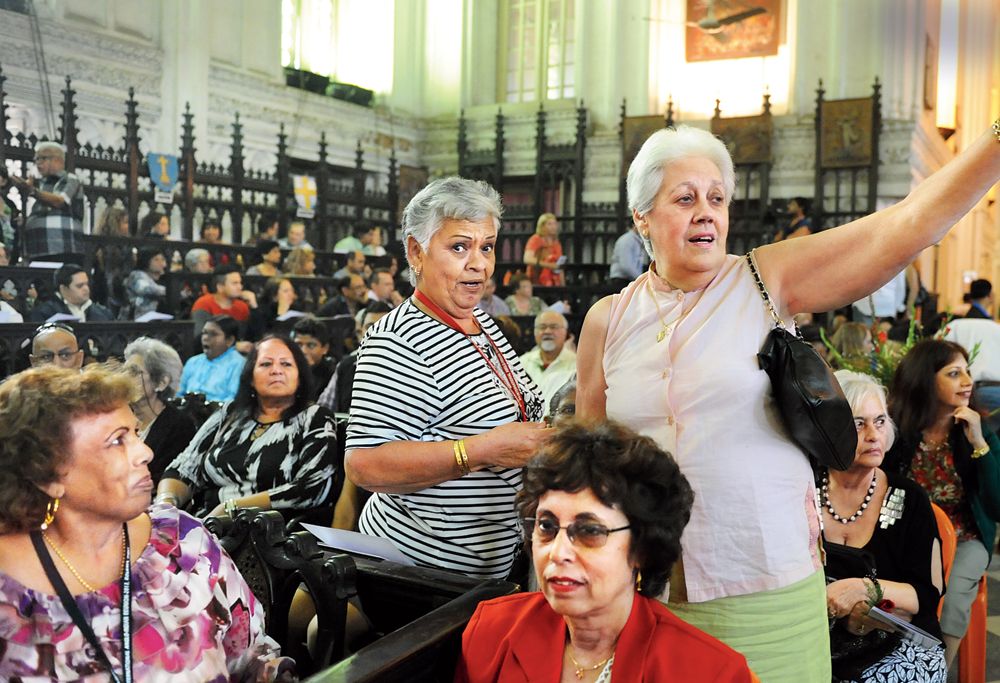 ---
---
Christmas in Calcutta is not something the malls and restaurants just dragged in. No sooner than October turns a corner, just before mid-November is nigh, when the regulator for the ceiling fan rolls from 4 to 1 and the season's first oranges and kinnows appear aside the mausambis at the fruit vendor's, when the air gets as nippy as a month-old puppy and elbows turn chalky, that is when you start to feel it — the Christmas infusion.
There are some iterative rituals popular across sections, the most common being cake buying. And then, of course, there is Park Street, resplendent in cheery Made in China LED embrace with shop names that jingle with a melody of bygone days. Dear Park Street — less street, more promise of good times — paved with a cosmopolitan legacy. A legacy that is most certainly part British, but which along with Christmas as we know it is also a gift of the Anglo-Indian community.
"The common perception is an Anglo-Indian is someone with one British parent and the other Indian. But the term refers to all people of mixed European and Indian parentage," says Leslie Pereira, who is one of the members of the steering committee of the Calcutta Anglo-Indian Service Society or CAISS. As spelt out in Article 366(2) of the Constitution of India, an Anglo-Indian is a person whose father or any of whose other male progenitors in the male line is or was of European descent but who is domiciled within the territory of India and is or was born within such territory of parents habitually resident therein and not established there for temporary purposes only.
In The Anglo-Indians: A 500-Year History, S. Muthiah and Harry MacLure write that the first generation was born of the Portuguese, the second of the Dutch, Danes, French and Anglo-Celts, and the third of "those who first dreamed of empire… from 1746 to 1857." Says Colin Fitzgerald, who is also with CAISS, "The community in Calcutta was and is predominantly Christian."
The early Anglo-Indians stood out and even had certain advantages. Most of them looked and spoke a certain way, and tried to replicate their European heritage. But buffeted by time and context, a new identity was born, and an inevitable socio-cultural osmosis redefined legacy traditions including Christmas.
With the Raj was gone the guaranteed employment in the railways, post and telegraph, customs, but the old habit had kept generations of Anglo-Indian men from seeking higher education. This gap translated into great economic disadvantage in subsequent generations that stayed on. Says Colin, "As the world moved on, what were once considered the Anglo-Indian's distinct Western edge — ability to speak in English, fashion sense, carriage — no longer remained so." Others migrated to England, Australia, Canada, New Zealand. Says Leslie, "What came to be enforced in the popular arts is the Anglo-Indian stereotype. Men who drank and swore. A community that jived and drank and only made merry."
According to Colin, the community in Calcutta today is largely working-class, disadvantaged and elderly. "The blonde green-eyed woman you see in Tiljala slum today, standing in queue to use the handpump, is also an Anglo-Indian," says Leslie.
What has all this got to do with Christmas? "This growing gap [between the disadvantaged majority and the affluent few] has made the Christmas celebration the way it is now," says Colin, who has a touch of the philosopher. I am aware that at one level he is being CAISS specific, but from my conversations with the other interviewees it seems to me his theory could well stretch.
Errol O'Brien, 80, has been a tea taster for four decades. I learn from him that November is when many Anglo-Indian families start work on the Christmas cake, venture out to New Market to shop for white pumpkin, cherries, raisins and orange peel. In the essay, A Distinctive Christmas Cake, Dolores Chew writes about how the skinned almonds and other dried fruits were fed into the hand-operated mincing machine, then placed in large, shallow, circular baskets lined and covered with cloth and "taken up to the terrace every day in Calcutta's wintry sunshine". Errol's family has kept alive this tradition.
The first O'Brien was a soldier of Irish descent who served in the British Army, but Errol chooses to begin his story with his grandmother, the grand matriarch. Nellie Bella, a Bengali Catholic Christian married into an Anglo-Indian family. She was widowed early and thereafter pursued and secured a degree in medicine and built a formidable career. "Muslim women reluctant to see male physicians consulted her," says Errol.
Nellie Bella's children were educated, but not everyone was as prescient or blessed. Del Moxon (now Rodrigues), 87, was born in Calcutta but when she was three, she moved to Harrow in England with her parents — her father worked in an ammunition factory there.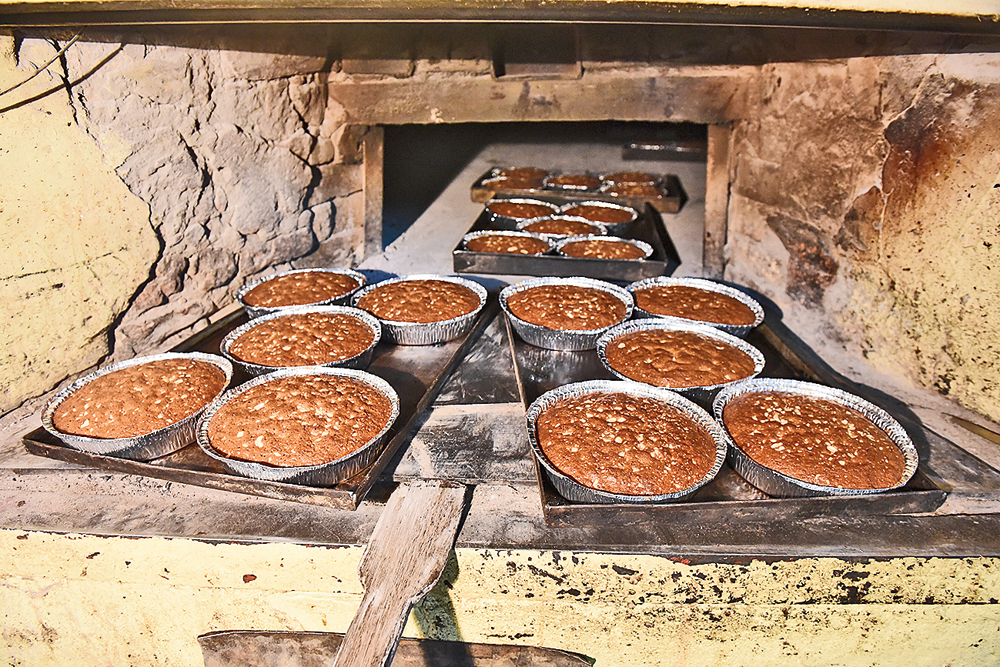 Del remembers Christmas in England being a homely affair. "The inclement weather forced people to stay indoors," she says. The Moxons would have a tree and a special dinner and were usually joined by a Mrs Pickering, an elderly English widow, and her granddaughter. A decade later the family returned to India and soon after Del's father died. She says, "After a course in shorthand and typing, I joined the workforce."
Del recounts memories of Christmas in the Calcutta of her youth. She talks about the cake, of how the family baker would come home days before Christmas and prepare and stir the cake mix. Later, Gouri Ireland, wife of Terence Ireland, the principal of St. James' School, says this was possibly done to ensure a certain quality and also to preserve legacy family recipes. "Then he would pour the mix into tins, we'd stick in the family name and he would carry it away to the bakery," says Del. The practice persists, though the volume of output varies with families and their altered means. Errol's family gets about 18 to 20 cakes made.
Del's reminiscing is flush with references to parties. She tells me how she and her best friend would start to plan The Dress from May. "We would buy material from New Market, taffeta or English satin that cost Rs 8 a metre and trimmings too. There were Muslim tailors who could replicate any design," she says. It all sounds much like any festive season of any time except that every episode and anecdote has church or mass or charity as constant punctuation. In fact, Del recalls that when The Dress was planned, some thought was given as to how to make it church-worthy and also party-fit. "Once, I got this lovely off-shoulder dress made. For the church service I kept a gauzy cape on, which came off in the evening. You see, we were not rich enough to afford two dresses."
Del's daughter, Melody Myers, 60, works at St. James' Church. I note that in her telling, charity is a part of Christmas. Charity that is not daan, but seva or service. Del too had spoken of inviting one or two less fortunate members of society to her Christmas lunch, and Leslie, who is now in his seventies and had grown up in a railway colony, had spoken of open house at railway institutes during Christmas.
This type of charity seems to be more about the embracing than about the foregoing; it coexists with merriment. Says Melody, "In the 1960s, we would go to Gopalpur-on-Sea [in Odisha] for Christmas. We'd go across the backwaters and bring back a branch of the casuarina tree and decorate it. On Christmas eve, we would go around singing carols to those who lived in the old-age home for Anglo-Indians there, and distribute salt meat and cake that mother made. On Christmas morning we would go to St John's Church. There would be no priest, but my mother's friend, Rosalind, would play her Casio, someone would read a psalm or sing a carol. After service, we would change and head straight for the sea."
Melody says all that was available at Gopalpur those days were eggs and coconut, therefore, the Christmas staple for the family came to be coconut rice and egg curry. At Errol's, the Christmas meal comprises yellow rice and meatball curry, sometimes vindaloo. Some families do a chicken curry or a jalfrezi. Bakes include rose cookies and kulkuls. None of the menus sound too elaborate. Lynette Deane, convenor of CAISS, confirms, "Yes, it is usually not a luxurious meal, but a good one."
In neither Del's tellings nor Melody's, gifts occupy centre stage. Both look forward to the scattered family coming together. The weaving in is true of the greater Anglo-Indian family as well, or so I gather from Betty Martin and Beryl Kleinman, both 79, both of whom I meet at St. Catherine's Home for the aged.
Betty was born in Visakhapatnam, was brought up by the church there. "I have nobody," she says starkly. Beryl used to be a housewife. Betty recalls Santa Claus arriving at the Ramakrishna Beach in a boat, where a horse-drawn carriage would be waiting. "There would be a tea party, and after that Santa would call out our names and we got our gifts. Mostly hankies or socks, it didn't matter," she shrugs.
Beryl says residents of the home are invited to the Grail Club for Christmas celebrations. "There is a tree, dancing, singing, eats and magic show," she explains. Both talk about concerts and lunches they are invited to throughout December. Yvonne Cranenburgh of CAISS had spoken of the jumble sale, the Christmas Tree at Loreto Entally and the Christmas Day rations for the community have-nots and their young children. These tie in with what Robyn Andrews wrote in an email from New Zealand. Andrews, who is a lecturer at Massey University and the writer of Christmas in Calcutta: Anglo-Indian Stories and Essays, said: "There's also a lot of social service work over the Christmas season provided for Anglo-Indians, by Anglo-Indians..."
A lot of these Christmas activities involve the youth. Colin says, "They have questions about their identity, and an Anglo-Indian identity is replete with questions. The interactions of the various layers of the community at this time of the year facilitate some knowing, some explorations. In time one hopes this will even instil pride in being Anglo-Indian." He adds, "And that is the best Christmas gift of all — the coming together, in every possible way."