Tiger seen near site of Mamata Banerjee's Sunderbans stop
Villagers armed with bamboo poles and torches succeeded in pushing the tiger back to the dense jungle on the other side of the river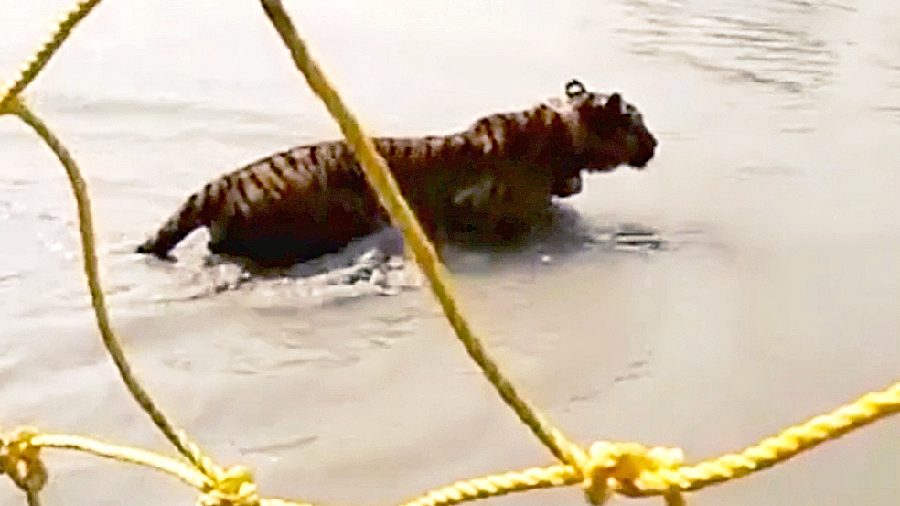 The tiger spotted at Kalitala-Parghumti on Wednesday
Pashupati Das
---
Calcutta
|
Published 08.12.22, 05:28 AM
|
---
A royal Bengal tiger triggered panic in Kalitala-Parghumti village of Hingalganj in the Sunderbans delta of North 24-Parganas on Tuesday evening when it tried to enter the human habitat through netted fencing after crossing a narrow stretch of river Kalindi.
Villagers armed with bamboo poles and torches succeeded in pushing the tiger back to the dense jungle on the other side of the river. However, a goat grazing on the river bank fell prey.
The tiger was spotted around 4.30pm on Tuesday near the Jhinga Khali forest range in Hingalganj block.
The spot is barely 500 metres from Bonbibi temple in Samsernagar, where chief minister Mamata Banerjee offered puja and addressed a public meeting last week.
Recalling Mamata's visit to the area, Trinamul leader and chief of the Kalitala gram panchayat, Shyamal Mondal said: "Last week, the chief minister cautioned us about tiger attacks owing to the vulnerability of the location of our village in the Sunderbans. But we couldn't imagine that a tiger would try to sneak in here so soon (after her caution)."
"There was scant water in the river Kalindi owing to the absence of a tide and so the tiger walked across the river onto the river bank adjacent to our village. Some boatmen first noticed the animal roaming along the earthen dyke and informed us. We rushed towards the bank and spotted the animal and then informed forest officials," Mondal added.
Local residents on Wednesday evening said that the village remained fearful of the big cat's possible return.
"We are afraid that the tiger could come here again. There appears to be a food crisis in the jungle. That's why the tiger came here, it seems. The fencing needs proper maintenance and care so that no wild animal is able to enter our locality," a villager said.
A forest official of Jhinga Khali range echoed the sentiment of the villager.
"It appears that the animal came here in search of food. We have been keeping a watch along the river bank for any recurrence of the incident. Forest guards have also been deployed in the area and the nylon fencing is being examined closely to repair any breach."
Local sources said that villagers in Hingalganj have begun a night-long vigil armed with flaming torches, bamboo poles and tin boxes as improvised drums so that the light and noise can help keep the tiger at bay.
"There seems to be no sleep for us," a villager said.
In a similar incident in February last year, a royal Bengal Tiger triggered panic after escaping through a breach in the Jhinga Khali jungle's fencing when it entered human habitation in Samsernagar after crossing the Kukrekhali river. However, it was pushed back into the jungle after a prolonged effort.