Tiger drags away fisherman in the restricted zone of Sunderbans Tiger Reserve
Officials said four people had got down from their small boats violating the forest department's caution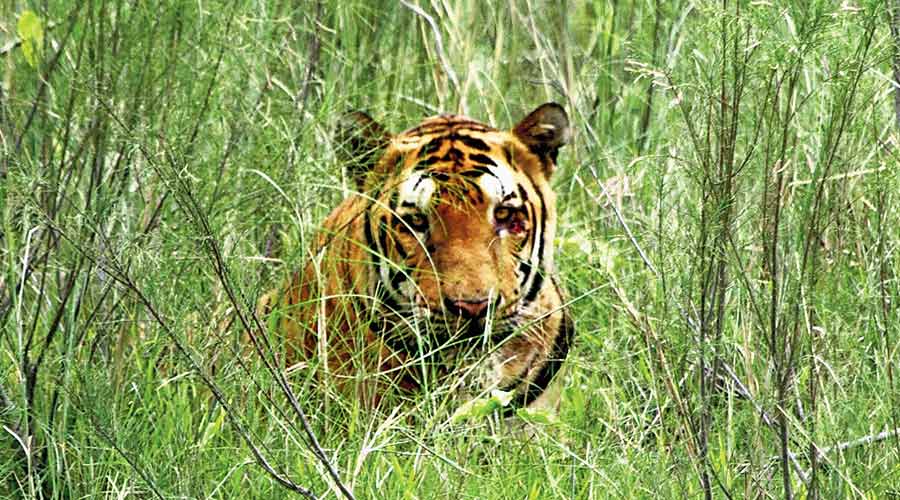 ---
Bolpur(Birbhum)
|
Published 24.08.21, 02:23 AM
|
---
A 50-year-old fisherman, Niranjan Kayal, went missing after he was dragged off by a tiger while catching crabs in the restricted zone of the Sunderbans Tiger Reserve at Gosaba's Satjelia in South 24-Parganas early on Sunday.
This comes on the heels of another incident where fisherman Anna Das, 50, was killed by a tiger at Jhila (1) area of the Sunderbans while returning home in his boat on Friday.
Forest and local officials said four fishermen, including Niranjan, had got down from their small boats to collect crabs, violating the forest department's caution not to venture into the restricted zone.
A tiger pounced on Niranjan and took him inside the forest, eyewitnesses said. "We are yet to spot him (Niranjan) and going by our experiences we fear he may not be alive," a forester said.
"However, search is on," added the forester at the Sunderbans Tiger Reserve.
Niranjan's sister-in-law Anita Kayal, who lives in Satjelia, said the fisherman was the second person in their extended family to be a victim of tiger attack. Anita's husband Anathbandhu was also killed by a tiger in 2015 while he was collecting crabs.
"The tiger was probably waiting inside a bush for hours to catch its prey. The four fishermen, along with my brother-in-law Niranjan, were collecting crabs at two different locations. Suddenly a tiger pounced on him and took him away inside the jungle," said Anita.
Foresters in the Sunderbans said that since a large number of migrant workers had lost their jobs during the pandemic since last year and have had to come back home and remain jobless, the number of people venturing into the tiger reserve to catch crabs for a livelihood had increased manifold.
After Sunday's incident forest officials have started an extensive campaign in the vicinity of the tiger reserve, asking people not to move enter the restricted zones to catch fish or crabs.
In 2020, five persons were killed in tiger attacks whereas this year the count is two so far.
"We have started an extensive campaign requesting local residents not to enter the restricted zones illegally to catch fish or crabs. The fisherman, who has gone missing, had ventured into the restricted zones illegally. We are also intensifying our vigil to prevent such human intrusion into tiger reserve areas," said Jones Justin, the deputy field director of the Sunderbans Tiger Reserve.