Ika, one of three five-month-old female Royal Bengal Tiger cubs born at the Bengal Safari Park near Siliguri, died on Tuesday weeks after suffering a leg injury and fuelling worries about the care of the animals at the showpiece facility.
The death of Ika — named so by chief minister Mamata Banerjee after its birth in May — is the first instance of an animal, especially a tiger, dying in captivity at the park.
State forest minister Binay Krishna Burman expressed concern and ordered an investigation. "I have asked him (the park director) to take measures for protection and conservation of the tigers, particularly the two other cubs, and ascertain the cause of the death of the one that died," said Burman.
Ika was born to Shila, a tigress brought to the park 10km from Siliguri. All three cubs — one is an albino — were kept in a separate enclosure and not released into areas where they could been seen during safaris. Mamata had named the cubs Kika, Ika and Rika in September.
Forest department sources said a couple of weeks back, the cub had suffered injury in one of its hind legs, had been kept under observation and given necessary treatment. "Whether the injury had damaged its nerves or caused infection can be ascertained only after we receive the post-mortem report from vets," said a source.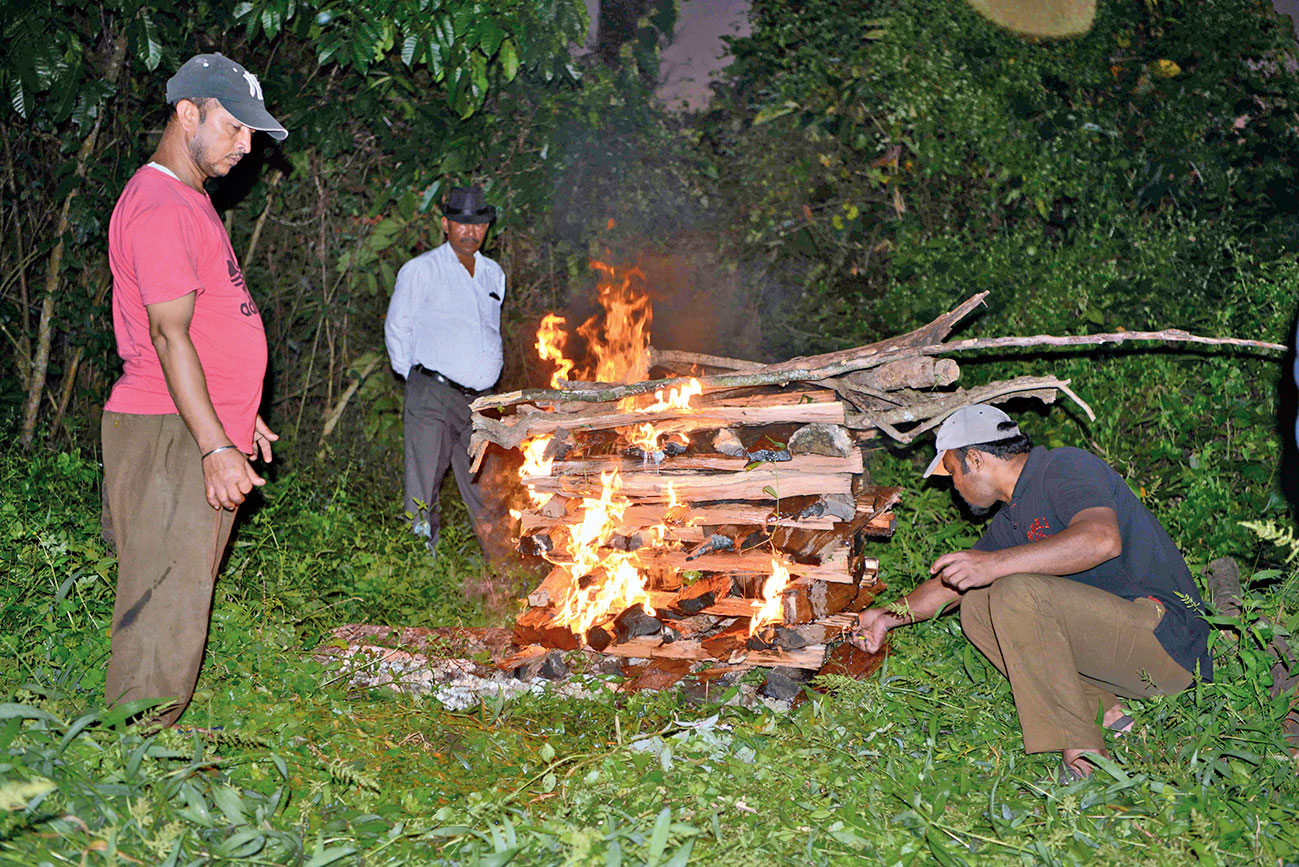 The animal being cremated by forest staff. AFP
The death has prompted a section of wildlife enthusiasts raise questions about whether there had been negligence in nurturing the cubs.
Forest minister Burman denied such suggestions. "There was no question of any negligence. All animals at the park, including the cubs, are under regular monitoring. Also, vets regularly examine the animals to see whether they are in sound health."
Vinod Kumar Yadav, member-secretary of the West Bengal Zoo Authority, said he had asked the director of the park to submit a report on the death. "I have asked the director of safari park to submit a report. The mother and the other two cubs are fine. We are keeping them under CCTV watch."
Yadav said the authorities had conducted a survey of the area and decided to extend the tiger enclosure by another 4.5 hectares for breeding.
The park is spread over 290 hectares on the fringes of the Mahananda Wildlife Sanctuary. It has three Royal Bengal Tigers (two male and a female), two leopards, a one-horned rhino, two Himalayan black bear, elephants, six gharials (fish-eating crocodiles), deer and an aviary housing different species of birds.