Jalpaiguri : Three tea estates to reopen on August 1
Development comes as a major relief to over 1,000 jobless workers and their families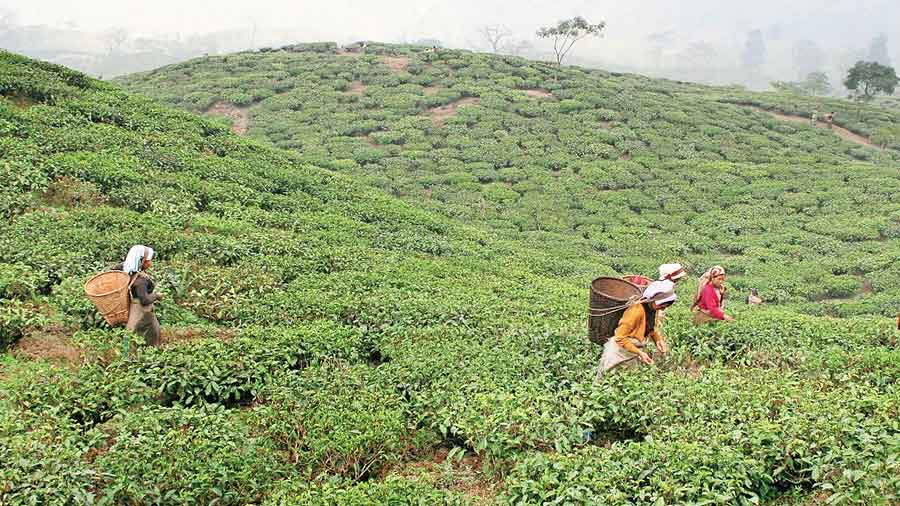 Agreements were signed at the office of the additional labour commissioner in Siliguri on Thursday.
File photo
---
Alipurduar, Siliguri/Jalpaiguri
|
Published 29.07.22, 12:29 AM
|
---
Three tea estates which were closed for nine years at Nagrakata block of Jalpaiguri will reopen next month, a major development that comes as a relief to over 1,000 jobless workers and their families.
Agreements to this effect were signed at the office of the additional labour commissioner in Siliguri on Thursday.
Redbank, Dharanipur and Surendranagar, owned by the Redbank Group, were shut since October 19, 2013, after the management abandoned the gardens.
As over 1,000 workers became jobless, the state labour department convened tripartite meetings to expedite their reopening. The management however, didn't respond. In November 2014, the state cancelled the land leases of all these three gardens.
"Since then, efforts have been put into finding private investors who can take over the gardens. Initiatives were taken by the trade union leaders of Trinamul to find investors. Eventually, efforts worked and agreements were signed today (Thursday) after almost nine years," a labour department source said.
According to him, Redbank and Surendranagar,  taken over by the Siliguri-based Sushil Tea Company Private Limited, will reopen on August 11. Dharanipur, to be run by Grin Tea Trading Private Limited based in Malbazar of Jalpaiguri, will reopen on August 1.
Sources in the department said that in Redbank, there are 513 workers, while the number of workers in Surendranagar and Dharanipur are 186 and 404 respectively.
"It is a rare instance when the state labour department has managed to reopen three closed gardens at one go. We are confident that tea production will soon start in these gardens. It is a huge relief for tea workers," said Nakul Sonar, president, Trinamul Cha Bagan Sramik Union.
The agreement says workers will be paid an advance of Rs 1,000 in Redbank and Surendranagar. In Dharanipur, the workers will receive 1,200 as advance on the day the garden reopens.
"Due wages, salaries and bonuses will be paid in three instalments by Holi next year. The new management will clear gratuity and provident fund in due course," said an official of the labour department.
After one month, there will be a review meeting on the state of affairs at the gardens and further plans as to how production can be resumed in full swing, he added.
Trinamul leaders of Jalpaiguri district also criticised the BJP. "Time and again, BJP leaders and central ministers have visited north Bengal and have said that the Centre would take steps to facilitate reopening of closed tea estates. So far, the Centre has done nothing to reopen a single shut garden. It is the state government that is relentlessly working on the issue," said a Trinamul leader in Jalpaiguri.