Three rhinos die in Jaldapara National Park
A fourth rhino appears to be ill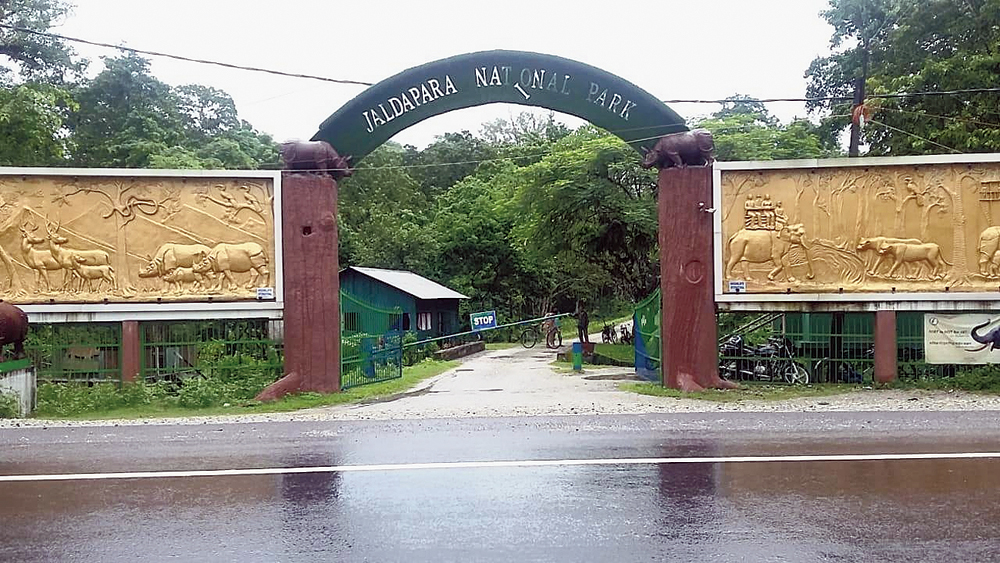 The entrance to the Jaldapara National Park in Alipurduar district
(File photo)
---
Alipurduar
|
Published 20.02.20, 10:34 PM
|
---
Three female rhinoceroses were found dead in the Jaldapara National Park in a span of 48 hours, triggering suspicions of the animal being hit by a communicable disease.
The Bengal forest department has spotted a fourth rhino that appears to be ill in the largest park of the species in the state. The foresters started a probe and sent samples of the carcasses to Calcutta for tests as vets could not ascertain the cause of the deaths in autopsy.
On Tuesday, the carcass of a female rhino had been found in the Sisamara beat area of the park. Another female was found dead at the same spot on Wednesday afternoon. The foresters rescued its calf and kept it under observation.
Forest guards spotted the carcass of another rhino in the Malangi beat area during routine patrolling on Wednesday night.
All the three dead rhinos were adult females.
"We have put our staff on alert. They are patrolling the park to find out whether there are any more ill rhinos or any carcass. Four veterinary officers have been brought to the park to handle the situation. We are waiting for test reports from Calcutta," said Ujjwal Ghosh, the chief conservator of forests (wildlife, north).
The park is home to over 250 rhinos, besides other herbivores like gaur, sambar, deer and elephant.
Wildlife conservationists are concerned about the death of the rhinos.
"We hope test reports would reach foresters fast. If it is found that animals died from any communicable disease like anthrax, the foresters should act on war-footing and engage experts of the animal resource development department to prevent its spread. Local panchayats should also be taken on board as thousands of cattle enter the park every day for grazing," said Animesh Bose, a wildlife conservationist based in Siliguri.
In 1994, a number of herbivores, including rhinos, had died from anthrax in Jaldapara.
Sources in the forest department said scheduled census in the park might be postponed because of the rhinos' deaths.
"There is a plan to count herbivores in Jaldapara and other forests in Bengal from March 12 to 14. But if any disease is found to be the cause of the rhinos' deaths, the census in Jaldapara might be deferred," said a source.