Three held for e-gambling with 'links to China' in Nadia's Karimpur
As many as 800 SIM cards and several Paytm barcodes have been recovered from them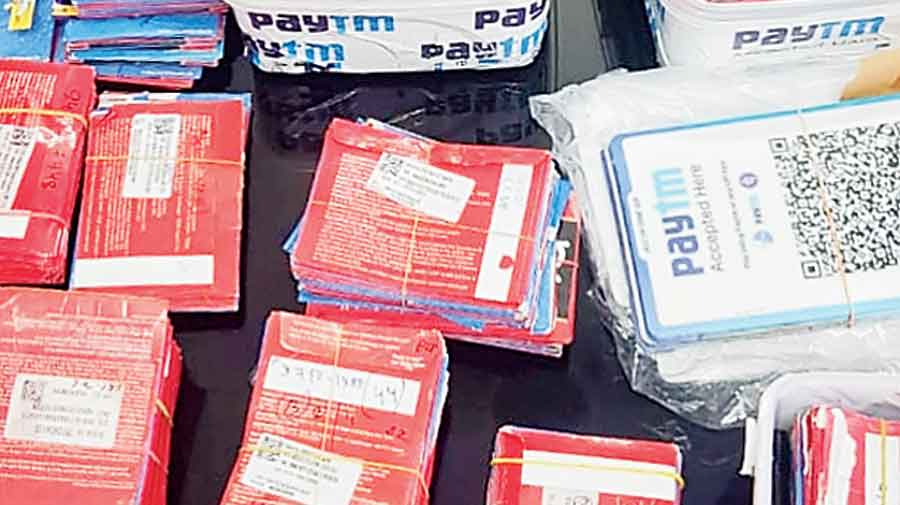 ---
Karimpur
|
Published 28.06.21, 12:14 AM
|
---
Police arrested three youths for online gambling and cash fraud from Nadia's Karimpur early on Sunday and seized some 800 SIM cards and several Paytm barcodes from them.
The police acted on a tip-off on the syndicate allegedly involved in online gambling purportedly linked to operations in China.
Sources said nearby residents had tipped off the police after becoming suspicious of the three youths who stayed in the same house.
Accused Ramen Karmakar, Mujibur Sheikh and Manabendra Sarkar, in their early 30s, were produced in a court in Tehatta on Sunday and sent to five days of police custody.
The police said the trio, in their early thirties, were charged with deception and forgery. The cyber crime wing of Krishnagar district police has been asked to interrogate them on the root of the racket.
Police sources confirmed that during preliminary interrogations, the trio confessed to duping people of money through UPI-based interfaces including Paytm.. They also admitted to their links to online gambling associates operating from China. This prompted sleuths to call up  the cyber crime wing. 
"The trio also said they had cheated innocent people of their credit or debit card details and card verification values (CVV) by posing as bank officials," said a police official.
A sleuth said it could not be immediately ascertained who their victims are. "But since we noticed several cases that registered for online illegal gambling with signs pointing to Chinese links across the country in the recent past, we took the matter seriously."
A police officer from Karimpur said they were trying to find out the sum of money siphoned so far in this case and bank accounts where remittances have been deposited. "The source of the SIM cards and Paytm barcodes and how they procured those in such huge numbers are also being investigated," he added.
"It is too early to comment on their involvement. But it appears the trio has deep-rooted links (to the racket). At least the huge quantities of SIM cards and PayTM barcodes indicate so. We have taken them on remand and will begin interrogations to track the network," said additional superintendent of police (rural) Krishanu Roy.
A police officer with expertise in cyber crime said online gambling was generally done by creating secure groups on WhatsApp or Telegram.
"The group admins refer to websites, on which group members can play games and place bets. To skip the surveillance of Indian authorities, domains of these sites are generally located in China and payments are routed through India-based gateways like Paytm. The benefit remittances are usually transferred to several linked bank accounts to avoid scanners of income tax," he said.