'There's something about a Calcutta childhood' Talking Tales with Amit Chaudhuri
Read more below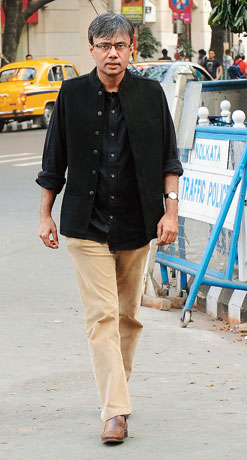 ---
Published 19.02.14, 12:00 AM
|
---
| | |
| --- | --- |
| | |
| Amit Chaudhuri on Park Street. Picture by Rashbehari Das |   |
He's been telling tales since A Strange and Sublime Address in 1991 but it was only with the turn of the millennium that Amit Chaudhuri got down to Telling Tales — his column in The Telegraph. The writer has now compiled some pieces from that column as well as other essays and long pieces he's written over the years into a book. Titled Telling Tales: Selected Writing 1993-2013, it's published by Hamish Hamilton, an imprint of Penguin Books. Metro chatted with Amit about the book and beyond over black coffee at Flurys.
Why did you think of compiling your pieces in The Telegraph into an anthology?
The column pieces comprise about half the book. What I did was I brought in some of my shorter pieces together in this book, along with one or two long pieces. Basically I had been waiting for a time when I could bring these together.
There is one very long piece on Qutubuddin Ansari ,a Gujarati tailor in Ahmedabad who was photographed crying with folded hands. That picture was circulated after the riots. He had to leave Ahmedabad, he lost his job because of the publicity and was facing threats. So he was going from city to city, finally the Left Front government gave him a safe haven in Calcutta.
I thought what an interesting thing that a man should be in exile in his own country. I went and met him in Tiljala. He was very homesick for Ahmedabad and I was quite interested in that. Then he went back. This piece I wrote for Granta. There are also some pieces I wrote for London Review of Books (LRB), The Times Literary Supplement (TLS) and The Guardian.
I brought together these short pieces because they were exercises in telling tales, in the sense of creating something out of nothing. Creating some kind of story, narrative, primarily a piece of writing that worked out of nothing and out of a range of subjects.
I was invited to write a fortnightly column by The Telegraph soon after I came back to Calcutta, technically speaking, in 1999. So the earliest piece was in early 2000.
Inadvertently I decided that I am not going to be writing simply as a writer writing about writing or literature, nor am I going to be writing as a novelist who, for the purposes of a newspaper column, is writing about politics or the 'burning issues of the day'.
So there was no predictability about what I was going to write. I didn't preclude writing about the burning issues of the day, I didn't preclude writing about fiction — although I have written very little about fiction in that column — and I didn't preclude writing about art or about shortage of small change in our country, Ujjala Chanachur, cats or Geoffrey Boycott.
All those things were subjects that might have been hovering in my head and might have presented themselves as opportunities as well as challenges — how do you write about this without sacrificing your literary standards?
This was the first time I was going to write for an audience I felt was immediately around me. It was different than writing for LRB or TLS and that kind of excited me. But I also knew that I was not going to write this with my left hand, as it were, while I did other important things with my right hand.
How is a column different from an essay?
If you look at these pieces outside of the column, they are essays. But the fact that they also comprise a column to me gave them an extra sort of dimension. As I have said in the introduction to the book, because of the column, the pieces had a habitation.
At one point I was also toying with writing an anti-column... having someone else write that column while I was on holiday and berating me for the issues that I didn't address. A column, because it's a sequence of pieces which becomes identified with a certain tone of voice, raises a certain kind of expectation and then becomes identified with certain characteristics. So a column becomes almost a character and people like or dislike features of that character, which is why I thought I would write an anti-column, criticising the column.
How do you pick your subjects for the column?
I pick my subjects when I begin to think about something and it's just enough to be covered in 1,500 words. A thought or a few perceptions which do not require me to write a long treatise about it.
That's for the first part of the book, which has the shorter pieces. The second part has political pieces and longer pieces where I am in disagreement with other writers. I've had many, many disagreements and spats with other writers, much more than I would have expected to have. And I hasten to add that these are all writers that I like and admire. I never have spats with writers I don't like and admire. I ignore them (laughs).
The third section has reflections written over time about writing. Or about music. Also wanting to do art, so I've also written about abortive attempts.
And the final section has literary essays about other writers, but they are different from Clearing A Space, where I was making an argument for the fact that not all of us are defined by what happened after Midnight's Children [by Salman Rushdie] and the way we were thinking of the novel in Indian writing in English after that.
Jhumpa Lahiri recently told us that she has a 'heightened sense of Calcutta'. As someone who too didn't grow up here but visited often, do you feel the same way about this city?
Certainly. I do have a heightened sense of Calcutta. Some people will argue whether it's heightened or not (smiles), but certainly it owes that particular sense of Calcutta… and even India — the different weathers in India, the light in Calcutta, as opposed to the light in Bombay — to the fact that I have travelled.
I think travelling in the last 20-25 years, preceded by more travelling, has allowed me to see not just Calcutta but see various cities in a particular way, including Berlin, which I write about in Telling Tales. Being constantly dislocated and feeling ill at ease and missing home has also allowed me to see certain European cities in a particular way.
So, is Calcutta home now?
Yeah, I think it is. I mean it's not home in the sense of me feeling that I have a huge network of friends or a huge support system outside of my immediate family here; in many ways I feel alienated from the city.
I just got back from Bombay, a city I know like the back of my hand, but when I came back to Calcutta I did feel an old sense of homecoming, which has come to me even when this city was not my home. When I used to come to visit my cousins as a child, I used to feel that sense of homecoming, something very familiar presenting itself to me. I still feel that.
I said to my wife, I can still smell a little bit of this charcoal smoke in the air, although that kind of unoon doesn't really exist anymore. I told her, not only charcoal smoke, I seem to smell boiled rice in the charcoal smoke! These are the smells, besides petrol fumes, I associate Calcutta with. And mustard oil. Even when I was very small, these smells were very familiar. So I do feel a sense of familiarity when I come here.
What have been the best and worst parts of moving back to Calcutta?
See, even before I moved back in 1999, I was visiting Calcutta regularly because my parents were here. So I knew a couple of things, at least. In the '80s, I knew that the city was in decline, and to the extent that it was now quite a moribund city. Then through the '90s, although the city was beginning to launch into some kind of revival, at the same time I felt that culturally and intellectually the city was still hollow, as compared to what I had sensed it was like in the '60s and early '70s. Something has been scoured from the inside and left hollow.
The best thing, I suppose, was to see my daughter growing up over here. And to feel that there was still something about a Calcutta childhood, which as a child I had deemed enviable, in spite of all its problems and lacks.
Also gradually, the feeling that may be I could contribute to the city in some way. Just being here, writing about it, writing a column in a newspaper. Also to make an intervention in some way, about the buildings, the heritage, even to bring in something like the UEA India workshop here. Most people in the beginning said why not do it in Delhi or Bombay but I was keen to see what would happen if I brought it here.
That's something I want to explore, in what way I can be a part of the city, in terms of contributing to it in some way.
What smells mean Calcutta to you? Tell ttmetro@abpmail.com