The last dragon dance
Read more below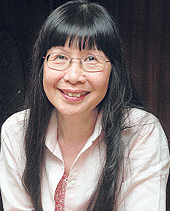 ---
Published 02.03.08, 12:00 AM
|
---
Kwai Yun Li at the Indian launch of her book. Picture by Sanjoy Chattopadhyaya
It was a most interesting time." Kwai Yun Li's eyes go into soft focus, her thoughts rewind by a good five decades.
The 58-year-old, now settled in Canada , grew up in the Chinese-Indian community in Calcutta. And back in the city of her birth months before the India launch of her book The Palm Leaf Fan and Other Stories, Li reminisces about her childhood. Many of these memories have gone into the book.
The 50s and 60s saw a great turmoil in Chinatown, especially around 1962. "The Sino-Indian incident" is how Li can bring herself to describe the war between the two nations. "Fear was in the air…fear of being deported or put into Deoli."
Deoli, in Rajasthan, was where a British detention camp for Second World War Japanese prisoners of war had been reopened in 1961 "to lodge Chinese-Indians". "We heard Chinese people were being picked up along the borders and even children with Chinese names from boarding schools." The rumours were not wholly unfounded. "Some friends in Shillong were put in Deoli and kept there till 1968."
Li, then a 12-year-old, remembers how her mother stitched money into seams of their dresses. "We went to bed like that. Packets were also kept ready with tea, rice, blankets… though I wonder how I would have carried all that at that age."
Li points to how the Hindi films of the time demonised the Chinese. She understands the root of the psychology. "Most people of the time had seen the Great Calcutta Killings of 1946, remember? So the fear was of neighbours turning against you."
But it was not the war that gave the first push to the Chinese out of Calcutta. The first batch of the Chinese left in the 1950s, after Mao Zedong got the better of Chiang Kai-Shek in the battle for China . "Mao's supporters left. The Chinese government had even sent a boat here for them."
But it was not solely happenings in China that decided fates here. "A law was passed that only those among us born in or after 1950 would get Indian citizenship. Of my 10 siblings, only I was eligible. The rest were stateless aliens."
This is the setting of her story The Last Dragon Dance in Chinatown. "That would also be the name of the Penguin edition in India." The stories, she says, were mostly products of the writing courses she undertook at the University of Toronto since 1996. "As an accountant I had a pen in hand anyway. I like doing new things." She got a grant for emerging writers from the Canada Art Council.
But a return to Calcutta for the research bore mixed results. "The Chinese are still reluctant to talk about those times. But imagine naming the road with the US embassy Ho Chi Minh Sarani! I must put that in my next book," she says, giggling.
The structure that holds centrestage in her memory, the old market in Chinatown, was gone long before she left. "You remember that?" she asks her cousin John Lee, who had dropped by. "There was a wrought iron gate, one side of which was sagging from the hinges. My mother sold beansprouts there. We had a rough time when the market was demolished to make a road. Now, I hear they are planning a new market there. Where's the space!"
Her next project is linked to Calcutta too. "I want to focus on the major incidents — the Howrah bridge bombings in 1942, the Calcutta killings in 1946, then the 1970s when I left for Canada. Part II would be on Canada. The third part would be on today's Calcutta — the cauldron of communities that still exists in those lanes," the jolly lady rattles off. "But I have so much catching up to do!"
---
Valerie Mason-John at the launch. Picture by Bishwarup Dutta
She would rather write more plays because "there are people who would watch plays but never pick up a book. But then it is difficult to find producers and writing a book is so much easier". British playwright, actor, author, journalist, performance poet and television presenter Valerie Mason-John (stage name Queenie) was in Calcutta to launch her latest book Untouchable — Women Speak Out, at the British Council on Tuesday.
The book came from five months' research, from September 2007, into the lives of Dalit women in Maharashtra, and may well be followed by a play on Ambedkar, whose ideas inspired the project in the first place. The aim of the book is not just to show that there is casteism in India, but to help the West understand how discrimination continues to exist in various ways.
Born November 22, 1962, in Cambridge, Britain, Valerie has experienced discrimination of many sorts due to her background — she was a foster child, she is black and lesbian. She says she felt a lot of "resonance" with the Dalits. "Even now taxi drivers would rather stop for whites than blacks," she explained.
There is a sense of drama in the way the characters of Untouchable come across. The desire to perform before an audience was the only way to adapt to the inescapable fate of being conspicuous as an adopted black child in a white school, as a student with a country accent in an urban school, as a woman and a lesbian.
"I would love to write an epic play on a grand scale, I am looking for producers," said Valerie. "I may be back next year with one of my productions, maybe Brown Girl In The Ring," she added.
Brown Girl In The Ring is a dark comedy centred on Queen Victoria's half-African, half-German descent. "White people have always tried to suppress the fact and the play met with a lot of opposition in England," recalled Valerie. But it was a box office success.