The House Where Nivedita Lived
Moumita Chaudhuri stops by at a forgotten address and tries to re-imagine a lost time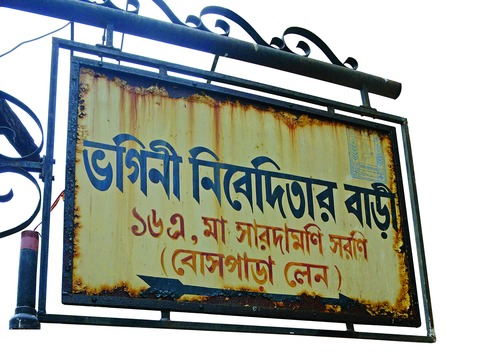 ---
Published 29.10.17, 12:00 AM
|
---
To all outward appearances, it is just another old house in north Calcutta - nondescript, ordinary. The same cannot be said about the address though: 16 A, Bosepara Lane of Bagbazar is the house where Sister Nivedita lived from 1898 to 1911, though few may be aware.
Inspired by her interactions with Swami Vivekananda, when the Irish social activist left her home in England for India, she was still Margaret Elizabeth Noble. It was in Calcutta in 1898, that she slipped into her Indian identity. This two-storey house was the most intimate witness of this spiritual metamorphosis. But all these years no one bothered about it.
This year being Nivedita's 150th birth anniversary, the monastic and charitable organisation, Ramakrishna Sarada Mission, along with the Bengal government took on the task of renovating the house. Work is still on, but beginning October 23 - Nivedita's birthday - the residence has been thrown open to the public for an indefinite but brief while. A full-fledged experiential museum is also in the works. But it will take time to ready it.
"It has taken us almost three years to renovate the house. It was in a precarious state when it was handed over to us - the windowpanes broken, the doors rotting, the rooms in a sorry state, the ceiling about to collapse," says Pravrajika Aseshprana, the nun supervising the restoration project. She adds, "A lot of the original fittings have had to be thrown away. The wooden handrail of the stairs leading to the first floor, however, remains untouched. It has Sister's touch on it."
Upon arriving in Calcutta, Nivedita lived in one of the cottages in Belur in Howrah district, on the banks of the Hooghly. Vivekananda had had these built for some disciples from the West. The shift to Bosepara happened later.
The physical shift was thought through by Vivekananda. It was in keeping with his larger world view about women's education and nation-building and the role he thought Nivedita could play in this. In the 1956 book Sister Nivedita, Moni Bagchee writes: "It was to carry out this plan [provide for the nation efficient women in different spheres of life] that Nivedita was sent to Calcutta... Sarada Devi, the divine consort of Sri Ramakrishna, was then residing in Bagbazar with her community of ladies, mostly of devotional bent of mind. Swamiji wanted that Nivedita should live in company of these women..."
Nivedita was given a room in Sarada Devi's house, but by her own admission, she couldn't fit in. Bagchee quotes one of Nivedita's letters from the time. "I imagined caste to be only a foolish prejudice - which must yield to knowledge - against some supposed uncleanliness of foreign habits and thus cheerfully assuming all the ignorance to be on her side, confidently forced myself upon this Indian lady's hospitality." Sensitive to the issue at hand, Vivekananda rented out for Nivedita a house in the same neighbourhood - 16 A, Bosepara Lane.
The second shift helped Nivedita bond better with Sarada Devi. It also helped her find her own equilibrium. In Sister Nivedita: The Dedicated by Uzelle Raymond, one comes across a description of the house by Nivedita herself. She writes: "My home is, in my eyes, charming. It is a rambling specimen of the true old Hindu style of building, with its courtyard a great well of coolness and, at night, a playground of merry breezes. Who would not love a house with such a courtyard, with its limited second story, and with its quaintly terraced roof built at five different levels? Here at dawn and sunset, or in the moonlight, one can feel alone with the whole universe ."
As one moves from the hall to the courtyard, and up the flight of stairs to the corner room on the first floor, one cannot help but imagine Nivedita inhabiting this space. Raymond's book had described a "personal workroom" furnished with two large tables of white wood, a chair, a stool and a bookshelf laden with her Bible studies, Bowden's The Imitation of Buddha, the Discourses of Epictetus, selections from Renan, biographies, a wide assortment of Emerson, Thoreau, Joan of Arc, Saint Louis, Pericles, Alexander the Great, Saladin. Raymond wrote: "On the wall hung her ivory crucifix and a single picture: the Annunciation, with the Virgin holding the broken lilies in her arms." One wonders, was it here, or here, or there?
Nobody, of course, can say for sure which space was used for what. "We have had to guess and imagine from the descriptions we find in her books," says Aseshprana.
The thing that leaps to the eye upon entering the house is the high-ceilinged thakurdalan to the right. Restoration work on this portion is complete. The walls are a lovely burnt orange, the floor gleaming with red tiles, wooden skirting in place with brackets for lights... This is the spot from where Nivedita launched a school for girls one Kali Puja day in 1898. It has now shifted to another address in the neighbourhood. Here she taught them - wives and child widows from orthodox, middle-class Hindu families - lessons in the arts and sciences. Deeply involved with India's freedom struggle, she had designed a national flag. She taught her students to stitch the design on fine Murshidabad silk.
After the partition of Bengal in 1905, this house became the seat of many political and intellectual meetings. To the left of the entrance is the baithak khana, or parlour equivalent. Debanjan Sengupta, who is a Nivedita expert, tells The Telegraph that this is where the famous chaa paaner aashor or tea party happened. "This is where Rabindranatha Tagore and Vivekananda, Surendranath Banerjee, Sarala Devi, Balaram Bose and others met. This is where Swamiji discussed how to motivate people to embrace Hinduism once again, people who joined the Bramho Samaj."
Nivedita had an intimate knowledge of armed struggle from her life in Ireland. She was aware of techniques of manufacturing explosives and the power of the Press. Alongside being a centre of women's education and a den of Bengal's intelligentsia, 16 A, Bosepara Lane became a repository of all these experiences too, and she drew on these to power the fight for freedom. From this house too was conceived, under her supervision, Jugantar, the first Bengali daily newspaper. This is where she brainstormed with freedom fighters. Writes Bagchee: "...during this time it [the house] was a volcano. It was from this tiny lane that Sister Nivedita planned and conducted the armed struggle like an experienced general..."
The project concerns the house, but the truth is, this entire lane is steeped in history - Nivedita's and Bengal's own - though few care to know. History needs makeovers from time to time to re-establish itself. So does, in a manner of speaking, herstory.