The fourth pillar: No fear
Gandhi for today's India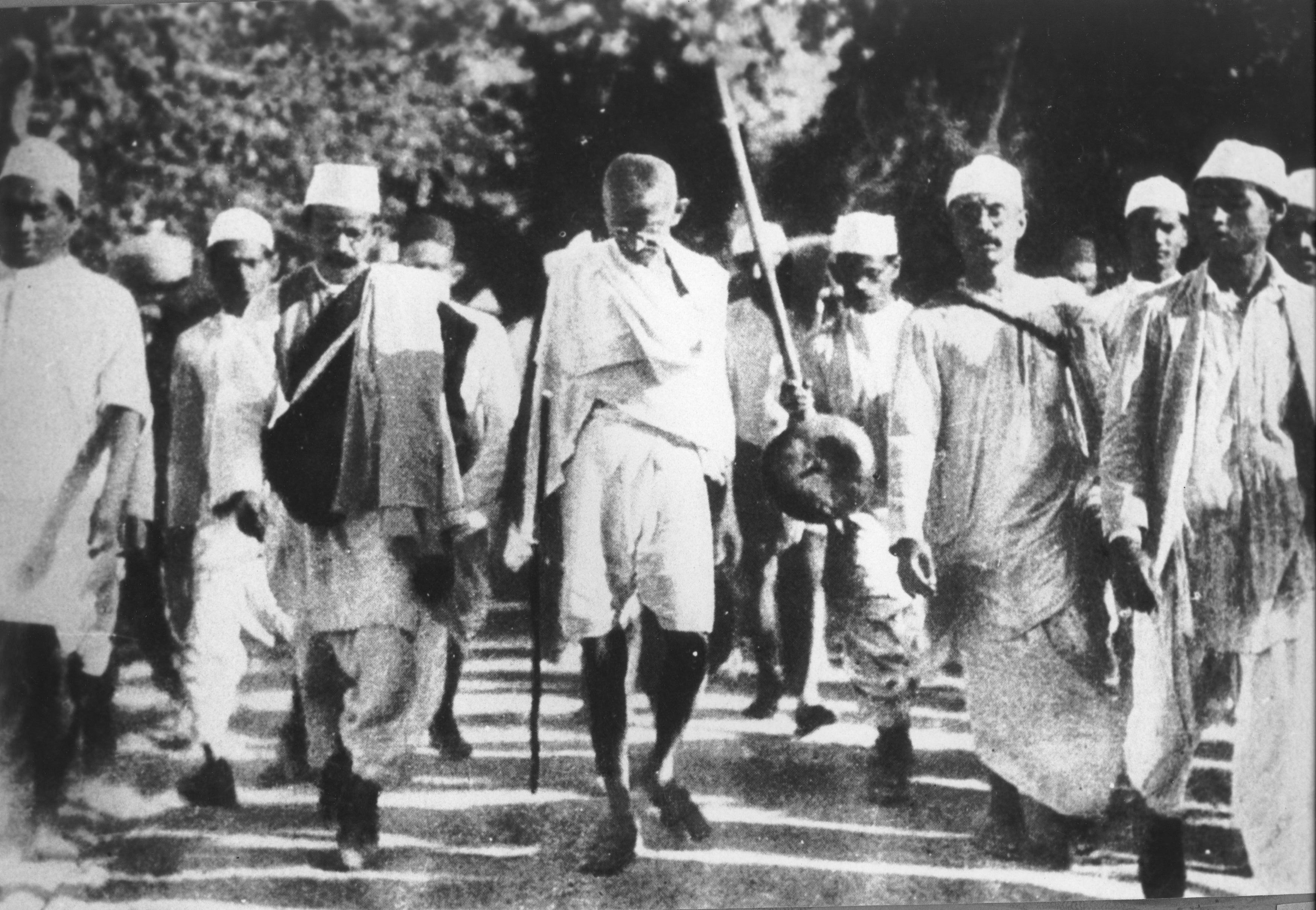 Mahatma Gandhi during the Salt March, 1930.
(Image: Wikipedia)
---
Calcutta
|
Published 13.03.20, 09:54 PM
|
---
Truth, non-violence and harmony are celebrated as the three pillars of Mahatma Gandhi's life but often ignored is a fourth, fearlessness, a historian reminded a Calcutta audience on Friday evening.
Mahatma Gandhi's fearlessness should be "cultivated" to fight the communal forces in today's India, said Rudrangshu Mukherjee, chancellor of Ashoka University and one of the speakers at the Bengal Club 9th Annual Panel discussion, held in association with The Telegraph.
"None of us spoke about the fourth (pillar) which I think, under the present circumstances, is of utmost significance — that is abhay (fearlessness). He was not frightened of anything or of anybody," Mukherjee said.
The topic for the discussion was, "Gandhi at 150. Still the Father of the Nation?"
"I would urge all members of the Bengal Club and whoever is listening today, 'Fear not'. Cultivate that in every sphere of life, especially when you have to counteract the forces of violence, rioting, communal disturbance that are threatening today's India. That is one of the most principal messages that Gandhi has left behind for posterity: 'Fear not'," Mukherjee said.
Gandhi had conquered fear before he became a Mahatma, he told a packed Bengal Club lawn.
"Gandhiji was not frightened of anything or of anybody ever since, outside Johannesburg, police threw him out of a first-class (train) compartment, even though he had a first-class ticket, purely on racial grounds. Gandhi, trembling in the middle of the night in an obscure station in South Africa, decided to conquer his fear," Mukherjee said.
The panel included Maroona Murmu, who teaches history at Jadavpur University, Sudarshan Iyengar, a Gandhian scholar, columnist Sudheendra Kulkarni, who was part of Atal Bihari Vajpayee's government and has written a treatise on Gandhi, Sugata Bose, professor of oceanic history at Harvard University, and Tathagata Roy, governor of Meghalaya.
Roy sensed a "threat of deification (of Gandhi) running through the panel".
"He (Gandhi) saved (Huseyn Shaheed) Suhrawardy (the last prime minister of Bengal), who was the author of the great Calcutta killings of 1946, who would have been lynched by the public over here," he said.
The moderator, cardiac surgeon Kunal Sarkar, elaborated on why Gandhi had saved Suhrawardy.
"The story goes that Suhrawardy was hiding just behind Gandhi. When they came to pelt him with stones, a few of the stones may have struck him (Gandhi). We are not entirely sure."
During his closing comments, Mukherjee went back to the Suhrawardy question. "A very old man, completely unarmed, stands before an armed, angry and violent mob to save a person with whom he completely disagrees from being lynched. That is moral courage. That is not something to be criticised. It is only criticised by cowards."
The audience applauded with vigour.
Iyengar emphasised Gandhi's quest for truth, which he said dated from "his days as an ordinary Mohan".
"He is an experimenter, he strategises, but he has never failed in his approach: quest for the truth. When you deal in public life, you are bound to make experiments and the experiments are going to fail. But Gandhi accepts the Himalayan blunder and his point of strength lies in accepting the blunders," said Iyengar.
Kulkarni, former adviser to Vajpayee and L.K. Advani, stressed Gandhi's focus on Hindu-Muslim unity in the context of the "Partition-like atmosphere in India".
"Swaraj can wait; Hindu-Muslim unity cannot," he quoted the Mahatma as saying.
Bose said Gandhi had shown that it was possible to "launch a satyagraha against the lawless laws enacted by a Satanic government" and listed the Unlawful Activities (Prevention) Act, the stripping of Kashmir's special status and the amended citizenship act as a "series of lawless laws that have been railroaded through Indian Parliament".
Murmu said she would be a "difficult daughter to the Father of the Nation". She argued that the man who had championed the inclusion of women in the struggle for Swaraj thought women were passive and men active.