Techies print 3D idols
Teachers at the department of mechanical engineering said using the technology was a new concept they adopted for showpieces and idols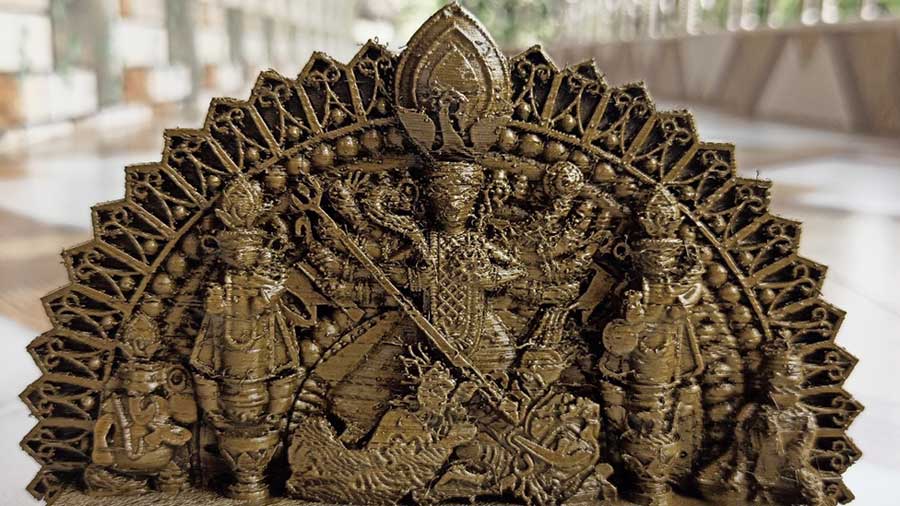 A 3D Durga idol.
Abhijeet Chatterjee
---
Durgapur
|
Published 26.10.20, 12:18 AM
|
---
The National Institute of Technology, Durgapur, has designed and made five Durga idols using 3D printing technology.
Teachers at the department of mechanical engineering said using the technology was a new concept they adopted for showpieces and idols.
"We made five idols of Durga using 3D printing, using different materials, depositing them layer by layer," said Shibendu Sekhar Roy, a teacher of mechanical engineering, adding that the pandemic-induced closure of the institute and long gaps between online classes afforded him the time to try this out.
The five idols, of various sizes, were made within two days, October 21 and 22. 
He said 3D printing is a modern manufacturing skill for fabrication of engineering components for all engineering disciplines, including aircraft components.
"This is the construction of a three-dimensional object from a digital computer-aided design model, by depositing specific materials layer by layer," Roy said, adding that materials used to make the idols were polymer, wood dust-based filament, clay and ceramics. Two types of models, weighing between 30gm and 175gm, with dimensions between 2x1.5 inches and 6x4 inches were designed and manufactured.
A Calcutta-based company that manufactures idols has evinced interest in using the process to make the items on a large scale.
"Talks are on, we can transfer the technology to the company," said Roy. "Dokra and terracotta artisans from Bankura can adopt this technology too. We can train them."