Teachers, students close ranks at Jadavpur University
Hands joined to shield campus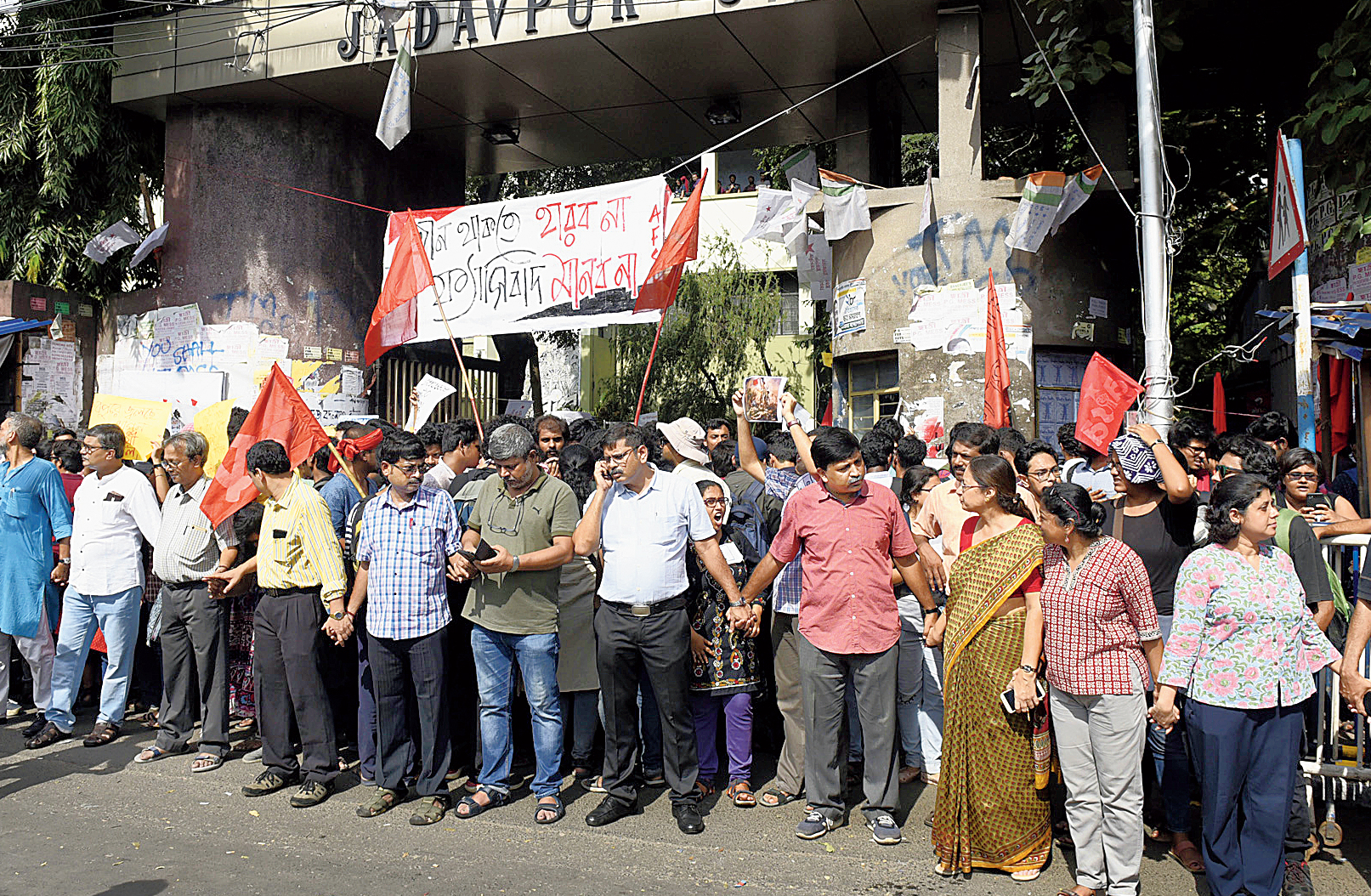 Teachers and students form a chain in front of Gate No. 4 of Jadavpur University.
Picture by Sanat Kr Sinha
---
Calcutta
|
Published 23.09.19, 08:15 PM
|
--- Teachers and students of Jadavpur University joined hands to form a human chain outside Gate No. 4 of the campus on Monday afternoon amid reports that an ABVP march was proceeding towards the institute.
Students from different factions buried their differences and came together as they assembled at the gate under the watch of their teachers.
On Thursday, supporters of the ABVP, the students' wing of the RSS, had barged into the campus to protest the alleged assault on Union minister Babul Supriyo and reportedly vandalised a shop and the arts faculty students' union room and beat up students. A banner put up at Gate No. 4 on Monday read: "Oikyer notun sur, Dekhiye dilo Jadavpur, Oikyabodhyo chattra andolan zindabad (Jadavpur displays a new spirit of unity; long live united students' movement)".
Groups after groups of students converged at the gate from all corners of the campus, carrying posters and banners that reflected their resolve to fight the fascist forces, which they said were represented by the ABVP.
They chanted slogans such as "Jo tum na dogey azaadi, hum chhinke lenge azaadi, hai haq hamari azaadi (if you don't give us freedom, we will wrest freedom, freedom is our right)."
Sudhanya Pal, a JU alumna who now studies at JNU, came to show solidarity with the students.
"The way they had ransacked the arts faculty students' union room on Thursday demonstrates what they are capable of. A few months ago they had ransacked the bust of Ishwarchandra Vidyasagar at Vidyasagar College. We need to close ranks and put up a joint fight," said Pal.
Debraj Debnath, the general secretary of the SFI-run arts faculty students' union, said: "The movement that we witnessed today underscored the need for a joint fight against forces like the ABVP, which are much more regimented and organised."
Samantak Das, a professor of comparative literature at JU, said: "Last Thursday we had witnessed an unprecedented attack on the university.... We came forward so that we could protect the university and the students in the event of an attack."
Vice-chancellor Suranjan Das was keeping watch on the ABVP rally on the TV screen in his office on the campus. "I was in touch with police. I am relieved the day passed off peacefully," he said.