Teacher takes quiz on virus & gives away prizes
Awareness campaign on Covid-19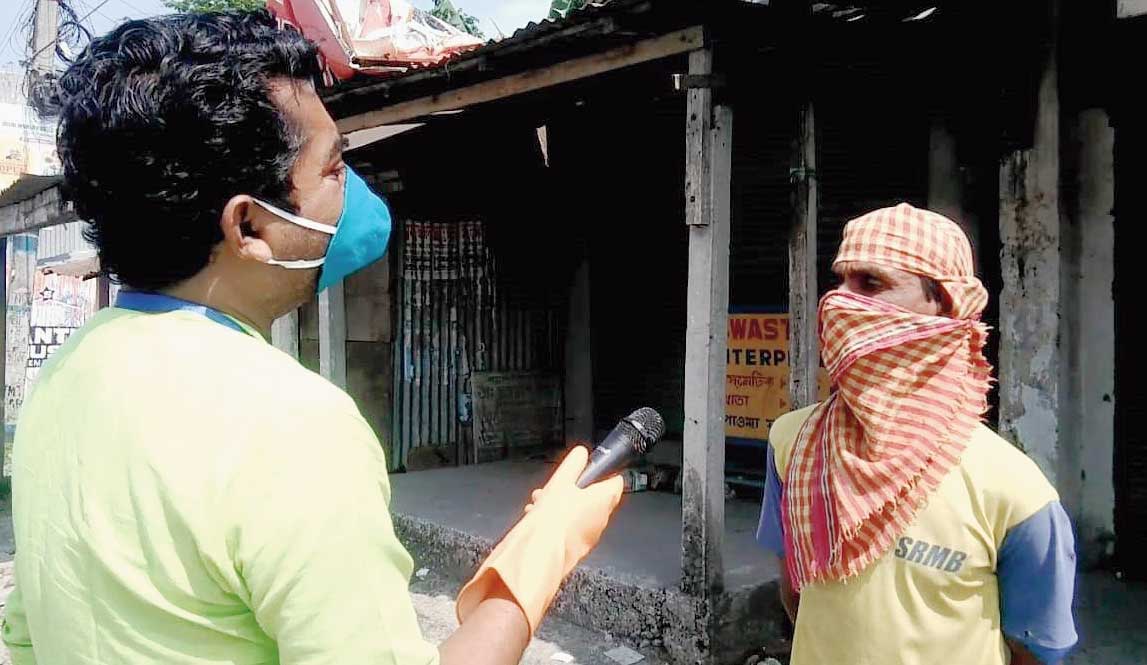 ---
---
A high school teacher at Falakata on Sunday took a quiz on the coronavirus among local people and provided cash awards to those who gave right answers.
Avijit Roy of the Falakata High School conducted the quiz to raise awareness of Covid-19 and apprised those who couldn't give the right answers of the preventive measures.
Roy donned a mask and gloves during the roadside quiz session. He carried a sound system fitted to a friend's motorcycle and approached people from different sections of the society with a microphone.
"I felt the need to know whether people really know about the preventive measures with regard to the pandemic, the rules of the lockdown and similar directives. I moved through streets, stopping and asking questions. It was virtually a quiz on corona," said Roy.
He also distributed masks among people. Rickshaw pullers, rickshaw-van pullers and vendors were asked about the virus and the disease caused by the microbe.
Following are some of the questions asked by the teacher.
What is social distancing?

What is the minimum distance that should be maintained between two persons at ration shops and markets?

When should one wash hands?

What are the preventive measures that should be followed once a person comes out of his house?
Those who replied correctly received a white envelope containing Rs 200.

"I am a contractual teacher and paid Rs 13,000 a month. I thought of making some contribution to the society during the pandemic and hence, I have distributed almost my entire salary to those who knew about the novel coronavirus ," said the teacher.
Ratan Burman, a rickshaw-van puller, was one of those who received the awards. "He asked me about the minimum distance that should be maintained between two persons and I replied it should be at least a metre. He then handed over the cash to me," said Burman.
During his visit, Roy said, he has found that people from the weaker sections of the society are well aware of the rules and directives.
"I must say that they are paying heed to government directives. But they need to make earnings to run their families and many of them are forced to come out of homes," said the teacher.