Tea garden woes trigger protests
Samsing Organic Tea Private Limited sent a letter to Jalpaiguri district magistrate on September 3, expressing inability to operate because of paucity of funds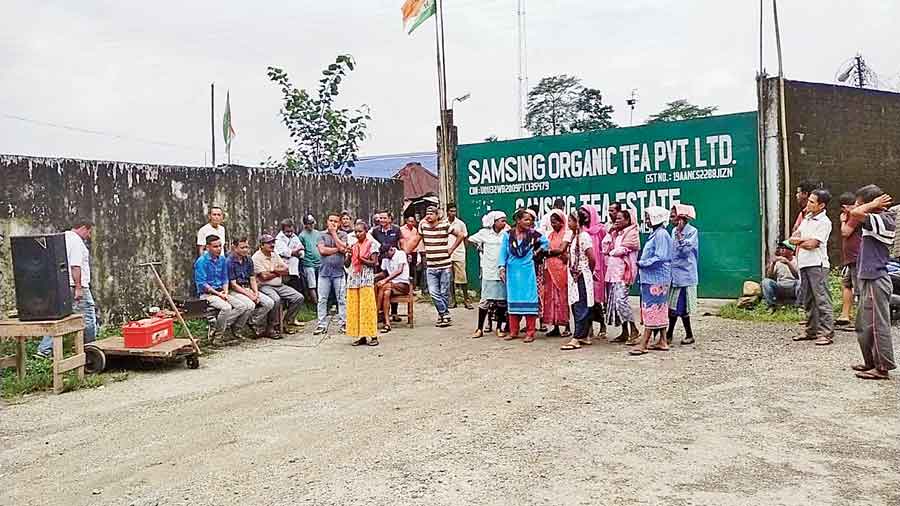 Workers hold a demonstration in the Samsing tea garden on Friday.
Biplab Basak
---
Jalpaiguri
|
Published 10.09.22, 02:15 AM
|
---
Workers held demonstrations at three locations in the Samsing tea garden in the Dooars on Friday demanding that the management continue to run the estate in a proper manner.
The Samsing Organic Tea Private Limited that runs the estate in Matialli block had sent a letter to the Jalpaiguri district magistrate on September 3, expressing inability to operate the garden because of paucity of funds.
The ownership of the garden is in the name of Jayanta Roy. He is the brother of Prasanna Roy, a close associate of former education minister Partha Chatterjee who was arrested by the Enforcement Directorate in connection with the alleged School Service Commission recruitment scam.
"The management cannot evade its responsibilities. It is surprising to see that while they (Management) have expressed inability to run Samsing, the same company is operating Bamandanga-Tondu (another tea estate in the neighbouring Nagrakata block)," said Dinesh Rai, a leader of the Trinamul Cha Bagan Sramik Union in the Samsing garden.
He pointed out although the management had expressed its inability to pay the workers, no notice had been issued yet announcing the suspension of work in the garden. Samsing has around 1,500 workers."Workers still join their duties every day. The factory is also open. But none of us has any idea who will pay wages and salaries? Such a confusing situation cannot go for long. The management should find a new investor to end the stalemate," said Subhash Sarki, a leader of a BJP-backed trade union. 
In the letter which was sent to the district magistrate by the management, it was mentioned that the wages and salaries due till August 31 would be disbursed, along with bonus at 8.33 per cent rate.On Wednesday, a tripartite meeting was convened by the state labour department in Malbazar. No decision, however, could be reached at the meeting as the management representatives reiterated that they did not have funds.
MP visits tea estates Darjeeling MP Raju Bista visited the Ambootia tea estate in Kurseong and Rungmook-Cedar tea estate in Sonada on Friday. Both these estates are owned by the Darjeeling Organic Tea Estates Private Limited.The 10 tea gardens of the group reopened on Friday according to a decision that was reached at a tripartite meeting held on Wednesday night. "It is good that the issue has been resolved. Simultaneously, I feel the Bengal government should take responsibility and evolve mechanisms to prevent such random decisions by tea companies as it affects hundreds of tea workers," he said.