Tea workers stare at jumbo housing problem
State govt doesn't pick up tab for repairs of tea estate quarters damaged by elephants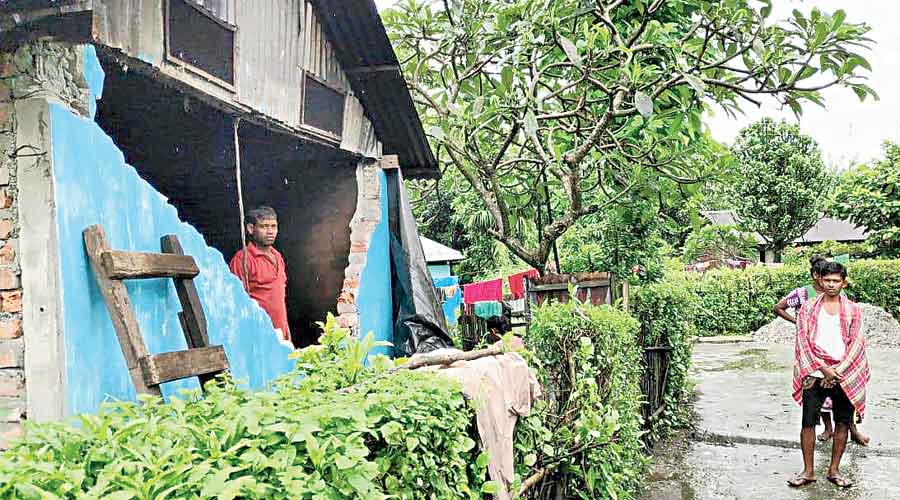 ---
---
Elephants marauding tea gardens of the Dooars and Terai leave behind a trail of despair for tea workers.
Reason: if their quarters at tea gardens are damaged by elephants, they get no compensation from the state forest department or panchayat. In most gardens, the management does not take the onus to repair or rebuild the damaged quarters.
Left to their own devices, tea workers have to arrange funds to repair the hutments. In some cases, they even have to approach private moneylenders.
The situation is different in villages outside tea gardens.
In case a home is damaged by elephants in a village other than tea gardens, the state forest department can pay compensation up to Rs 8,000 for hutments and Rs 30,000 for concrete houses, depending on the extent of damage.
This disparity takes a toll on tea workers.
In June last year, a wild elephant entered the Kalchini tea estate in Alipurduar and damaged the quarters of
Rinku Tanti. More than one year later, Rinku has not managed to arrange money for repairs.
"I visited the panchayat office and forest office many times but not got any money for repairs. The management left the tea garden. I am compelled to stay with my family in a rented hutment," said Rinku.
Representatives of tea planters' associations said that the onus lay with the state government.