Tea bonus talks in hills fail over pay in parts
Most gardens in the Dooars and Terai had agreed to pay a bonus at the rate of 20 per cent of workers' annual earnings at one go during their first sitting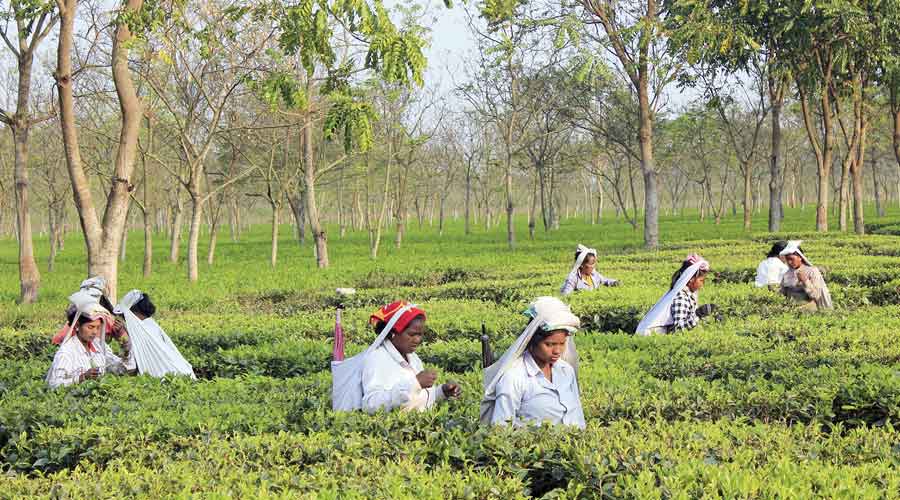 Darjeeling Tea industry officials insisted that the scenario was different in in the hills and the plains.
File picture
---
Darjeeling
|
Published 16.09.21, 03:47 AM
|
---
Bonus talks between hill tea garden unions and officials of the Darjeeling Tea Association (DTA) failed on Wednesday, with industry principals insisting on payment in instalments, a proposition tea union leaders said was unacceptable.
Most gardens in the Dooars and Terai on Tuesday had agreed to pay a bonus at the rate of 20 per cent of workers' annual earnings at one go during their first sitting.
However, Darjeeling Tea industry officials insisted that the scenario was different in in the hills and the plains.
"Darjeeling tea is an orthodox tea and largely rides on exports, and there was total shutdown owing to the pandemic. There is also a crisis of containers because of which tea should not be shipped," said a DTA source. The official added last year there was a drop in crop produce by 40 per cent and a general contraction in European markets.
"The plains garden produces CTC tea which has a domestic market," the source said.
Sources said talks stopped at the very first hurdle."The planters started negotiations stating they were facing a cash crunch and hence could pay bonus only in instalments. Unions disagreed and negotiations failed," said a source.
There was no talk on the percentage of bonus.
Anit Thapa, president of the Bharatiya Gorkha Prajatantrik Morcha, at public meeting in Rimbick, some 60km from Darjeeling, said they would not accept bonuses below 20 per cent and the same had to be paid in one go.
Suraj Subba, the president of the Darjeeling Terai Dooars Plantation Labour Union, affiliated to the Gorkha Janmukti Morcha, also spoke on similar lines. "The management suggested payment of bonus in instalments, an offer unacceptable to us this time."
Last year, hill gardens had paid a bonus in two instalments of 15 and 5 per cent. The previous year bonus was paid in instalments of 12 and 8 per cent.
There were allegations that some gardens did not clear installments on agreed dates.
Sixty-six gardens from the hills are with the DTA and 12 gardens with the Indian Tea Association. Though there are technically 87 tea gardens under Darjeeling Tea Industry according to lease papers, many are merged for management reasons into 78 gardens. In the hills, the ITA usually sides with the agreement reached by the unions with the DTA.