Tea belt cry to fix minimum wage for over 3 lakh workers
The decision was taken after a tripartite meeting convened by the state labour department here on Saturday remained inconclusive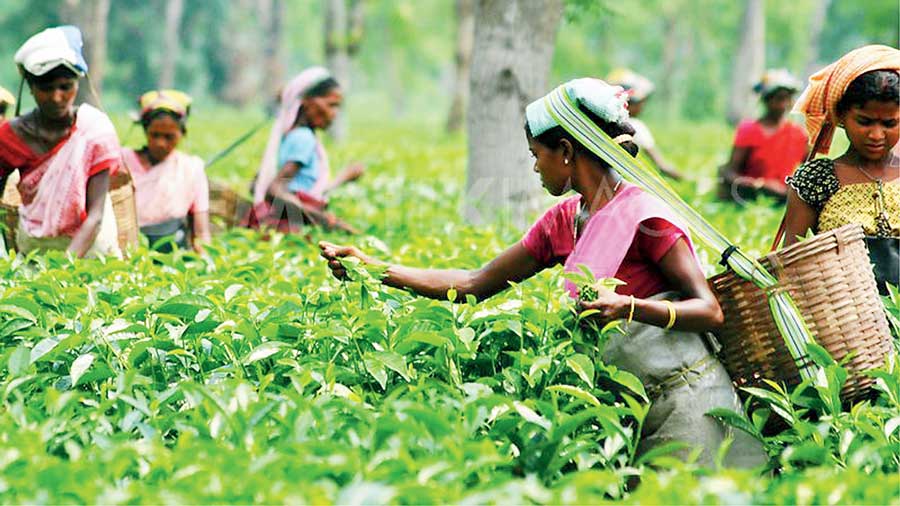 Representational image.
File photo.
---
Siliguri
|
Published 03.04.22, 01:24 AM
|
---
Tea trade unions in north Bengal are planning to launch a series of movements and are even contemplating strikes in the coming months, to press their demand to fix  minimum wage for over three lakh workers associated with the tea industry of the state.
The decision was taken after a tripartite meeting convened by the state labour department here on Saturday remained inconclusive. Union leaders and representatives of tea planters' associations could not reach a consensus on the minimum wage rate or an interim hike.
Ziaul Alam, convener of the Joint Forum — an apex body of tea trade unions — said that since 2015, when the minimum wage advisory committee was constituted by the state, negotiations were on.
"However, till date, the tea planters' fraternity has not entirely accepted the rationale of including basic components like food, clothing and shelter for computation of minimum wage. At this meeting, no decision was reached. That is why, we have decided to launch a series of movements as thousands of workers are being deprived of their due wages for years now," said Alam.
According to him, on April 14, the trade unions —there are30-odd unions of different political parties in the tea belt — will hold a joint meeting in Siliguri to draw the roadmap of their movement.
"There will be protests and meetings at the gardens, submission of memorandums to tea associations and the state government, along with rallies. If required, we will call an industry-wide strike to ensure that minimum wage rate is fixed at the earliest," added the veteran trade union leader.
Representatives of planters' associations said they wanted an interm  hike at least till a decision on minimum wage was taken.
Over the past few months, the state labour department, headed by minister Becharam Manna, has been pursuing the issue of minimum wage or at least an interim  hike. The last interim hike came in January last year, when daily wage went up from Rs 176 to Rs 202.
"The national minimum wage under the new labour codes is yet to be announced and it would be a benchmark then. Meanwhile, there can be a hike if the unions come up with agreeable terms," said Arijit Raha, secretary general, Indian Tea Association.