Tallah bridge snarl pain felt elsewhere
Metro experiencing a 'stampede-like situation'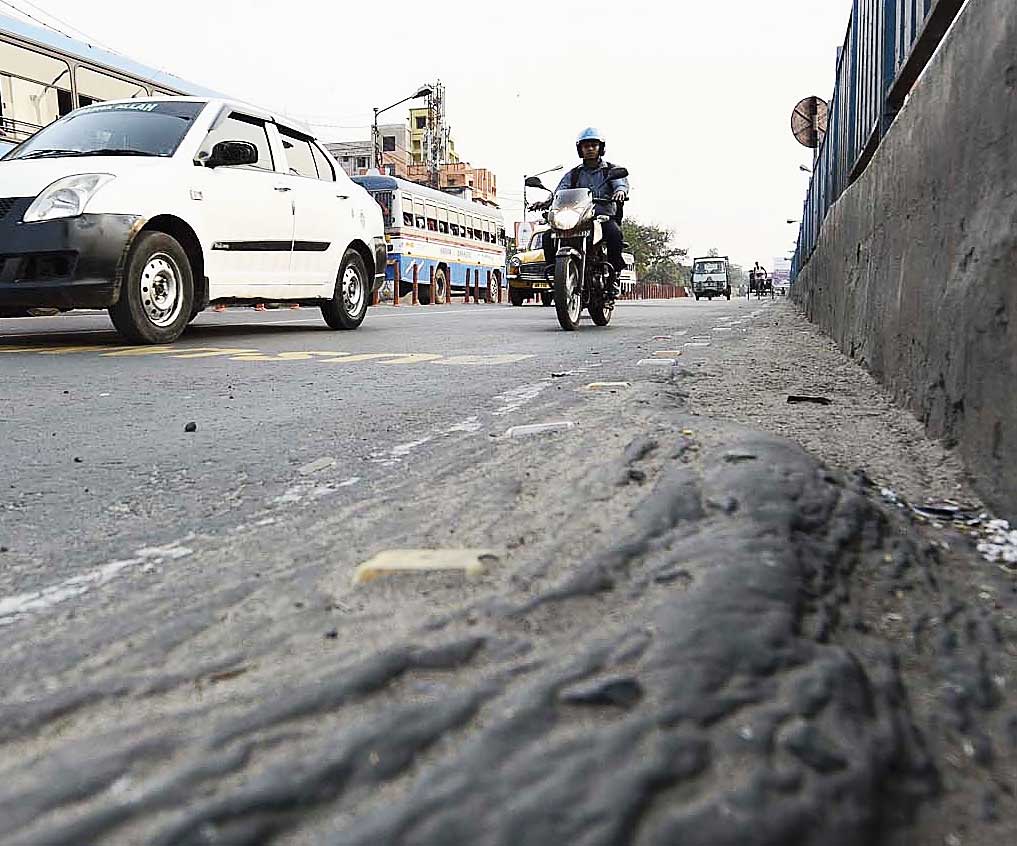 The Tallah bridge
Picture by Gautam Bose
---
Calcutta
|
Published 30.09.19, 10:24 PM
|
---
The ban on buses and heavy goods vehicles on the Tallah bridge is taking its toll on Metro with train passengers experiencing a "stampede-like situation".
Commuters accessing thoroughfares including VIP Road, Jessore Road and Dum Dum Road are spending double the time than they usually did.
Metro takes stock of the chaos and congestion.
Metro Mess
At Belgachhia Metro station on Monday, Railway Protection Force and Calcutta police requested commuters not to avail themselves of the underground service because of the "crowd".
At noon, the tail end of passengers' queue outside ticket counters had almost snaked its way to the Belgachhia tram depot, about 100m away.
When those with smart cards tried to enter the station, police requested them not to.
"The police said it was a stampede-like situation inside and we should enter only after some crowd had been cleared," said a working professional, who stood outside the station at 12.10pm.
A Metro official said that the number of tokens sold at Belgachhia Metro station on Monday shot up by almost 40 per cent. "Usually we sell 10,000 tokens at Belgachhia but today it was 14,000," said an official.
The professional whose office is in Chandni Chowk, a 12-minute ride from Belgachhia station, had to opt for a bus and then took Metro from Shyambazar. He reached office at 1.40pm.
Roads clogged
Commuters travelling on thoroughfares such as Dum Dum Road and Jessore Road were the most inconvenienced. They were stuck on the road for more than double the usual time.
Most of the buses that used to take the Tallah bridge have been diverted through Chiria More leading to a rush of vehicles on Dum Dum Road. Those who used to travel by autos and reach Dum Dum station from Chiria More in 10 minutes had to wait behind buses.
A Sodepur resident, who was travelling from Chiria More to Nagerbazar via Dum Dum Road on Monday morning, took more than an hour to cover a distance of 4km against the usual 20 minutes.
The traffic is equally bad on Jessore Road leading up to Belgachhia Metro station or from there to the Shyambazar crossing. It took a commuter one hour and 20 minutes to cover a distance of 2.5km from Bangur to Belgachhia Metro station via the Jessore Road crossing. Till last week it took aruond eight minutes to cover the distance on a weekday.
Truck trouble
The ban on heavy goods vehicles on the bridge could be BT Road's gain but it is increasingly turning out to be a pain for VIP Road.
Commuters on VIP Road, who travel from Ultadanga, now have to wait behind trucks. A resident of Teghoria said that from Ultadanga it would take about 15 minutes at 9.30pm to reach home.
But last week it took her more than 30 minutes around 10pm.
A senior officer of the Bidhannagar commissionerate's traffic wing said that the number of trucks plying on VIP Road has "considerably gone up," after they were barred from plying down the Tallah bridge. The officer said the trucks were being allowed after 9pm.
"We have deployed extra men on VIP Road. We have also deployed special teams to control traffic throughout the night on VIP Road given that the pressure has gone up and pujas are here," said the officer.