Tales told true of a woman in blue
Read more below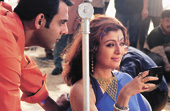 ---
Published 19.02.05, 12:00 AM
|
---
Debasree Roy on the Shankarpur beach, and with co-star Amitabha Bhattacharya on the sets of Je Jon Thake Majkhane. Pictures by Aranya Sen
Long past the first flush of youth, Debasree Roy looks as svelte and stunning as ever. As she sprints across the sandy Shankarpur beach in a blue chiffon, a crowd of villagers trails the star along with the salt-laced breeze.
Word has got around that a film team is camping on the beach for shooting. A few young men huddle around Debasree for autographs, while the women inch closer for a better view of her made-up face and then furtively glance at her much younger hero, Amitabha Bhattacharya.
Debasree leaves her doctor husband for this flamboyant, young businessman on the fast track in Susanta Mukhopadhyay?s Je Jon Thake Majkhane, co-starring Sabyasachi Chakraborty, Madhabi Mukherjee and Chitra Sen.
?I have left the running-around-trees behind me. At this stage, I want to experiment with different roles,? she announces, adjusting her hair for a photo shoot.
?In Bratya Basu?s Teesta, I play a schoolteacher who is also a divorcee with a kid. I am attracted to a colleague and marry him. But I also want to lose myself in the lap of nature,? she adds.
Then there?s Tathagata Bhattacharya?s Ispat, where she is a lawyer fighting for the rights of slum-dwellers facing eviction.
Having started in tinsel town early in life ? her first film was Pagal Thakur when she was barely 11 months old ? Debasree boasts a kitty of around 200 films.
But the need of the moment is more mature roles ? from a wife trapped in a loveless marriage to a woman falling for a younger man, a lawyer fighting for social issues to a village woman standing up against superstitions (in Manush Bhoot, not yet on the floors).
Yet there?s a dearth of men in her on-screen lives. Apart from Sabyasachi Chakraborty, of course, with whom she has acted in Subrata Sen?s Ek Je Achhe Konya, Kaushik Ganguly?s Warish and now Je Jon Thake Majkhane.
?Sometimes, the crisis (of a hero) does pose a problem,? she admits a bit reluctantly, before adding: ?The roles I am doing these days and the men opposite me are more individuals than typical hero-heroines. There?s a film by Goutam Ghose in the pipeline but he is toying with two scripts right now.?
Though most of her peers like Tapas Pal, Satabdi Roy and Indrani Halder have steered their careers to the jatra stage, Debasree is quite averse to the idea. ?I won?t try jatra as long as I am doing films,? she asserts.
Megaserials and telefilms are not an attractive option either. ?I get swamped with offers for these serials and telefilms, but I turn them down. Because the moment you get to see an actor daily on TV, you lose the interest to see him on the big screen...,? Debasree elaborates.
?I am ready to do strong roles in serials that stretch till seven to eight episodes only. I have done quite a few before, like Nagarpare, which went on to become great hits,? she smiles, at the end of a gruelling shoot.