Swamiji's story in 3D animation
Read more below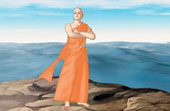 ---
Published 05.08.11, 12:00 AM
|
---
A still from Kindled, the animation film on Swami Vivekananda
Swami Vivekananda's life is being made into an animation film to mark the monk's 150th birth anniversary in 2013.
The Ramakrishna Mission Institute of Culture, Golpark, has tied up with the city-based Aura Cinematics to produce the film.
Kindled, as the 90-minute feature will be called, is in the pre-production stage. It deals with the phase of the Swami's life from his meeting with Ramakrishna Paramhansa to his decision to spend his life in the service of others. The movie is in English and features 3D animation.
Swami Sarvabhutananda, the secretary of the Ramakrishna Mission Institute of Culture, realised the potential of animated features after witnessing the popularity of series like Ganesha and Hanuman. "Every centre has been asked to do something in their own way to celebrate the occasion," he said. "We came up with this idea to spread the values and ideals of Swami Vivekananda amongst the youth. The philosophy of harmony and service needs to be inculcated in them, as only they have the potential to bring about change."
"I felt something needed to be done to portray Swami Vivekananda's life on the screen. Hence, the start of the project. This apart, we are also going to have seminars, exhibitions and musical programmes at the institute to mark his birth anniversary."
The project, which has a budget of Rs 6 to 7 crore, is to have a world-wide premiere in 2013. Talks are in process with potential international distributors for a theatrical release.
Director Sukankan Roy from Aura Cinematics and his team spent the last two years researching and retracing Vivekananda's steps in order to recreate incidents and locales.
"The high points of making an animated film are the level of intricacy and detailing we can add in order to make it authentic. We visited all the places Swamiji went to and conducted detailed research to recreate his life," Roy said. "It was not an easy task, and none of the incidents shown is false. Only scenes depicting the life of people in India and the US, where Swamiji is not directly involved, have been fictionalised."
The film is supposed to be released in home DVD formats and aired on television.
The initiative, that the institute has taken purely on its own, comes alongside the larger Centre-funded Ramakrishna Mission Project, which has been granted Rs 100 crore to propagate and carry on Vivekananda's work in the country.
Swami Subhakarananda from Belur Math, who has been closely linked with both projects, revealed that alongside charity and service work — as part of projects like Vivekananda Shastha Parisheba Prakalpa and Sharada Palli Bikash — Belur Math will also come up with a feature film on Vivekananda's life, documentaries on personality development and education and animated videos based on Swamiji's ideals and the lives of four national leaders.